KANSAS CITY, Mo. – Senior writer John Oehser, senior correspondent Brian Sexton and team reporter Ashlyn Sullivan offer quick thoughts on the Jaguars' 27-17 loss to the Kansas City Chiefs in a 2022 Week 10 game at GEHA Field at Arrowhead Stadium in Kansas City, Mo., Sunday
John Oehser, Jaguars Senior Writer
Way, way too many. You had an idea the Jaguars had to play close to perfect Sunday to have a chance. Or that they at least needed to take advantage of opportunities. They did neither, and it was the latter failure that particularly disturbed Jaguars players and Head Coach Doug Pederson. The Jaguars gained just one first down and punted after recovering a game-opening onside kick and scored just seven points on five first-half possessions in Chiefs territory. They also missed two opportunities when kicker Riley Patterson missed second-quarter field-goal attempts of 41 and 51 yards. A similar story came in the third quarter when an illegal-player-downfield penalty on left tackle Cam Robinson negated a four-yard touchdown pass from quarterback Trevor Lawrence to tight end Evan Engram that would have cut the Chiefs' lead to 20-13. The Chiefs were better Sunday, but the Jaguars helped them far too often.
Not a disaster. Perhaps the biggest takeaway from Sunday is this: While the Jaguars squandered multiple opportunities, and while they therefore really threatened to win, neither were they remotely embarrassed in very difficult circumstances. That's not to call this a moral victory; the Jaguars don't think that way. But if Patterson hits two makeable field goals, and if not for Robinson's momentum-killing penalty, Sunday would have been a different – and perhaps winnable – game in the fourth quarter. That won't be enough in the future. It wasn't enough Sunday. But as the Jaguars enter next week's bye it's perhaps another sign that they are vastly improved from the past two seasons, and perhaps not far from winning such games sooner rather than later. Still, it was clear late Sunday players are tired of this theme. "I think we've learned enough," Cam Robinson said. "We've learned everything we're going to learn, and I think it's time we start to implement some of the things we've learned and started developing a mentality at the end of the game and start capitalizing on those missed opportunities."
Brian Sexton, Jaguars Senior Correspondent…
The Jaguars have a very thin margin for errors and on Sunday they exceeded that limit by halftime. If a 3-6 team wants to win at Arrowhead, then wide receiver Christian Kirk has to make that catch inside the Chiefs 10-yard line early and pay off the Pederson's onside-kick gamble to start the game. They should have been down 20-13 at the half but Patterson missed two field goals, including a 41-yarder that was handed to him on a silver platter thanks to a great special teams play – and a nice call by Pederson to throw to wide receiver Zay Jones and make it even easier. Think of the momentum they might have had in the halftime locker room. Then they put together an outstanding 17-play drive that chewed up 9:16 of the third quarter but settled for a field goal because Robinson was up the field on a passing play. The list goes on and on. They knew they had to play nearly mistake-free football and take advantage of every opportunity to beat the Chiefs in Kansas City. They weren't able to do that.
This entire season is about the quarterback's development and on that note these Jags are in good shape. I know he held the ball too long too many times Sunday, but Lawrence was excellent executing the touchdown drive in less than a minute at the end of the first half – just as he did last week against the Las Vegas Raiders. He finished Sunday completing 73 percent of his passes with two touchdowns and a passer rating of 106.1 – with no costly turnovers or other errors. He has been really good lately with third- and fourth-quarter scoring drives to get the Jaguars back in games – and the 17-play drive that should have been a touchdown was really good stuff, as was the fourth-quarter connection with Kirk. He's getting better, which is exactly what you want – and everything this Jaguars season is about.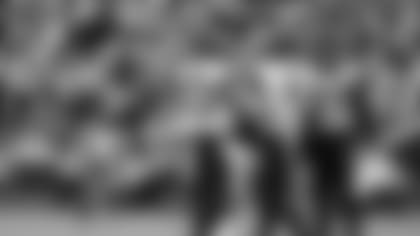 Ashlyn Sullivan, Jaguars Team Reporter…
Not there yet. The storyline all week was how talented the Chiefs were, especially on offense. We saw Sunday that Kansas City is simply in another football tier than the Jaguars. Kansas City is as advertised, according to Jaguars safety Andre Cisco. The Chiefs' roster has more weapons on offense, and you can see they are more developed and comfortable running their plays on offense. Kirk was encouraged in the postgame locker room, admitting the Jaguars aren't playing to the Chiefs' level but believing the team can get there with more time. The Jaguars can get there, even if it may not happen this season. We knew this would be a process.
The story. Pederson and every player we spoke to postgame mentioned nearly immediately the number of opportunities the Jaguars missed Sunday. Only 17 points despite three takeaways. An onside kick to start the game and no points. Lawrence postgame said matter-of-factly the Jaguars aren't good enough right now to not take advantage of every opportunity against a team like the Chiefs and expect to win. Like we have talked about all season long, the team has to learn how to finish and win. You can add on taking advantage of opportunities when they are right in front of you as well.