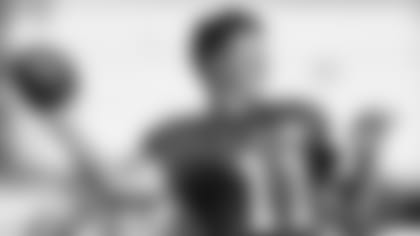 Mike Mularkey's approach Friday will be pretty simple.
The Jaguars will play their 2012 preseason opener against the New York Giants. It will be his first game as the team's head coach, and that will bring with it excitement and emotion. It also is a "practice" game, so the Jaguars will be smart and approach it as such.
Still, don't think Mularkey doesn't want to be ahead when the game ends.
"I've never been in a competition that I haven't tried to win – at any age, against anybody," Mularkey said Thursday as the Jaguars prepared to play the Giants at EverBank Field Friday at 7:30 p.m.
"That's including my kids when they were little: I'm not going to let them win – unfortunately, that's the way it is. I've never in my life considered not winning."
After a little more than two weeks of training camp and the accompanying morning practices, evening meetings and daily grind, Jaguars players . . .
Well, they're ready, too.
"Every time you put the pads on against another opponent, you want to put your best effort forward," Jaguars safety Dawan Landry said. "Even though the results don't hold on to your record, you always want to play your best and see how you're holding up. You want to make all the plays you can."
That makes Friday for the Jaguars what pretty much any NFL preseason game is for any team – a balancing act between wanting to win and being smart.
The team wants starting quarterback Blaine Gabbert and an offense that will start running back Rashad Jennings to get early work against the Giants' starters. That group and the starting defense will get about 17-20 plays, though Mularkey said the starting offensive line could play a bit more to give backup quarterback Chad Henne a chance to work with that group.
"What I'd like to see is us play really good, disciplined football," Mularkey said. "I would like is not to make a lot of mistakes that we're in charge of, so we can get a fair evaluation. Let's have a competitive game. Let's get our guys out there playing fast and confident.
"We're not going to have our guys do a lot of exotic things. We're going to let them play and let's just see where we are – not only as players, but as a team – when this is over with."
Rookie wide receiver Justin Blackmon, who signed Monday after a 10-day holdout, likely will miss the game. While NFL rules would allow him to play, Mularkey said because the 2012 NFL Draft's No. 5 overall selection has yet to work in pads, there's no reason to put him in a position to fail.
The team also is expected to be without starting linebacker Daryl Smith (groin), starting guard Will Rackley (ankle), defensive end Austen Lane (foot), offensive guard Jason Spitz (foot), tight end Zach Miller (shoulder) and safety Jeremiah Brown (concussion). Linebacker Clint Session (head) and defensive end John Chick (knee) remain on the Physically Unable to Perform list.
Running back Maurice Jones-Drew, the NFL's leading rusher last season, also remains away from the team in a holdout, but the focus throughout camp has been on preparation. It remained that way this past week, and because the team is still focusing on installing and working on its own schemes, the Jaguars didn't game plan for Friday's game.
"To me, this is still training camp," Mularkey said. "Training camp ends after the 32nd practice. It's a training camp mentality, and that's the way we're approaching it."
Still, once Friday comes, there will be fans in the stand. Stadium lights will be on, and the opponent will not only be real, but will be the defending Super Bowl champions. That makes it something more than practice.
"It's a practice game, but you still do your normal game routine," wide receiver Laurent Robinson said. "You go through everything, your assignments. You've got to go out there and have fun."
And while the final score matters little, Robinson said how the offense plays given its opportunity matters very much.
"We want to all be rolling on the same page," Robinson said. "You want to see the offense getting the play in the huddle, getting to the line of scrimmage, knowing what to do. You want to see us converting against coverages and being on the same page as the quarterback.
"You still get to put on that uniform and run under the lights, so it's a great feeling. It doesn't matter if it's a preseason game or a regular season game; you have to go out with the same mentality."
For Jaguars veterans, the approach may be measured and professional. For rookies, it's different. Jaguars wide receiver Kevin Elliott, who played collegiately at Florida A&M, never has attended an NFL game, meaning Friday's will be his first in any capacity. And Mularkey said if Elliott is feeling nerves beyond what might be expected for the preseason, he certainly won't be alone.
"It's funny – I was talking to (linebacker) Russell Allen during one of the (practice) periods and he said the young guys don't really know exactly the emotions that take place this first preseason game," Mularkey said. "If you played in this league nobody forgets your first preseason game as a rookie.
"You could literally wear yourself out with nerves before you even step on the field, so you've got to be very careful about that. It's hard to control that. Things are faster, things are more violent, and there's a lot of things that are going to happen that's going to open up their eyes.
"That's just the way it's been going on since the dawn of time for young players and it's memorable. Hopefully it's a good memory when the night's over with."