JACKSONVILLE – His smiled widely, with good reason.
Wide receiver Calvin Ridley is the Jaguars' new, big story. On Wednesday, he was where he wanted to be, where he has waited to be. And that was good – better than good, actually.
"For me, it has just been great," he said.
Ridley, acquired by the Jaguars in a trade with the Atlanta Falcons in November, missed the 2022 season serving an NFL suspension and last played in the NFL in October 2021. He was reinstated in March and is now participating in the Jaguars' offseason program. And make no mistake:
He is savoring the moment – and absolutely appreciates it.
Ridley, who emerged as one of the NFL's top young receivers in three-plus seasons with the Falcons before stepping away from football early in 2021, has worked out privately three or four times in recent weeks with Jaguars quarterback Trevor Lawrence.
"So far, he's been awesome," Lawrence said Wednesday. "He's just hungry. He's excited to be here. He has the right attitude. That's the biggest think that I've noticed."
"He's going to come in and put that work in," Oluokun said. "Even with all the talent that he has, he's a hard worker. He's going to be a weapon for us. Whenever he gets the ball, he can make a big play out of it."
Lawrence said that talent has been evident.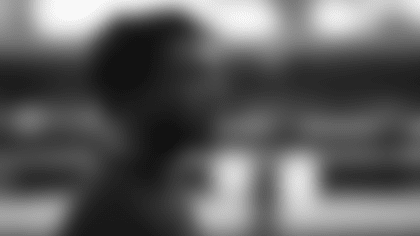 Ridley shared that enthusiasm, and made a positive impression Wednesday. He entered the room smiling, shaking hands with most of the media gathered in the television studio – and answering questions confidently.
Among the most-pressing questions: The possible effects of not having played for 23 months when the 2023 regular season begins.
"If I'm being real and being honest, I've been good at football all my life," said Ridley, who has 248 career receptions passes for 3,342 yards and 28 touchdowns – including a career-best 90 receptions for 1,374 yards and nine touchdowns in 2020, his last full NFL season.
"I'm trying to be humble," he added, "[but] like I said: I've been pretty good at football all my life and I not only have been good, I also worked to be good."
Ridley, too, said he expects to be healthier – and better and faster – upon his return. Ridley wrote in a recent Players Tribune article that he played the 2020 season with a broken foot after playing with bone spurs his first two seasons, then rushed back from surgery and played with painkillers early in 2021.
"They say, 'Two years off,''' Ridley said. "But what about the healing process with that time off? What if I got faster? What if I got stronger? Obviously, I got wiser. Why can't I be better? I kind of look at it like that. When the foot got right and I started working out, I was like, 'OK, yeah. I'm definitely a little faster than that situation.' I was good. I had the broken foot, and I still was decent. So, when it started to feel good and be normal again, I was like, 'Yeah, I'm running fast.'''
Ridley also in the Tribune article wrote: "On my daughter's name, if I'm healthy? With Trevor Lawrence? I'm giving Jacksonville 1,400 yards a season, period."
Ridley on Wednesday: "What I said by that is this: I am a 1,400-yard type of player. God is going to determine what type of stats I am going to have. Football is serious. You don't just play 17 games straight and think you're going to be in every one of them and playing healthy in all of them. What I'm saying is if I'm a 1,400-yard receiver with a broken foot? I know that I can make the plays and I know that I'm one of the better receivers in this league."
Ridley then watched the Jaguars and Lawrence rally for the AFC South title. He said his excitement grew as he watched, and has grown further during workouts with Lawrence and other receivers in recent weeks.
"It's just amazing," he said. "I'm not trying to get into it too deep, but I love my quarterback right now. I love my teammates, the other receivers that I'm playing with. I think we can be something really serious as long as that we take those steps to be a really good team.
"I think we can do some big things."