JACKSONVILLE – Veterans report for training camp one week from today… can you believe it is already here?
This final Sighting before training camp features a look inside the Jaguars Moms Football Safety Clinic at EverBank Field this past Saturday that included information important to mothers when making football decisions about their children.
Also, with training camp right around the corner, how does the Jaguars camp in Jacksonville compare to some other teams in the league? We visit with head equipment manager Jimmy Luck, who says that from the team standpoint, the Jaguars have it pretty good logistically.
Finally, in what is always one of the toughest assignments I have each calendar year, contestants for the Mrs. International competition in Jacksonville this weekend toured the team facility at EverBank Field earlier this week.
I was forced to help show them around along with outgoing PR director Ryan Robinson, senior PR manager Tad Dickman, PR coordinator Alex Brooks and community relations manager Renzo Sheppard. "Other duties as necessary" gets us every time.
Jaguars host Moms Football Safety Clinic
This past Saturday, nearly 200 mothers and their children attended the annual Jaguars Moms Football Safety Clinic at EverBank Field.
The free clinic included education on proper equipment fitting from Jaguars head equipment manager Jimmy Luck and physical issues such as concussion awareness and heat and hydration from associate athletic trainer Rod Scott. At the end, the mothers and children moved to the lawn in the Fan Entertainment Zone and learned proper fundamental techniques from USA Football's Heads Up Football program master trainer Darrell Sutherland.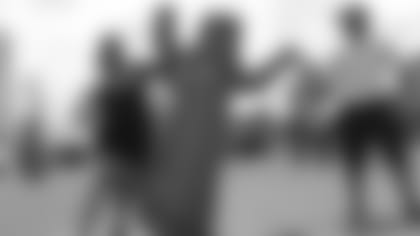 In addition, mothers heard from Don Hooton, president of the Taylor Hooton Foundation, a non-profit group raising awareness about the dangers of performance-enhancing drug abuse.
The Taylor Hooton Foundation was formed in memory of Don Hooton's son, Taylor Hooton, a 17-year-old high school athlete from Plano, Texas. Taylor took his own life in 2003 following mood swings from the use of anabolic steroids. The Hooton family founded the organization after learning about the increasing illegal use of anabolic steroids, and other performance-enhancing products, by middle school, high school and college students.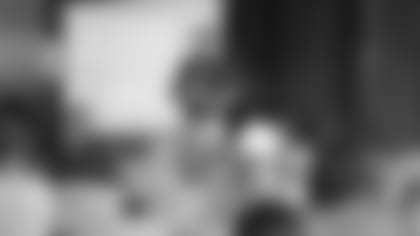 Hooton presented some of the physical and psychological effects of the use of anabolic steroids, and presented some of the warning signs parents could look for. Some of the warning signs include physical changes such as unusually fast muscle growth, acne on the back, bad breath and disrupted sleep patterns.
Personality and emotional changes such as extreme mood swings, increased aggression and hallucinations could be signs, along with social changes such as a sudden urge to work out, changes in personal relationships with family and friends and loss of focus or concentration.
Hooton urges parents to do four things to help keep children from using, including: educating about the dangers, advocating another alternative, communicating with the child and their coaches and intervene when the signs are there.
Equipment staff making preparations
In 1995, the expansion Jacksonville Jaguars spent training camp in Stevens Point, Wisconsin. From 1996 forward, the Jaguars have held training camp on the practice fields just outside of EverBank Field.
According to a tweet from Matt Maiocco of Comcast Sports Net Bay Area, as late as 2000 only five NFL teams held training camp at their in-season facility. In 2015, a total of 20 NFL teams will train at their home facility.
Prior to joining the Jaguars, head equipment manager Jimmy Luck worked with the Atlanta Falcons, who at one time trained at Furman University in Greenville, South Carolina, about an hour-and-a-half drive from home.
"It was the standpoint that you had to load everything up and go away, so that was a huge pain," Luck said. "You had a week to get up there and set everything up, but you normally had one day to get everything back."
During his time in Atlanta, the Falcons moved their training camp to the team facility in Flowery Branch, Georgia, and will train there for the 11th consecutive season in 2015.
"I was glad when we (Falcons) decided to stay at home."
For Luck and his staff of associate equipment managers Ryan Gowens, George Pellicer and Kyle Stillwell, along with part-time assistants Andrew Straitt, Garrett Olson, Matt Lesser, Taylor Signorile and Kyle Tucker, the Jaguars have it even better from a year-round perspective.
"It's even better here because our stadium is where we practice," Luck added. "In Atlanta our stadium was 45 miles from our practice facility, so every game was a road game. Here, everything is right here, and home practice makes it a lot easier for us from a home-game standpoint and training camp standpoint."
The Jaguars' only practice away from the Florida Blue Health and Wellness Practice Fields this year will be held at Mandarin High School on Monday, August 3. Register for free tickets at www.jaguars.com/trainingcampevents.
Team equipment such as shoes, cleats, shirts – "garb" as some call it – arrives in a year-round basis at EverBank Field, but with so many people needing equipment to begin training camp, the shipments can clog up the equipment room, as Luck showed in a tweet earlier this week.
"We get shipments like this probably once a week with T-shirts, sweatshirts and stuff for the year coming in. We'll place our orders in November and our stuff starts coming in April 1 and then sweatshirts come in like July 1 – we won't need them soon. Then they kind of stagger it out, so they don't bombard you all at once, and it still always shows up, it seems, like Fridays at four o'clock."
As for this week's shipment, though it seems large, it is pretty routine.
"It's 134 boxes; this is all pretty much all shoes though," Luck said. "This is a contract order, guys that have glove and shoe contracts, and our stock shoe order. The stock shoe order is pretty much for the year, but the contract order is just for a month."
Mrs. International contestants visit EverBank Field
The Jaguars welcomed a group of special visitors to EverBank Field on Tuesday afternoon.
Contestants from the Mrs. International pageant took a tour of the team facility as a part of their introduction to Jacksonville leading up to the pageant this weekend at the Times-Union Center in downtown Jacksonville.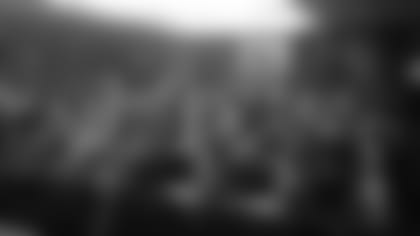 The contestants toured the team facilities – including the locker room, equipment room, training room and weight room – along with a look inside the team meeting room, while getting in-depth knowledge about the use of each room from several departments.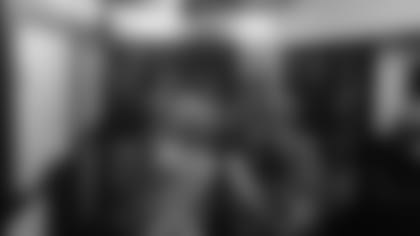 According to the website, www.mrsinternational.com, "the International Pageant system has been developed to promote today's married women, their accomplishments and commitment to family and marriage. The pageant showcases women 21 to 56 years old, married at least six months and a resident of the state or country she represents.
Jacksonville will also host the Miss International (19-30 years old) and Miss Teen International (13-18 years old) pageants July 30 through August 1.