JACKSONVILLE – The NFL's 2023 tight ends are different from many past classes.
While the position's value has increased in recent seasons, it has been difficult to analyze – and to draft. The best players aren't always the earliest-drafted players, and in some recent drafts no tight end has been considered first-round worthy.
This year's class appears to be as deep as it is talented.
"The tight end class is really good," NFL and Jaguars Media Draft analyst Bucky Brooks told jaguars.com recently, with ESPN NFL Draft analyst Matt Miller adding "I love this tight end class."
NFL Network Draft analyst Daniel Jeremiah called the '23 tight-end class "the best I've seen in the last 10 years."
"It's outstanding," Jeremiah said. "It's just a really, really good group."
Miller said the position could be a storyline throughout the draft.
"I'm very curious to see what teams do," Miller said. "We've all been saying for months that this is one of the deepest tight-end classes we've probably ever seen. Do teams wait because they know there's a ton of depth and value, or – because these players are so talented in a class that's good not great – do we see some players go earlier because of that?"
Tight ends projected to go as early as Round 1: Michael Mayer of Notre Dame and Dalton Kincaid of Utah – and perhaps Darnell Washington of Georgia.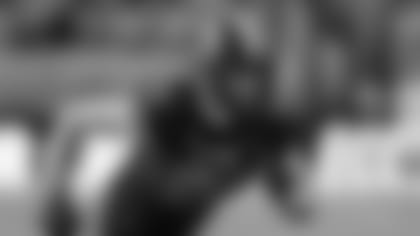 ESPN NFL draft analyst Jordan Reid said as many as seven tight ends could be selected in Rounds 1-3 – a group that includes Sam LaPorta of Iowa, Luke Musgrave of Oregon State and Tucker Kraft of South Dakota State. Jeremiah said as many as 11 tight ends could go in that range.
"That just goes to show you how NFL teams view this tight end class," Reid said.
As is often the case at tight end, this year's group largely is divided into what Reid called "either/or" prospects – meaning they're either good run blockers or good receivers. Musgrave and Kincaid fit more of the pass-catcher role with Brooks calling Washington "a warrior who can dominate as a run-blocker."
"He's special in terms of what he does in that regard," Brooks said.
"You very rarely get a combination of the two," Reid said, adding that Mayer and Laporte appear to be the best combination players.
Brooks: "The tight end class is probably one of the best we've seen in a long time – guys who can really play, guys who can excel in a bunch of different ways. I think we're seeing the evolution of the position. We're in a good spot when it comes to that."
This is an intriguing offseason area for the Jaguars. They were as productive in this area as they have been in at least a decade, and they took a major step toward ensuing that productivity will continue by using the NFL's franchise tag on tight end Evan Engram. After signing a one-year contract last offseason with the Jaguars, the sixth-year NFL veteran caught a career-high 73 passes for 766 yards and four touchdowns in 2022. As the franchised player, Engram can play for the Jaguars on a one-year contract. The sides also have until July 15 to sign a long-term deal. But Chris Manhertz, the team's best run-blocking tight end the past two seasons, signed with the Denver Broncos as an unrestricted free agent – and backup receiving tight end Dan Arnold became an UFA on the March 15 start of the NFL's 2023 League Year. Luke Farrell will enter his third season and the team likes 2022 collegiate-free-agent signee Gerrit Prince, but a tight end somewhere in the first three rounds of the draft seems very possible.
- John Oehser, Jaguars Senior Writer
CHANCE JAGUARS TAKE A TIGHT END IN ROUND 1
TEs ON THE JAGUARS ROSTER
Evan Engram
Luke Farrell
Gerrit Prince
BROOKS' TOP 5 2023 TIGHT ENDS
Dalton Kincaid, senior; Utah
Michael Mayer, junior, Notre Dame
Darnell Washington, junior, Georgia
Luke Musgrave, senior, Oregon State
Sam LaPorta, senior, Iowa
POSSIBLE FIRST-ROUND TIGHT ENDS