JACKSONVILLE – A day after, senior writer John Oehser examines the Jaguars' 50-10 loss to the New England Patriots in a 2021 Week 17 game at Gillette Stadium in Foxborough, Mass., Sunday
1. The struggles remain very real. The Jaguars have lost eight consecutive games since beating the Miami Dolphins and Buffalo Bills – two AFC playoff contenders – in a three-game stretch around a late-October bye. They have lost 29 of 31 games since a victory over the Indianapolis Colts in the 2020 regular-season opener.
2. No. 1 remains a possibility – but it's not guaranteed. The Jaguars at 2-14 are in line for the No. 1 selection in the 2022 NFL Draft. They can clinch the No. 1 selection with a loss to the Indianapolis Colts Sunday or with a Detroit Lions victory over the Green Bay Packers.
3. This is historic stuff. Sunday marked the Jaguars' most one-sided loss of the season and their most one-sided loss since a 41-0 loss to the Seattle Seahawks in 2009. It also marked the third time in franchise history they allowed 50 or more points: a 50-10 loss to the Minnesota Vikings in 1998, a 51-17 loss at New England in 2015 and Sunday. "We didn't protect the ball on offense," Jaguars Interim Head Coach Darrell Bevell said. "We couldn't get a stop on defense, and that made it a tough day…"
4. The week took a toll … The Jaguars spent the week moving players on and off the reserve/COVID-19 list. Twenty players remained on the list Sunday, including at least five starters: cornerback Shaq Griffin, center Brandon Linder, guard Ben Bartch, left tackle Cam Robinson and defensive lineman Dawuane Smoot. The starting offensive line: right tackle Jawaan Taylor, right guard KC McDermott, center Tyler Shatley, left guard Andrew Norwell and left tackle Walker Little. "It's been a rough week, but other teams have had these challenges," Bevell said. "Some of them weren't at full health even as they're playing, but they wanted to be out there. They wanted to play. They played hard. I didn't see them quit."
5. … a real toll. More Bevell: "It's not an easy situation for anybody, but we're all playing for the Jacksonville Jaguars, but also the name on our back. Everything that we do is being evaluated. You need to be able to put forward, your best showing. You need to continue to play and give us everything you have."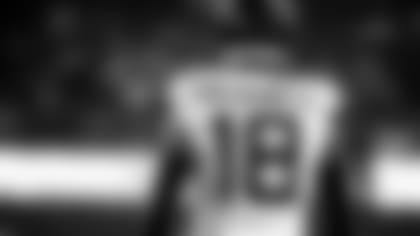 6. The Patriots were dominant – really dominant. The Patriots scored touchdowns on their first five possessions Sunday – and scored on eight of their first nine possessions. New England, which led 28-3 at halftime and 50-3 in the fourth quarter, had 32 first downs to 11 for the Jaguars and outgained the Jaguars 471-253.
7. Lawrence's struggles are real. Jaguars rookie quarterback Trevor Lawrence completed 17 of 27 passes for 193 yards and a touchdown with three interceptions. All three interceptions led to touchdowns – two in the second quarter and one in the third. Bevell said coaches discussed pulling Lawrence for backup C.J. Beathard in the fourth quarter but decided against it. "Some of these experiences that he is having are experiences we think that he needs to go through just to continue to get better," Bevell said.
8. Treadwell remains a bright spot. Feel-good stories are rare around the Jaguars this season, but wide receiver Laquon Treadwell qualifies. A first-round selection by the Minnesota Vikings in the 2016 NFL Draft, he signed with the Jaguars in June and started the regular season on the practice squad. He currently is the Jaguars' best receiver and led the team Sunday with six receptions for 87 yards. "Laquon is playing great," Lawrence said. "I'm really happy for him. He has kind of been through a lot of ups and downs, and really just keeps his head down and goes to work. My confidence in him has been really good, and you kind of see that."
9. Turnovers remains a defining statistic. The Jaguars committed three turnovers and forced none Sunday; they have forced a league-low seven turnovers this season and are last in the NFL at minus-22 giveaway-takeaway.
10. Lawrence isn't quitting. Lawrence: "I wouldn't say I'm ready for the season to be over. When that comes, obviously, it's going to be nice to take a breather and really take in everything that's happened this year. It's been a wild year, but really, I kind of want some more opportunities to finish strong."