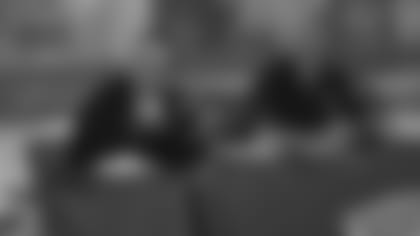 ](http://bit.ly/pics050214)

JACKSONVILLE – A setting-the-tone-for-2014-NFL-Draft-Week edition of What We Learned as we look back on the Jaguars' 2014 pre-draft luncheon Friday at EverBank Field …
1. The Jaguars are ready for the draft …and actually, they have been for a week. The NFL moved the draft back two weeks this year, holding it May 8-10 instead of the last week of April. Jaguars General Manager David Caldwell Friday said the team stuck to its previous preparation schedule and could have drafted on the normal draft weekend. Instead, they must wait until Thursday. The time will come soon enough.
2. The board is pretty much set.Caldwell said there might be a minor change or two, but for the most part the board is the board. No reason to second-guess things this week.
3. Caldwell knows who he would take at No. 3.The Jaguars hold the No. 3 overall selection in the draft, with the Houston Texans holding the No. 1 selection and the St. Louis Rams at No. 2. Caldwell said depending on how the draft plays out ahead of the Jaguars, he knows who he will select at No. 3 … if, that is, the Jaguars remain at No. 3.
4. We don't know who Caldwell wants at No. 3.Remember last year? Caldwell's first draft with the Jaguars? It was fairly well-known in the days leading to the draft the team likely wanted one of two offensive tackles, Luke Joeckel or Eric Fisher. The team stayed at No. 2 and took Joeckel – to no one's surprise. There's no such feeling this year. This could be unknown until Thursday night.
5. The Jaguars are open to trading back.Remember how we ended the third entry with, "if, that is, the Jaguars remain at No. 3?" Well, that's a big if. Caldwell has talked all offseason about being very open to trading back. Well, he's as open as ever.
6. The Jaguars believe they can trade back.The Jaguars were open to the idea of trading back last year. Caldwell said after the draft there were no offers, and no real inquiries. It sounds as if he believes that very much won't be the case this year.
7. The Jaguars believe they can still get a really, really good player if they trade back. When Jaguars Head Coach Gus Bradley was asked about the draft having four elite players – South Carolina defensive end Jadeveon Clowney, Buffalo linebacker Khalil Mack, Clemson wide receiver Sammy Watkins and Auburn offensive tackle Greg Robinson – he said there are several players outside that group a team would feel very good about. Caldwell said the team has enough players targeted to feel good about moving back up to 10 spots.
8. The price is set.It doesn't cost as much to move up in the first round as it once did. The rookie wage scale had changed that. But there's still a cost. Caldwell said Friday he would consider trading back as far as perhaps Nos. 11, 12 or 13 – but that to move out of the top 10 he likely would have to receive a first-round selection.
9. A trade will be easier if Houston stays at No.1. That's Caldwell's belief as the draft approaches— that the Jaguars' chances of trading at No. 3 will be better if Houston doesn't trade at No. 1.
10. An in-division trade is possible.A long-standing theory is that general managers shy away from trading with teams in their own division. Caldwell said he doesn't buy into that theory. If a trade makes sense for both sides with a team from the AFC South, it could happen.
11. The Jaguars are open to trading up.Caldwell went into last year's draft convinced the team almost certainly wouldn't trade up in any round. They didn't. He said Friday having 11 selections this year means having the flexibility to move up if the right player is available.
12. The Jaguars aren't counting on Justin Blackmon next season.Caldwell and Bradley have been consistent throughout the offseason that while the team would welcome suspended wide receiver Justin Blackmon back next season, they're not planning as if that will be the case. Caldwell said Friday he would be relatively surprised if Blackmon plays for the Jaguars next season. That made news, but it doesn't change the draft plans. The Jaguars likely will address wide receiver in significant fashion, but their decision-making doesn't depend on Blackmon's status.
13. Offensive tackle hasn't been ruled out. Auburn offensive tackle Greg Robinson and Texas A&M offensive tackle Jake Matthews visited the Jaguars in the pre-draft process – along with just about every other consensus Top 10 prospect.  Although the team drafted Joeckel No. 2 overall last season, Bradley on Friday didn't rule out the possibility of drafting a tackle this year. "I can tell you just talking to some people they say 'where you're at the best thing to do is build your offensive line and build your defensive line,'" he said. "That would be a big step for us in getting better on the offensive line." …
14. The Jaguars don't expect Clowney to be available at No. 3.Asked if Clowney would be there if the Jaguars select third, Caldwell said, "I would probably be surprised," adding that Matthews and Robinson also were likely Top 5 selections.
15. Quarterback is possible …Caldwell said Friday be believes Texas A&M quarterback Johnny Manziel is the one quarterback in the draft who could play immediately. He also confirmed that the team worked out Teddy Bridgewater a second time, and that the he threw better at the private workout than he did at the Louisville Pro Day. Caldwell also discussed a possible run on quarterbacks early in the second round, adding that he believes the Jaguars will be able to positively address the position without moving up in any round. So, what did we learn? What we've known all offseason – that the Jaguars almost certainly will draft at least one quarterback, but that there's a very strong possibility it won't happen in the Top 10.
16. … but a quarterback's probably not playing immediately.Caldwell and Bradley have said this again and again this offseason – that wherever the Jaguars take a quarterback he probably won't start immediately. That was a theme again Friday, and likely will be a theme through the weekend. Caldwell said although he has been involved with two teams where quarterbacks have played as rookies with position results – Peyton Manning/Indianapolis and Matt Ryan/Atlanta – those situations are rare. "You just can't go one way or another," Caldwell said Friday. "I think you have to look at the situation, look at the person, look at the player and then decide is it best for him to play or is it best for him to wait. I think every situation is different."