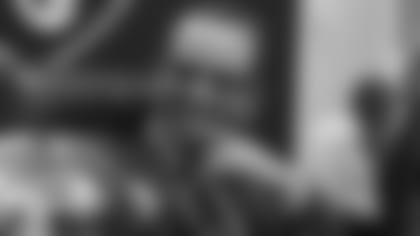 ](http://www.jaguars.com/media-gallery/photo-gallery/Inside-the-Jaguars-War-Room/1d9c9a0b-21a4-4ca2-923b-c9a048f97c29)

JACKSONVILLE – The work is done – for now, anyway. At least for this weekend.
And if this Jaguars regime isn't about back-patting and self-adulation, there was still an unmistakable feeling around EverBank Field as the 2014 NFL Draft ended Saturday evening of another step taken, another stride made.
Note: That line didn't say "Mission Accomplished" or "Job Well Done." But that's because Jaguars Head Coach Gus Bradley isn't one to utter such things. Otherwise?
Well, yeah, otherwise, the Jaguars got some stuff done this weekend.
They addressed offense in a big way Thursday and Friday, and addressed defense Saturday. They addressed the future, which you must do in the draft, and did what they needed to do to address the present, too.
To use draft lingo, as one must after three days of tickers, Twitter and talking heads, General Manager David Caldwell and Bradley "checked off a lot of boxes." In the process, they felt better about the present and a lot better about the future, and did both enough that you got the feeling their smiles early Saturday evening were pretty darned real.
"We feel like we're raising the level of competitiveness" on the roster, Caldwell said. "At the end of the day, we're a better football team."
"We feel good about this group," Jaguars Head Coach Gus Bradley said, with assistant director of player personnel Andy Dengler adding, "It's exciting for me to be able to be a part of it. To see some of the players we've taken, I think we've upgraded our roster through the draft last year and this year."
This week's good feeling began with the first selection – quarterback Blake Bortles of Central Florida. He was the No. 3 overall selection Thursday. When you take a quarterback so early, you better feel good about him, and make no mistake:
The Jaguars do feel good about the selection, from Caldwell to Bradley to offensive coordinator Jedd Fisch, and while Bortles likely won't start immediately the Jaguars believe they have found the right guy at the right time for a long time.
If true, the draft already is a success, but there were many other things to like about a class that appears to be drawing praise nationally.
The Jaguars liked wide receivers Marqise Lee of Southern California and Allen Robinson of Penn State entering the draft enough they figured no way would they get them both. But get them they did, drafting Lee at No. 39 and Robinson at No. 61, with the depth of the receiver class pushing Robinson down and allowing the Jaguars a chance trade up to the spot with the 70th and 150th selections.
Receiver was one immediate need, with the other – interior offensive line – also being addressed. Caldwell and Bradley said center Mike Brewster's offseason development made them comfortable not addressing that position early, enabling them to take Lee and Robinson back-to-back. They did address center Saturday, selecting Virginia center Luke Bowanko in the sixth round. He, Patrick Lewis and Jacques McClendon will compete, with Brewster having the edge.
The other major need entering the weekend was right guard. The team traded a fourth- and sixth-round selection to the Patriots Friday night to move late in the third round to select Brandon Linder from the University of Miami.
Caldwell and Bradley didn't guarantee Linder will start at right guard, but it would be surprising if he's not there a whole lot sooner than later.
The Jaguars wanted four-to-five eventual starters from this draft, a lofty goal but one they may have attained. They not only parlayed the pre-draft flexibility provided by 11 selections into the aforementioned Day One and Two selections, they selected a player with Saturday's first selection they believe eventually could be a big-time corner.
Aaron Colvin, a cornerback from Oklahoma, was projected by many as a first- or second-round selection. Then, he tore his anterior cruciate ligament at the Senior Bowl. You can read about the promise that Bradley made to and kept with Colvin elsewhere on the site, but from a football sense, the Jaguars believe he has the potential to be special.
"Very talented," Bradley said of Colvin. "He really stood out."
The rest of Day Three Saturday was like most Day Threes. They addressed depth with Florida State linebacker Telvin Smith and Arkansas defensive end Chris Smith, with the FSU Smith potentially being a very good coverage linebacker and the Arkansas Smith's 8.5 sacks as a senior making him a possibility for the Jaguars' Leo pass-rushing position.
"At the end, you're looking at guys with a specific role," Bradley said. "You look at specific traits and roles."
The Jaguars closed selecting Central Florida running back Storm Johnson in Round 7, ending the draft by drafting a teammate of the player they selected first.
If there was symmetry to that, that feeling-symmetric stuff paled in comparison to the overall feeling you got listening to Caldwell, Bradley and Dengler. It wasn't an arrogant or cocky feeling. You don't get to be arrogant and cocky coming off a 4-12 record, and that's not the nature of these guys, anyway.
But there was a good feeling – a feeling, perhaps, of being more sure-footed this year than last. The decision-makers knew the roster better this time around, their second draft compared to their first, and they knew more specific needs. As importantly, they knew better the exact traits needed to succeed in the schemes being run by the team.
Those areas improve Year One to Year Two, and the Jaguars expect to do the same. That doesn't mean record, because that's not what Caldwell and Bradley talk about, but from a roster perspective – from the perspective of the build that started 16 months ago with Caldwell's hiring, yes, steps have been taken, strides have been made.
Work remains, but for now, for this weekend, this work is done. And if Bradley won't say it, we will: Mission accomplished. This job, to listen to Caldwell and Bradley – and perhaps more telling, to see their smiles – was indeed one well done.