That's true not only for him, but for his teammates in the Jaguars' secondary – a young group that gained experience in a difficult 2021 season.
"From the beginning of the season to now, we saw a bunch of steps forward," Cisco said.
Cisco, a safety and a third-round selection by the Jaguars in the 2021 NFL Draft, was among multiple players speaking to the media early this week in the wake of the '21 season. He covered multiple topics, including his transition to the NFL early this season after sustaining a season-ending torn anterior cruciate ligament in his final season at Syracuse.
Cisco played mostly as a reserve much of the season. He started the final three games, registering for the season 18 tackles, a forced fumble and a pass defensed. He also had five special teams tackles.
"I think it was just not what I expected," Cisco said of his rookie season. "My expectations were to come in and do a bunch of great things right when I got to the NFL. But it doesn't always happen like that. So, I think just controlling what I can control – and taking advantage of the opportunities I did get – was the biggest thing for me."
Cisco added, "Executing takes time. You've got to catch a rhythm, especially at a position like safety. You have to get a feel for the game and get a feel for the overall rhythm of the game. For me, that's the biggest thing. I wouldn't say I was struggling with calls or the defense in general.
"It was just adjusting to the NFL game."
Cisco, who had 13 career interceptions at Syracuse, missed the final nine games of the 2020 season – his final season in college. He was cleared physically entering his first Jaguars training camp last July.
"I felt at 100 percent at that point," he said.
The Jaguars' secondary underwent significant change last offseason and during the season, with veteran free-agent signee Shaq Griffin starting 14 games at one corner and rookie second-round selection Tyson Campbell starting 14 games at the other. Veteran Rayshawn Jenkins started 14 games at safety and veteran Andrew Wingard started 15 games at safety, with Cisco starting the final three and second-year veteran Daniel Thomas starting the final two.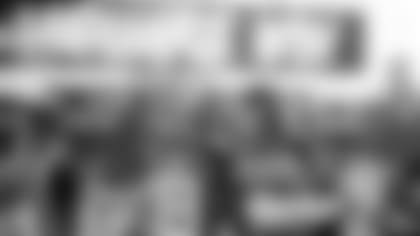 "Even though I wasn't on the field the whole time, I was watching it," Cisco said of the group. "I enjoyed watching it and watching those boys play together and communicate and do the right things on the field. It would carry over from practice to the games.
"If we keep that up and communicate this offseason and get together and bond in general, we'll continue to take those steps forward."
Cisco on the bond within the Jaguars' 2021 rookie class: "We all kind of felt the same way in terms of we were going through one of the hardest things you can see in the league, coaching changes and a losing streak and things like that. We kind of understood this is one of the worst things we'll see in our time, but we're getting it in our first year, so we're getting it out of the way. We kind of all bonded in that sense. I think we grew a real close bond as a rookie class."
Jaguars right tackle Jawaan Taylor on offensive line coach George Warhop: "He made a tremendous impact. He took a leap of faith on me in the draft process. I'm always forever grateful for that. He also made me a better player from every aspect throughout the game. I learned so much from him and his experience being a coach in the NFL. I just soaked in everything I could soak in from him."
Running back Dare Ogunbowale: "It was definitely a different season than a lot of us have had just obviously with having a new coach and then not going the whole season with the coach. But it says a lot about the locker room how we didn't fall apart. Guys stayed close so we had good leadership within the locker room and guys still played, still played hard, still wanted to win games. It was definitely a challenge just from a standpoint that things were just kind of all over the place and it was well documented. Everybody saw it. But at the same time, we were able to still stay together and not fall apart as a team, so that was definitely a blessing."