JACKSONVILLE – The Jaguars have a leader.
That's Trevor Lawrence, and teammates believe they saw those traits during the quarterback's rookie season the past few months.
Taylor, speaking this week in the wake of the 2021 season, spoke of Lawrence's leadership ability – which the No. 1 overall selection in the '21 draft showed during a 3-14 season that featured multiple off-field issues around the organization, including the December dismissal of Head Coach Urban Meyer.
"He's a great leader," Taylor said of Lawrence. "He came in from Day One leading us and we all bought in to what he needed us to do. We all love him. We just want to see him get better and better from here. He had a great year. We just love the progression he had throughout the year."
"It's only going to get better for him. He's going to be a great player."
Lawrence threw 12 touchdown passes with 17 interceptions this season. He and the rest of the offense struggled as injuries took a toll after the team's Week 7 bye, and he threw just two touchdown passes with eight interceptions in a nine-game stretch from November 7 to January 2.
But Lawrence had perhaps his best game of the season with two touchdowns and no interceptions in a 26-11 victory over the Indianapolis Colts in the regular-season finale. He also throughout the season showed resilience on and off the field.
"I was definitely impressed by the way he led us," veteran running back Dare Ogunbowale said Monday. "It was a tough season for everybody and for that to be your rookie year to have to go through a season like this had to be a challenge. But he stayed positive and kept us positive and kept us confident."
Ogunbowale said while struggles are expected for all NFL rookies, Lawrence "attacked those better than a lot of rookies I've seen."
"It was a nightmare season to have for a rookie," Ogunbowale said. "To have to deal with the things that we dealt with, it was definitely tough. It had to be tough for him to deal with it, but he overcame it and was able to lead us. I'm looking forward to watching him in the future."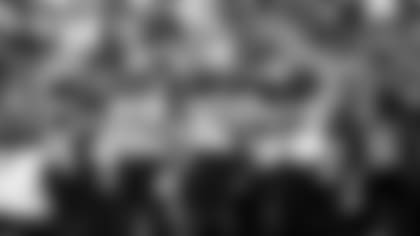 The Jaguars' offensive line has been remarkably stable in recent seasons by NFL standards, and that's something Taylor said he would like to see continue. The Jaguars have entered the last three seasons with essentially the same offensive line: third-year veteran Taylor at right tackle, seven-year veteran A.J. Cann at right guard, eight-year veteran Brandon Linder at center, eight-year veteran Andrew Norwell at left guard and four-year veteran Cam Robinson at left tackle. Second-year veteran Ben Bartch started the final 11 games of the season after Cann sustained a season-ending knee injury. Robinson, who played under the franchise tag – a one-year contract – in 2021, is scheduled to become an unrestricted free agent this offseason. Norwell also is scheduled to become an unrestricted free agent this offseason. Also adding to the conversation along the line: the presence of offensive tackle Walker Little, a second-round selection in the 2021 NFL Draft who started the final two games of the season with Robinson on reserve/COVID-19. "We'll see what happens when a new (head) coach comes in, but hopefully everybody sticks around," Taylor said. "I feel like we've got a pretty solid line. We were Top 10 in a lot of different aspects throughout the season. I feel like we've got a good amount of players on the offensive line to get the job done." Taylor on Monday also was asked if being asked to move to guard moving forward would be an insult. "I'm not an offensive guard, so yeah," he said.
Veteran linebacker Damien Wilson on the importance of Sunday's regular-season finale: "I think the win was pretty significant. Maybe not just in the grand scheme of things, but for the organization's mentality going forward. Just showing that it's there and we can have games like that. It's not like the Colts were resting their players, they were playing to get into the playoffs, this was essentially a playoff game for them. So, we can beat the competition in our division and we can play like that more consistently."