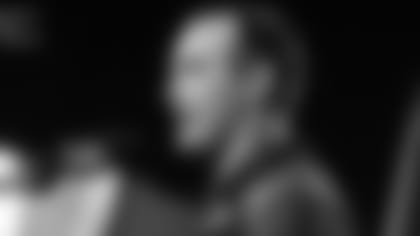 ](http://bit.ly/CombinePics022214)

INDIANAPOLIS – The spectacle just grows bigger and bigger and bigger.
And while it's hard to call any day or set of the days the biggest, most high-profile in the history of an event growing as fast as the NFL Scouting Combine, a strong case could be made for Friday and Saturday.
Jadeveon Clowney. Teddy Bridgewater. And, of course, Michael Sam.
All had their 15 minutes of forced fame at the 2014 NFL Scouting Combine on Saturday, and all sent the media scrambling from their laptops, Twitter timelines and a lengthy lunch line to hear the well-rehearsed answers of some of the NFL Draft's most high-profile prospects.
That was Saturday, one day after Quarterback Friday featured Johnny Football and Blake Bortles, and if you had to pick five players whose storylines define this year's draft – as well as a combine that featured more than 950 media credentials issued, the most ever – those would be it.
Manziel, this draft's most polarizing talent, said pretty much what you'd expect Friday, establishing his pre-draft narrative that despite his Johnny Football persona, a team can trust him with the keys to the franchise.
Bortles, less hyped but far more prototypical than Manziel, made news Friday when asked about Manziel, saying "all I know is that I'll be trustworthy, I won't embarrass an organization off the field by making any bad decisions or anything like that. Won't embarrass my family's name, and will be a trustworthy guy, a trustworthy player."
That may not have been a drop-mic moment, exactly, but in a week in which the quotes are often rehearsed and flat, it more than qualified as a Must-Hear Moment.
Clowney was the day's first big draw, and he was as physically impressive in person as he is on his YouTube highlights. He spoke with the confidence of a player who knows he is good and knows he will be picked early – very early – and he handled the expected questions deftly.
He said he had little to say about his coach at South Carolina, Steve Spurrier, calling his work ethic just "OK," adding that "I will always be working hard. No matter where I end up I am going to work hard and give a team everything I've got." He also said that considering the hype surrounding him before the season "a lot of people expected stuff that was impossible, like 10 sacks a game."
Clowney hadn't talked to NFL teams before he met with the media Saturday, but those topics will be prominent in interviews, too.
If the crowd around Clowney was big, the one that gathered shortly thereafter for Sam was even more so – bigger, some observers said, than they ever had seen at the Combine. The Missouri defensive end is not expected to be a first- or second-round draft selection, but he is expected to be the first openly homosexual player in the NFL. That made his podium appearance a mega-topic, and surrounded by a media horde that dwarfed all others, Sam answered questions in mature well-thought out fashion.
Asked if he was a trailblazer, Sam said no.
"I feel like I'm Michael Sam," he said.
It's impossible to know where Sam will be selected. He's projected by many as a third-day selection, which means somewhere between the third-to-seventh round and it's possible he won't be selected at all. But it is possible to get something of a read on Sam as a person, and the read here is that he's well-equipped to handle whatever questions and storylines surround him in the coming weeks and months. In short, he's impressive.
Impressive, too, was Bridgewater – and it is on this section of this editorial, of course, that many Jaguars fans will focus, because many, many passing-starved Jaguars fans long have focused their hopes on the Louisville quarterback.
Let's make this point here once again:
We don't yet know where Jaguars General Manager David Caldwell is thinking with the No. 3 overall selection in the 2014 NFL Draft. Talking with observers at the Combine there are as many who are very sure the Jaguars will take Johnny Football as there are who are convinced Caldwell likes Bortles as there are who believe Bridgewater is the guy.
The reality is even Caldwell and the brain trust don't know how the draft will play out. They have scenarios and those scenarios will become clearer as May approaches, and Caldwell is intent on not forcing a quarterback in whom he truly doesn't believe.
But if – and it's a very big "if" – it's Bridgewater, it's clear the Jaguars would get a quarterback who loves football, who brings the work ethic and the approach needed to be elite. The concerns about his size are legitimate, but it is said he is the "most NFL-ready" of 2014's Big Three, whatever that does or doesn't mean. So, could it be Bridgewater? Sure. It certainly wouldn't be smart to rule it out.
How the draft actually plays out for the Jaguars is anyone's guess. As one colleague noted Saturday, the weird thing about the combine is for four days it makes the draft feel as if it's upon us when in reality 75 days remain between now and the first round. There are still Pro Days. And interviews. And free agency.
Much can change, and much will change, and the thing to remember is most analysts believe the Jaguars at No. 3 will get a very, very good player. And from the Jaguars' perspective that's a good feeling as any to take from this event that just keeps getting bigger and bigger every year.