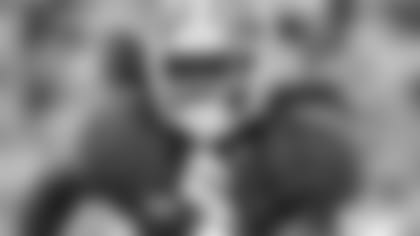 ](http://bit.ly/SWvisit041014)

JACKSONVILLE – Well, waddya know?
When searching for a way to sum up Day Five of the jaguars.com 2014 reader mock draft, there seemed no other choice but for the senior writer to channel Sally Fields, circa 1985, and say, "You like me. Right now – you like me!"
For a day, the normal level of understandable dislike subsided a bit, anyway.
While the reader mock started relatively smoothly with quarterback Blake Bortles of Central Florida mocked to the Houston Texans at No. 1 and defensive end Jadeveon Clowney of South Carolina mocked to the St. Louis Rams at No. 2, controversy reigned after a close vote sent Buffalo linebacker Khalil Mack to the Jaguars at No. 3.
Even as the readers mocked quarterback Johnny Manziel to the Cleveland Browns at No. 4, animosity was the rule of day, and while the senior writer is used to repulsing those around him, this took on a memorably acrid tone.
Well, the debate and disagreement that marked much of the first week disappeared for a day at least, and not only was there something sort of close to a consensus selection for the Oakland Raiders at No. 5 overall, the reader/mockers even gave the senior writer a little credit for – wait for it …
A good selection. (Gasp).
The candidates were for the most part familiar names to those following the mock, with offensive tackles Greg Robinson of Auburn and Jake Matthews of Texas A&M among the players being discussed along with Fresno State quarterback Derek Carr and Clemson wide receiver Sammy Watkins.
It was reader/mocker Myles, though, who set the tone for the day, noting the Raiders' history of doing the unexpected on Draft Day because of a love for the "outlandish pick" as well as "belligerence and on-paper speed."
"With the fifth pick of the draft Oakland selects: John Oehser, OW, University of Florida," Myles wrote.
It would be noble to say this mock draft cannot be influenced by pandering, to say a reader/mocker can't get his her/name in the main story with transparent efforts such as kissing up to the senior writer. It would be noble, but alas, incorrect.
The real problem with Myles' selection is while the senior writer indeed is belligerent, he never had speed – on paper or otherwise. So even though reader/mocker J-School Corby weighed in with well-thought out support of the selection –"Brilliant!" he wrote – this mock wasn't going to get weighed down with such shenanigans, at least not for long.
Reader/mocker Jorjajag projected a more reasonable long-shot selection for the Raiders.
"The Raiders select Derek Carr," he wrote, projecting the Fresno State quarterback in the Top 5 – a scenario that has been kicked around in recent weeks by more than a few draft analysts.
More conventional was the support for two highly-regarded offensive tackles.
"The Raiders will draft Jake Matthews," reader/mocker JamesfromJacksonville wrote of Matthews, a tackle from Texas A&M who many believe could be the first offensive lineman selected in May. "Matthews is a smart pick because his size, power, and intelligence make him arguably the safest pick in the draft. The Raiders are looking to win now, but they can't do that until they get some big guys up front."
Writer reader/mocker hallraptor, "There will be quality WR's available later in the draft but you need to get OT's early. Raiders select Jake Matthews - Offensive Tackle - Texas A&M."
The other potential First Offensive Lineman Taken got support on Day Five, too.
"I think they take a tackle," reader/mocker Jagsfan wrote.  "Why not go with Greg Robinson, the 'run' offensive tackle, in an offense that will be heavy in run this upcoming year with Darren, and MJD?"
There were on Day Five, of course, the usual reader mock goings on. A few people got lost in discussing the news of the day, others tried in vain to force trades into a mock where they're not allowed, and one reader/mocker spent some time bemoaning what could have been regarding the selection of Johnny Football the day before.
"I want JM to go to Jacksonville not Cleveland," reader/mocker Claire Bartell wrote. "I don't think Cleveland has a clue what they are doing and I really like Gus Bradley."
That Bradley is indeed a swell, likeable guy isn't debated by many. And by the time Day Five was done, the reader/mocker's selection was pretty clear-cut, too.
"Sammy Watkins," reader/mocker Jared wrote. "They need speed and they are gonna have it now."
Reader/mocker Dan Roma brought his patented brand of succinct enthusiasm, writing, "Sammy Watkins!" while reader/mocker Brian L. Jones acknowledged the senior writer's offering of Watkins at this selection and wrote, "I'll concede to the O - Sammy Watkins, WR, Clemson University."
Paul T took a similar tact.
"Oakland does what Oakland does best: pick the flashiest guy available," he wrote. "That's got to be Sammy Watkins here at 5. Give it to the Senior Writer on a good pick."
Well, waddya know? That means after five days the jaguars.com 2014 reader mock looks like:
Houston | Blake Bortles, QB, Central Florida
St. Louis | Jadeveon Clowney, DE, South Carolina
Jacksonville | Khalil Mack, LB, Buffalo
Cleveland | Johnny Manziel, QB, Texas A&M
Oakland | Sammy Watkins, WR, Clemson
That brings us to the Atlanta Falcons at No. 6. We'll offer up Robinson here because you figure he may not be here in the real draft and if he is, you figure he can't slip much further, but hey … you never know.