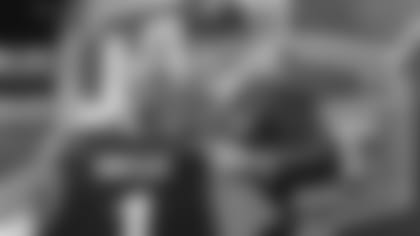 ](http://bit.ly/BBPic031914)

JACKSONVILLE – This was what Blake Bortles wanted.
Bortles, the quarterback the Jaguars made the No. 3 overall selection in the 2014 NFL Draft Thursday night, wouldn't say the Jaguars were absolutely, positively the "only" team he wanted to select him. But he sort of had a feeling it was possible.
And he liked the idea of that happening a lot. A whole lot.
"I'm so happy it's Jacksonville," Bortles said. "I can't wait."
Bortles, a quarterback from Central Florida, was widely projected along with Texas A&M quarterback Johnny Manziel to be one of the top players available at the position in the '14 draft.  But while many analysts projected all available quarterbacks could slide out of the Top 10, the Jaguars prevented that scenario by surprising many analysts with the Bortles selection.
The Houston Texans had selected South Carolina defensive end Jadeveon Clowney No. 1 overall, with the St. Louis Rams selecting Auburn left tackle Greg Robinson No. 2.
When the Jaguars selected Bortles with the next selection, it became the first time in franchise history they had been the first team to take a quarterback in a draft.
The trend in recent seasons has been for quarterbacks selected in the Top 10 to play immediately. That's a trend Jaguars Head Coach Gus Bradley and David Caldwell each said could end with Bortles.
Each said throughout the pre-draft process that any quarterback selected by the team likely will start the season behind veteran Chad Henne, a stance the duo reiterated on Thursday night after the Bortles selection.
Bortles said he's fine with that approach.
"Obviously they have Chad Henne and I have things I need to work on," he said. "I've never looked at an NFL playbook. There are going to be challenges I have to overcome, but I can't wait to get there, work to be the best I can be and start competing."
Bortles, who played at Oviedo (Fla.) High School, forewent his senior season to enter the draft. He started the past two seasons, completing 585 of 891 passes for 7,598 yards and 56 touchdowns with 19 interceptions in three seasons at Central Florida. He cited footwork and mental approach as two of the areas he most needed to improve.
Bortles was asked if he would be OK with never getting off the bench as a rookie.
"I would have no problem with it, but I would go into practice every day and prepare every day like I'm the starter," he said. "I think that's kind of the mindset you have to have when you're in that position. But I would have no problem taking a full year to learn and soaking up as much information as you can."
Bortles, who also said he would be ready if he needed to play immediately, said he met Henne during his pre-draft visit to Jacksonville.
"He's a great guy and I can't wait to work with him," he said.
Bortles, too, said that that pre-draft meeting – which came after key Jaguars decision-makers such as Bradley, Caldwell and Senior Vice President of Technology and Analytics Tony Khan attended his March 19 Pro Day en masse – left a lasting impression.
He said he was wowed not only by one of Bradley's renowned Power Point presentations, but by the overall feeling he got from the Jaguars' organization.
Bortles, who played at Oviedo High School outside of Orlando, grew up well aware of the Jaguars, and attended five or six Jaguars games in the 1990s. He said he had memories of players such as running backs Fred Taylor and Maurice Jones-Drew and quarterback Mark Brunell, though he watched and attended fewer games recently with Sundays busy following his college games the day before.
"We played on Saturday, so I didn't have a lot of free days on Sunday," he said.
Bortles impressed the Jaguars' organization by participating full in the NFL Scouting Combine in late February, something many highly regarded prospects – particularly quarterbacks – don't always do. That's a competitiveness Bradley and Caldwell said they liked.
The meeting several weeks later in Jacksonville also went well, and Bortles while he had a good feeling about all four teams he visited – Houston, Oakland and Cleveland among them – the feeling about Jacksonville was perhaps stronger than the rest.
"I walked out of there, and I remember calling my mom and saying, 'That went really well – I really hope I get an opportunity to play in Jacksonville, because that would be awesome,' '' he said. "I definitely got great vibes leaving there.''