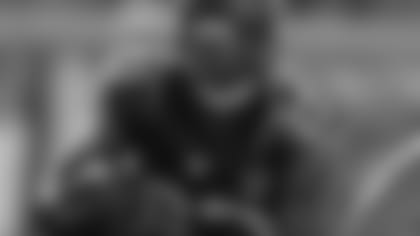 ](http://www.jaguars.com/media-gallery/photo-gallery/CB-Alan-Ball/86b83db9-abc6-4774-98ca-13736e3bf8ba)

JACKSONVILLE – Alan Ball laughed at the first question. He laughed at the second, too.
The topics weren't unexpected. That's one reason the Jaguars' veteran cornerback laughed, but mostly it was because he's past worrying about little things and things he can't control and things that don't matter.
"Does it bother you that you always seem to be overlooked?" was the first question, and Ball said it didn't bother him, and never did.
"And people – observers, media, etc. – always seeming to be in a rush to replace you … does that bother you?" he was asked.
This drew the bigger laugh. Yes, he said, someday he will be replaced. And yes, he will have to compete to keep his starting position sooner rather than later. But no, it doesn't bother him.
"I understand the more talent we have the better that makes me," Ball said during Jaguars 2014 organized team activities, which continue Monday at the Florida Blue Health and Wellness Practice Fields.
"The better I am, the better that makes them. The better they are, the better it makes me. I know anybody who's not here pushing me isn't making me better. The better anybody around me gets, the better I become. It all works hand in hand."
Ball's words are familiar to Jaguars followers. They're essentially the operating philosophy of Jaguars Head Coach Gus Bradley, a Zen-like, competition-based approach focused more on competition and daily improvement than immediate result. They're heard often around the Jaguars these days.
But there's something different in how Ball says it. Maybe it's because he embodies what it's about, and it embodies what he's about, too.
Zen-like describes Bradley's approach and it fits perfectly with Ball's approach. To hear his teammates in the Jaguars' defensive backfield tell it, Ball's approach makes him a natural leader for a young secondary.
"One thing I learned from him is take your job seriously," Jaguars second-year cornerback Dwayne Gratz said. "He leads by example. By the way he walks in in the morning, by the way he comes into meetings and takes notes all the time. And the way he carries himself on the field…"
"He doesn't give a lot of bad body language," he said. "He gives his all every play, and for us who just came in, seeing the way he plays and the way he is in the meeting rooms it helps us a lot."
Positive body language isn't difficult for Ball these days. Shoot, positive anything is easy when you like what you're doing and where you are, and if you can safely say anything about Ball it's that he absolutely, positively feels great about what he's doing and where he's doing it.
Ball, an eight-year NFL veteran, wasn't high-profile when he signed with the Jaguars last offseason, but he and defensive tackle Sen'Derrick Marks were perhaps the best of Jaguars General Manager David Caldwell's first free agent class. Upon signing, Ball told Caldwell and Bradley he wanted a chance to work, and a chance to be part of the foundation of what they were building. As it turned out, he not only came affordable and motivated, he came ready to play at a high level, with Pro Football Focus grading him as the Jaguars' highest-rated defensive player last season.
He also came ready for Bradley's philosophy – and ready to extoll its virtues on younger players.
"He's told me, 'Don't let this opportunity go to waste,'" Gratz said. "I know this coaching staff is something special. The things we do are totally different from the rest of the NFL. This program we have here is something unique.
"He tells me, 'Take advantage of this opportunity now, because once you move onto another team, it's not going to be the same way.'"
Ball, a seventh-round draft selection by Dallas in 2007, spent five seasons with the Cowboys and one with the Houston Texans. He has seen a lot of different sides of the NFL, having seen life as a starter and as a little-used reserve. Right now, he sees himself with the right team at the right time of his career.
Ball said he loves Bradley's approach of focusing on now and letting the outcome take care of itself. He also said it's probably not an attitude he could have fully embraced earlier in his career.
"I think it's something that as you grow and as you mature, you learn," Ball said. "I've learned to control what you can control."
That's why Ball said he doesn't worry about other cornerbacks on the roster – at least not in terms of his future. When the Jaguars selected Aaron Colvin in Round 4 of the 2014 NFL Draft, they did so with the idea he could start someday. With Gratz in his second season on the other side, that means sometime sooner rather than later, Ball likely will compete with Colvin for a starting position.
Ball said that's fine, and if competing with younger players means helping and competing at the same time – as often is the case in the NFL – that's fine, too.
"I just look at this like right now, I'm a part of the foundation here," he said. "Whatever happens in the future is for the future. Me helping these guys, no matter if I'm here or not, is going to help what I'm trying to be. I'm going to be a part of this foundation, and that's what I've wanted to be."
A Zen-like answer, but not surprising. At this stage of his career, Ball is long past worrying about what he can't control.