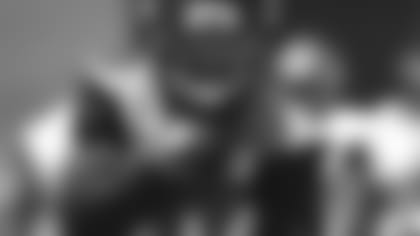 JACKSONVILLE – Cecil Shorts III is excited.
It's more than being healthy, and more than what's going on around the Jaguars, though no question those things are exciting to the fourth-year receiver.
It's how he feels in the present, and how he plans to approach the future. Mostly, he's excited about the possibility of what he can become.
And that last part? That's a really good feeling.
"It's kind of a new feeling, because I haven't felt this way in a long time," Shorts said early this week during Jaguars 2014 organized team activities, which continue Tuesday with the fifth of 10 scheduled OTA practices at the Florida Blue Health and Wellness Practice Fields.
Shorts is fully healthy as the Jaguars go through OTAs. He's focused on staying that way – maybe more than at any point not just in three NFL seasons but in his football career.
Considering what he went through last season, it's not just a good feeling; it's a great one – the sort of relieved, weight-off-your-shoulders feeling you take with you not just on the field, but into the weight room, the training room …
Jaguars Head Coach Gus Bradley mentioned Shorts late last week as having stood out early in OTAs, and mentioned him again at the start of this week.
"Cecil has had a great four days," Bradley said Monday. "He's doing a tremendous job leading that young (receiver) group and for himself. The challenge for him is to compete within himself and that's how we talk. He's doing a great job."
The player doing that job? The one who is suddenly a veteran leader after just three NFL seasons? That player is a different from the one who occupied his locker this time last year.
That player was healthy, too, and looking forward to a good camp – and perhaps a breakout season. He talked of becoming a No. 1 receiver, and of becoming the first Jaguars receiver since Jimmy Smith in 2005 to reach 1,000 yards.
But Shorts said that player didn't approach injury prevention as diligently as he could have. A sports hernia injury hampered him much of the year, and grew worse as the season continued. There were times, he said, he sat at home not knowing how to deal with the situation. Making it worse was the nature of the injury.
"If you've got a broken arm and you see the bone pop out, you're like, 'Oh,'" he said. "It was tough, because it felt like nobody understood."
Shorts said throughout most of the season he practiced just enough to prepare, "trying to survive," hoping to make it through games. He made it through 13, then after a double move and a sprint for a long pass from Chad Henne against Houston on December 5, he didn't make it through anymore.
Shorts underwent surgery and rehabilitated early in the offseason.  He is 100 percent in OTAs, and if you put a percentage on working to prevent injuries, it'd be in triple digits, too. Stretching. Massages. Diet. Cold tub. Chiropractor. Acupuncture. Foam rollers.
"Anything I can get," Shorts said. "I kind of grew up when it comes to not being lazy. I learned how to take care of my body."
The idea, Shorts said, is to be healthy not just on game day, but during the week. Shorts is one of the team's more diligent workers, and has flourished under wide receiver coach Jerry Sullivan, who said this week he believes Shorts can take his game to another level if he remains healthy.
"I have expectations for him to take the next big step," Sullivan said. "He's the kind of guy who wants to do it. He wants to play. He wants the ball, wants to work."
But Shorts said it's one thing to listen to coaching and another to be healthy enough to work every day to improve. It's the second part that leads to real improvement.
"That's how you get better, actually working at your craft," Shorts said. "Last year, I'd take two or three reps a period, then sit out and try to be as healthy as I could for Sunday. I never really improved."
Shorts said that's his lone focus now. He said he made a mistake talking about being a No. 1 last year and that added needless stress. He said, too, he's not worried about entering the final year of his contract and this being a "contract year."
"If you play good, they're going to pay good," he said, laughing.
To Shorts, all of those are minor storylines, with the major storyline being pretty much the word he wrote on the first line when listing his goals for the season. That word:
"Durability," he said. "I think I can improve in a lot of areas, but the only way I can do that is by actually playing, working on my craft. If I stay healthy, I can take another step. I feel a little more savvy on the field. I have a long way to go, but I'm a lot more confident.
"I just need to be the best I can be. If I can stay healthy, I think I'm a pretty damned good receiver in the NFL."
Somewhere in that last line is a lot of confidence. Couple that with Shorts' excitement, and that's a really good feeling.