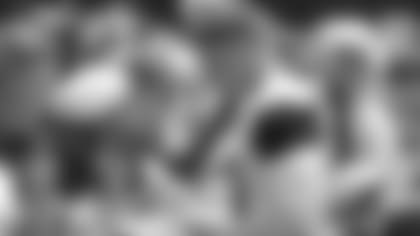 ](http://bit.ly/Day6pics060514)

JACKSONVILLE – Cecil Shorts III needn't have worried. Not this offseason.
Shorts, the Jaguars' fourth-year wide receiver, had been asked early this week what he expected from Thursday's 2014 open-to-the-public organized team activities practice. Could it have the same energy, the same interest, as the rest of a decidedly interest-heavy, fan-friendly Jaguars offseason?
Shorts had answered cautiously, joking he didn't want to jinx it and have only two players' grandmothers show. Well, Cecil … this wasn't your, er, grandmother's OTA.
Then again, this is no normal offseason around the Jaguars, either.
"It's exciting, all the energy the fans are bringing," Shorts said Thursday following the sixth of 10 scheduled 2014 Jaguars OTA practices at the Florida Blue Health and Wellness Practice Fields. "It shows they're excited and that makes us excited."
Thursday's was the lone 2014 Jaguars OTA session open to the public. And like anything else the Jaguars have opened to the public this offseason, the public responded Thursday and did so in impressive fashion.
The official number from Thursday: 1,787.
And the first thing you might say is, "Well, that didn't quite match rookie minicamp," and the answer would be, "No, it didn't quite match rookie camp." But when the Jaguars made national news with more than 6,000 attending rookie camp last month, that was on a Saturday.
This was a Thursday, and whatever the number, it didn't matter as much to fans as the chance to be around the energy, the excitement.
They got to feel that Thursday, and, too, they got to see for the first time the core of the team's 2014 free-agent class, veterans such as running back Toby Gerhart, Chris Clemons, Ziggy Hood, Red Bryant, Zane Beadles.
"That's the first time I've been involved in an OTA that was open to the public, and to have that kind of turnout was great," Gerhart said.
Gerhart, a running back, spent his first four NFL seasons in Minnesota. He's far from alone as an NFL player never having experienced open OTAs. They're not common, but neither is the Jaguars' approach to fan interaction under Bradley, General Manager David Caldwell, President Mark Lamping and Owner Shad Khan.
"I know that not many teams open up OTAs but we want to be unconventional in how we do things and we want to reach out to our fans," Bradley said. "They're so important and we've got to prove worthy of their following and that's what we're trying to do. We really appreciate them coming out."
Bradley called Thursday "another great showing by our fan base."
"We talk about it and we don't want to take it for granted about the importance of connecting with the following," Bradley said.
Players had heard and read about the 8,000 fans who showed up over the two-day rookie camp in May, but there's a difference between reading and hearing about it and experiencing it. Yes, to hear players – even really, really experienced veteran players – tell it, the energy and excitement they'd felt all offseason felt a lot realer Thursday.
"It's amazing – OTA six," quarterback Chad Henne said. "A lot of times teams don't even open this up to the fans so it's good for us to open it up and it's good for them to return and show up because the more they come out – it gets our blood going, it gets us excited about it – the more we can open up practice."
That's been a common refrain around EverBank Field, of course. Since Caldwell and Bradley took over last January, the slope overall has been upward, and the accompanying excitement this offseason has been unlike anything felt in a long time.
Veterans had talked about it before Thursday, but hearing and seeing fans in a real footballish setting – as real as the offseason gets anyway – gave Thursday added oomph.
"Anytime the fan base comes out in this weather, it's always a good thing," said defensive tackle Ziggy Hood, who signed with the Jaguars in March after five seasons with the Pittsburgh Steelers. "It adds more excitement. Even for OTAs, people are taking off work for practice."
There were the usual on-field OTAs storylines on Thursday, too, of course. Blake Bortles talked to the media, and so did Chad Henne. Bortles discussed his OTA progress, and Henne discussed what Bradley said again this week has been a very, very good camp for the veteran quarterback.
There was talk, too, of injuries at receiver and progress in the running game, and a lot of other things that will ebb and flow in the coming weeks and months.
What's not ebbing is the storyline of the fans' connection with the team this offseason – how it's growing, and how these players can't go out in public without having fans approach them and how cool the players think that is because of how excited fans are about this team.
"It's more than normal," Shorts said. "People are excited about the guys coming in, the free-agency pickups. It's a good feeling."
It's a feeling a lot of veterans got to feel on the field for the first time Thursday, a day that began with a line outside the practice fields and ended with Jaguars veterans and rookies alike knowing for certain this wasn't your normal OTAs.
Then again, it's hardly a normal offseason, either.