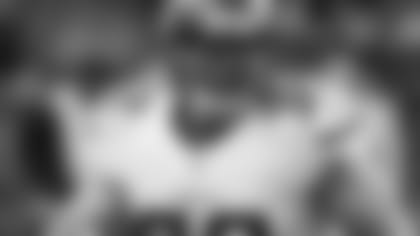 ](http://bit.ly/TGPics031114)

JACKSONVILLE – Zane Beadles couldn't more comfortable with his projected role.
Beadles, an offensive guard who signed with the Jaguars as an unrestricted free agent Wednesday after spending four seasons with Denver, was signed to play left guard next to a young, talented left tackle – and to provide leadership on what's expected to be a young line.
And as the fifth-year veteran sees it, that's perfect.
"I hope I can come in and use some of my knowledge," Beadles said, who spoke Wednesday afternoon at an introductory press conference at EverBank Field that also featured newly signed running back Tony Gerhart and newly signed linebacker Dekoda Watson.
"I am only entering my fifth year. In some people's eyes, that's not hugely experienced but I've played a lot of football, a lot of snaps and been through a lot of situations. I hope I can bring that to the younger guys and help them understand certain situations and let them know what I've been through."
Jaguars Head Coach Gus Bradley called Beadles "one of the top guys we were looking at" in free agency, and said he liked that Beadles will play next to second-year left tackle Luke Joeckel, the No. 2 overall selection in the 2013 NFL Draft.
"It will be a good combination," Bradley said. "To have that type of player there is good for us."
Beadles said he met several members of the offensive line Wednesday.
"I know they are excited about me coming in and trying to do that with some of the younger guys and I'm excited to work with them," Beadles said. "I've heard great things about some of the personalities in the room and the good players that are young and inexperienced."
Each player signed Wednesday was acquired to fill a clearly defined role, with Gerhart expected to start at running back and Watson likely to play the strong-side linebacker and also have a role as a pass-rusher.
For Gerhart, the chance is welcome. An All-America selection and Heisman Trophy runner-up at Stanford in 2009, the Minnesota Vikings made him a second-round selection in the 2010 NFL Draft and he spent the last four seasons backing up All-Pro running back Adrian Peterson.
"I feel like I've shown some flashes in the playing time I've had, but I haven't gotten to be a consistent, every-day starter," he said. "I'm excited about that opportunity to show what I can do and help this team be the best it can. I've got experience. I've been in a lot of situations. Now, it's a chance for me to shine. I don't have that mileage on me.
"I'm a semi-'proven' veteran without the mileage and it's a chance for me to go out, gain experience and show what I can do."
Gerhart, who rushed for 283 yards and two touchdowns on 36 carries this past season, has rushed for 1,305 yards and five touchdowns on 276 career carries, a 4.7-yard per carry average. His most extensive playing time came in 2011, when he started five games in place of an injured Peterson. He rushed for 531 yards and a touchdown on 109 carries that season.
"He seems like a guy the more he handles the ball, the stronger he gets and he'll pop one," Bradley said, adding that Gerhart should bring leadership to the running back group. "He's going to have a great opportunity so it'll be interesting to see if he captures it."
Watkins, who played his first four seasons with Tampa Bay, is expected to play strong-side linebacker on early downs, but Bradley said his biggest value may be his ability to play Leo pass rusher in some passing situations.
"He's a good rusher," Bradley said, adding that he also can play in the team's pass-oriented "lightning" package. "He's good backup Leo. We have our two Leos, but now if something should happen with our Leo spot, he can go and rush. He has those capabilities.
"We said, 'Let's make sure he can rush,' – and oh, he can also drop."
Watson, a seventh-round selection by the Buccaneers in the 2010 NFL Draft, has three sacks and four passes defensed in his career. He had two sacks last season.
"I love to rush," said Watson, who said he also had interest from Buffalo, Cleveland, New England and San Francisco. "I'm fast and explosive. I'm able to play that defensive end position if needed and just being able to also play to the Sam linebacker and playing special teams as well. What I am starting to realize and what I did realize is the more you can do the more people can exploit your talents and be able to use you and help them win."
Watson said he had more opportunity to rush the passer this past season in Tampa Bay than his first four seasons.
"I've been barking up that tree for a long time, so finally it came around," he said.
*Bradley said he spoke on Wednesday with quarterback Blaine Gabbert, the No. 10 overall selection in the 2011 NFL Draft who was traded to the San Francisco 49ers Tuesday. Gabbert visited EverBank Field Wednesday. "I still feel strongly about him as a person and what he brings to the table," Bradley said, adding that he told Gabbert he thought the trade could be a positive for the fourth-year veteran. "I want nothing but the best for him," Bradley said. "It was great for him to come in and visit with all of us." …
*Bradley said he continues to have "an open mind" about the future of running back Maurice Jones-Drew. The three-time Pro Bowl selection became a free agent Tuesday at 4 p.m. "Before this (Gerhart signing), we talked and he knows how I feel about him," Bradley said, adding that he and Caldwell haven't discussed Jones-Drew in the last five or six days. …
*Beadles said he came away impressed with the Jaguars' effort in an early season game between the Jaguars and Broncos in Denver. The Broncos entered the game undefeated and heavy favorites, but the Jaguars trailed just 21-19 in the third quarter of a 35-19 Broncos victory. "There are talented guys on this roster," Beadles said. "That was another thing that was exciting for me was playing that game and seeing how hard they played and they definitely gave us a run for our money there for a good three quarters. I am happy to be a part of that."