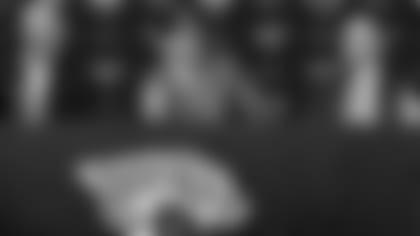 ](http://www.jaguars.com/media-gallery/photo-gallery/Blake-Bortles-at-EverBank-Field/b0ff9245-f7b1-4fb5-a886-e41a4d829e95)

General Manager Dave Caldwell
(Opening statement) "Thank you all for coming.  For some reason this is our biggest Florida media outcome that we've seen in a while. I appreciate you guys all coming today. I think we covered a lot of it yesterday with Blake. We felt like early on in the process this was a guy we were going to target all the way into the fall. Our scouting staff, our personnel staff, our coaching staff did an incredible job with their evaluations, and with their information and input. A lot of credit goes to them, Coach Bradley and Shad Khan obviously for their support. We feel really good about this pick and we feel like for the future of this franchise it was the right thing for us to do. With that being said I am going to turn it over to Coach Bradley."
(Opening statement) "I'm obviously very excited about today and this opportunity to introduce you to Blake. We really felt good about this. A lot of hard work has been put into this process and this is a big part of it. I know we've got multiple picks coming up in the next couple of days but it's a sign to our team that we're getting better. I think as you get a chance to meet with Blake and get a chance to get to know him and what he's all about you'll understand why we gravitated towards him. With that I will turn it over to Blake but we are truly excited about this opportunity."
(Opening statement) "I'm so happy to be here. I want to thank my family, I want to thank Mr. Khan and his family and Tony and Dave Caldwell and Coach Bradley. I couldn't be more happy to be here. I am so excited to have the opportunity to stay in Florida. Every time I met with Coach Bradley and everybody here I left thinking that was awesome. I felt that this was the best place and this was the place I wanted to be when I left and was on a visit here. I was ecstatic about it. When my phone rang and when it was Dave it was an unbelievable feeling. You can't put it into words. I'm happy to be here and happy to start competing and to get after it."
(How do you feel UCF's offense helps you get ready here?) "At UCF there was some pro style tendencies and some stuff that we did. I think that helped prepare me a little bit. Obviously anywhere you go there's going to be different lingo and stuff but there's some similar schemes and concepts. Being about to work with Coach (Jedd) Fisch will be awesome and I look forward to it. I think I've got a little bit of experience of some similar things that they do."
(From playing other positions how much does that help?) "People are a lot faster and stronger now, so I think definitely protecting yourself and living to play another down are big parts of it; being smart with your body, being smart with the football. Growing up I played linebacker and I loved defense and enjoyed contact so that's something that I have in me."
(Why did you make the switch to quarterback?) "There was nobody else that would do it. I played baseball so it was an easy switch so thankfully it happened."
(What distinguished Blake from other quarterbacks?) "I think we're looking for guys that are really competitive, reliable, tough and smart, and we had check marks by all of that with Blake. We felt he was extremely competitive, he demonstrated that through his season, through the BCS game all the way to competing at the Combine. Those are traits that are a central theme to our organization. The reliability part, with his size, physical traits helped him to where you can count on him to play every game. Just his toughness and smarts and all those characteristics put together along with what he showed on tape it was an easy choice."
Blake Bortles(How much did it drive you in high school trying to find a college that people had doubts about you as a quarterback. How much did that drive you to prove them wrong?) "I think only having a couple of offers out of high school was something, but I am very self-motivated and worried about being the best I can be and worried about my individual development and how can I make myself better. How can I be better for the team? I was grateful and very thankful for Coach O'Leary and UCF for giving me an opportunity."
(How many offers did you have at tight end vs. quarterback?) "I had two to play tight end and three to play quarterback."
(What was it like hearing your name as the first quarterback taken?) "You hear it and see it especially being in New York with everybody. Everybody talks about it but both those guys (Johnny Manziel, Teddy Bridgewater)and the rest of the quarterbacks are great guys and great football players. They're good people. It's easy and fun to be around and not talking about it with those guys, talking about life and other things. Being a competitor you definitely want to be the first choice at your position so that was cool. I think that being in Jacksonville and having Mr. Khan and Coach Bradley and Dave believe in me and take me is an unbelievable honor."
(On the last fifteen hours for him) "It's been a lot of fun. We went to New York with no expectations. I got the opportunity to get invited and go and be a part of that environment and that's a once in a lifetime thing so that was something that I felt we needed to do. We went and sat in the green room and had no idea, (being drafted) one or a hundred it would have been awesome either way. Receiving the call from Dave was phenomenal and then we went and ate dinner after we left Radio City last night. It was a perfect night."
(On your family. A lot of people think you're the hometown guy from Florida. What do you expect of yourself and what can you tell the fans?) "My family will definitely be at every game. It's a little over two hours down the road so they will be here in full force and be pumped to be rooting on the team. And then expectation-wise I'm ready to compete. That's the one thing I think that this is all about. I'm excited to get here, I'm excited to play for Coach Bradley and Coach Fisch and to learn from Chad Henne and these other guys and just start competing and trying to get better each and every day."
(Are you staying here this weekend since you can start on Monday?) "I'm going to go home and pack a bag and then head back."
(On willingness to sit behind and learn; will that be hard for you to do?) "Yeah, but I think if you have the right mindset about it I think you'll be alright. You're going to go out to practice and you're going to practice and prepare and study like you're the starter whether you're the second, third or fourth. That is the mindset I'll have. I'll prepare and practice every day like I'm going to play on Sunday. That's how you get better, taking every rep like it's a game-time rep and learning. Obviously Chad is a guy that's been doing it for a while so learning from a guy like him is something that I really look forward to."
(Can you introduce your family?) "My dad Rob Bortles, my mom Suzie Bortles, my girlfriend Lindsay Duke, Aunt and Uncle Laura and Randy Bortles and then my agent Ryan Tollner  ."
(They all flew with you from New York?) "Correct."
(On plan about bringing him along . What do you envision for him?) "The second part to that for us I think with Coach Bradley and our coaching staff they take great pride in being developmental coaches. Not just with Blake but our whole entire roster, so I think we've devised a plan here with not only Blake but some of our other younger guys at post-practice of getting some extra reps and team reps and not only developing our players but also developing some of our coaches in that aspect too. I know Gus and his staff take great pride in the development of our players and it's critical for the sustainability of our franchise."
(Specifics?) "We can develop as far as the first rookie mini-camp where he gets the majority of reps, almost all of the reps. You will see that I think throughout we had some things designed after practice. We do take a lot of pride and even challenge our staff this year to be even more in tune with that and be developmental coaches. That's sitting down creating a vision, keep them connected to the vision to reps after practice to extra film sessions, so we definitely have a plan all set up. It's something that we thoroughly discussed before entering this process."
(Did you have any relationship with any Jaguars players before the process started? Have any players reached out to you?) "I had the opportunity to throw with Cecil Shorts out in California. We're will the same agency as well as Zane Beadles. Both of them have texted me as well as Chad. I met Chad when I was here on my visit, he was in the weight room working out. Those are three of the guys I have talked to. Michael Brewster being from Orlando I've met him and talked to him before, so there's couple of guys that I know and I look forward to meeting everybody."
(Are you going to bring in another rookie quarterback at camp so you have two at camp?) "We'll see."
(Did you pick a number yet?) "Did I pick a number? Whatever number they give me is what I'll wear."
(Do you remember coming to any Jaguars games specifically?) "With Mark Brunell playing quarterback? I think I came to a game that season. I was young, I was elementary school, second, third, fourth or fifth grade. Elementary school was the last time I came and I did come to a game that year with Brunell playing quarterback."