JACKSONVILLE – Senior writer John Oehser examines Interim Head Coach Darrell Bevell's press conference following the Jaguars' 30-16 loss to the Houston Texans in a 2021 Week 15 game at TIAA Bank Field in Jacksonville Sunday
1. Clean it up. This Jaguars loss felt like many others this season – and if Bevell had a theme following his first game as interim coach, that was it: That if the Jaguars are going to start winning, they must reduce the mistakes that have plagued them throughout what is now a 2-12 season. "The guys were ready," Bevell said. "They were into it. We just didn't play a clean enough ballgame today." The Jaguars committed just four penalties for 40 yards Sunday, but one penalty – an unsportsmanlike illegal hands to the face on defensive lineman Adam Gotsis – extended the Texans' first drive and led to Houston's first touchdown. The Jaguars also dropped at least five passes Sunday, continuing another season-long issue. "I just told them in there: We have to play clean football, and we haven't been able to do that," Bevell said. "The one thing that I really preached with the guys was I want them to play 60 minutes and not measure the game because you have to be able to learn how to win. These games in the NFL are razor thin."
2. As normal as possible. Credit Bevell for his approach following his first game as the Jaguars' interim head coach. Following a long week in which he took over late Wednesday night/early Thursday morning, he dismissed questions about the difficulty of preparing and focusing for a game under such circumstances. "It really ends up being a normal week," said Bevell, who replaced Urban Meyer following the latter's midweek dismissal. "We're used to all kinds of things that change. We have to be ready to make adjustments and be able to adapt to situations. I thought our guys – whether it was the players or coaches – did a good job putting the plan together." Added Bevell of the in-game mechanics and communication, "I thought it was really good. I thought the communication was clean with all the coaches, being able to go back and forth on the defensive line. Our analytics guy upstairs, I was able to talk to him pretty cleanly, so I thought it went well for the first time out."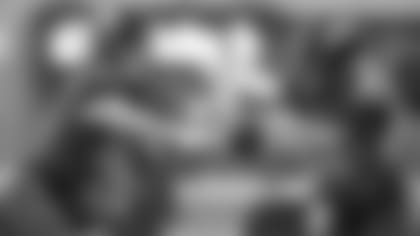 3. Drops, drops and more drops. With dropped passes continuing to be an issue, Bevell addressed it extensively Sunday: "When you get your opportunity to make a play, you've got to make your play. These guys are professionals, we talked about it before, and we have to catch the ball. That's your job. A receiver, his description is to receive, so he needs to catch the ball."
4. Change of heart. Bevell late Sunday afternoon also addressed one of his key in-game decisions. This came on the Jaguars' first drive. With the Jaguars facing 3rd-and-10 at the Texans 11, rookie quarterback Trevor Lawrence handed to running back James Robinson – who gained seven yards to the Houston 4. After initially lining up on offense, the Jaguars called timeout before a 22-yard field goal by kicker Matthew Wright cut the Texans' lead to 7-3 with 1:26 remaining in the first quarter. "At the time, we felt like it was a four-down territory when deciding the third-down play],'' [Bevell said. "That's how I was playing it. We had a pretty solid run. We started to go for it [on fourth down], ended up taking a time-out, just thought better of it. Wanted to get points in that situation to have something positive happen at the end of that drive."
5. An early burst, then … The Jaguars' offensive struggles continued Sunday, particularly after an encouraging start. The Jaguars, who have averaged 10 points a game since a Week 7 bye – scored their most points (16) since a 23-17 Week 10 loss to the Indianapolis Colts. Their 296 total yards snapped a two-game streak of sub-200-yard games. The Jaguars' best stretch offensively Sunday came on the first two series, when they drove 79 and 75 yards for a field goal and a touchdown. They were held to 10 yards or less on six of the next eight possessions. "I thought there was things that we did better today," Bevell said. "There was a little bit of explosion. You were able to find guys -- we were able to create some space for some people. But again, there was opportunities to make plays. We didn't make some of them, and we've got to catch the ball, we've got to throw the ball. We've got to protect better, and we'll be able to find the end zone."