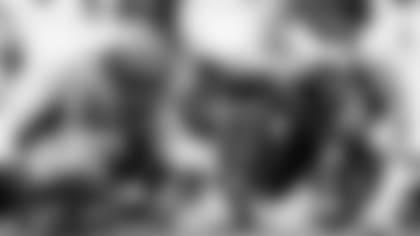 4. ETN continues to look healthy – and promising. Jaguars running back Travis Etienne Jr. made his 2022 debut Friday – and Pederson liked what he saw from the No. 25 overall selection in the 2021 NFL Draft. Etienne, who missed his rookie regular season with a Lisfranc injury, ran with confidence Friday. As has been the case throughout the offseason program and training camp, Etienne ran hard and cut well – and he appeared confident running on the foot. "I thought he did some things really well," Pederson said. "He stayed disciplined in his path, in his track, and I thought maybe sometimes he got a little antsy and tried to make some moves that probably weren't there. But that just comes with time, as you know, and he hasn't had the time. These are valuable reps for him. He's going to get better. He'll watch the film either tomorrow or the next day and make the corrections. But I thought overall for the first time back out, it was good to see him and put him in those situations." Etienne also caught one pass for 10 yards in three series. Pederson was asked if the Jaguars planned to use Etienne in multiple ways. "Maybe," he said, smiling.
5. This was a good night for the first team offense and defense … The Jaguars' first-team offense scored 13 points on its first three series, scoring on all three possessions. The first-team defense held the Browns to seven yards on three series, and the Jaguars led 13-0 when the first-team offense and defense left the game. Pederson made clear he liked the play of the starters and liked very much "the fact that we scored. I wanted to see execution. I wanted to see physicality up front with the offensive line, move the line of scrimmage, things like that, and end up either with kicks or touchdowns, and we did that. Those are all positives that we can build off of."
6. … and not as good after that. The Browns outscored the Jaguars 24-0 after the starters left the game with 14:09 remaining in the second quarter and held a 247-130 yardage advantage during that span. "Especially in the second half, we had a number of mistakes that cost us, and it hurt us at times," Pederson said. "We've got to tackle better, and some of these guys are fighting for roster spots. We know that. We don't want them to put any added pressure on themselves, but at the same time when the plays come to them, we ask them to make the play, and tonight there were just a few of those that didn't make the play. We just need to keep working at it."