4. A necessary stance.We'll begin this post-minicamp Fabulous Four focused on a popular topic –Maurice Jones-Drew. The more I thought this week about Jones-Drew missing mandatory minicamp, the more I came back to the disconnect between how the team feels about Jones-Drew's absence and how the public perceives it – i.e., the public being understandably concerned with the team being less so. Not to say the Jaguars didn't want Jones-Drew in Jacksonville this week. They obviously have wanted him here the entire offseason. But while fans paint this as the crisis to end all crises, there's just not that feeling around the organization. The reason is this is a new era under Jaguars Head Coach Mike Mularkey, and the coaching staff has just come off eight weeks of very solid work with a maturing young quarterback and a capable group of receivers. The offensive line is healthy and a year more experienced. The defense is a year more experienced, and has a rookie pass rusher the team likes in Andre Branch. There is a positive feeling about the starters at each position, and a good feeling, too, about the depth around the roster. Is there concern about Jones-Drew? Sure. Do they want him in camp? Sure, but at the same time the team is moving to the future and tearing up the contract of Jones-Drew and extending him past his current deal isn't something that makes sense to do right now. There are those who perceive that as stubbornness or a slight toward Jones-Drew. It's neither. What it is is a sound football decision, and a necessary stance.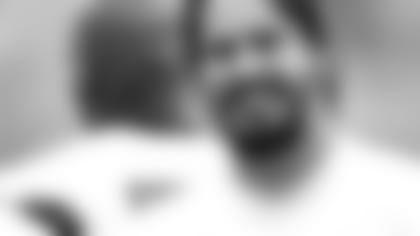 3. So far, so good.The best story of the Jaguars' 2012 offseason may be the return of right tackle Eben Britton. We mention this fully aware that a good offseason story means little come training camp, and that's particularly true for a player coming off a back injury, but you deal with what you know. What we know is after eight weeks of offseason work Britton couldn't feel better about things. He has said since late last season because of the nature of his back injury there's no reason he can't return and play at a high level. He also has said doctors have told him there's no reason he should have a recurrence. There's no predicting future injuries, but watching Britton this offseason you see a different guy than last season. From the beginning of training camp last season you saw a guy favoring his back who just wasn't moving right. Now, to watch Britton in practice is to watch a guy who looks like he's having fun, which is what those who were around the team in 2009 and 2010 say he was during those seasons. He said on Wednesday he's taking things one day at a time, trying not to worry about the next day and concentrating on enjoying playing football. That's good to see, because Britton is a genuinely good guy, and it obviously would be great news for the Jaguars' offensive line. Plug a healthy Britton in at right tackle with some experience and health and you've got a strong position on which you can rely – and you certainly have an upgrade over last season.
2. A brief word on the quarterback.We won't close with a word on Blaine Gabbert today, and as the offseason ends for veterans, it's fitting to move the second-year quarterback off the closing spot. His offseason has been that impressive. It's not unfair to say he made real and necessary strides this offseason. What you wanted and needed to hear about Gabbert this offseason was that he was focusing on the fundamentals in his drop and doing things correctly and naturally enough that he can carry them into pressurized situations in the regular season. All reports were that the fundamentals improved and that Gabbert had a good offseason on that front. During the first two days of minicamp – the first time the media has been allowed to watch a full practice since the beginning of the offseason program – the difference in Gabbert was obvious. He has looked all offseason like a different player off the field – more confidence, and a bit more maturity – and the player we saw on the field for most of minicamp looked different, too. This is all "just the offseason," of course, and everything you can say positive about Gabbert seems empty until you see it on the field in September, but he has looked about as good as a second-year quarterback learning a new offense and getting NFL coaching for the first time could look in an offseason. There's no way we can say on June 15 what that will mean, but in the context of what we know, that's the progress the Jaguars wanted from the last two months.
1. Closing up camp.We close this final minicamp-closing Fabulous Four with a final word on the state of the team. Despite some offseason distractions and headaches, camp closed with the same positive energy as was felt throughout the last two months. It's impossible to overstate the feeling among players that the new coaching staff is moving things in the right direction. The offense may need some time early in the season to adjust to the new scheme, but players believe that what they're putting in is going to work, and having everyone on board is a powerful thing. But it's not as much specifics that gives players a positive feeling as just the overall vibe that things are being done right. "There's such a strong level of focus," guard Uche Nwaneri said. "There's so much more focus and intensity from everyone. I believe a lot of guys have their mindset on us getting into the postseason this year. We already know the coaches have that mindset. They're bringing that into the culture. There is definitely a fire with this team that hasn't necessarily been seen that highly the last couple of years. Guys realize we have an opportunity right now with the guys we've been able to pick up through free agency and the draft to take advantage and become one of those teams that gets into the tournament and give ourselves a chance to go after the championship."