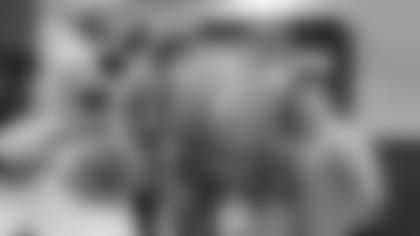 ](http://bit.ly/JAGS365-040414)

JACKSONVILLE – Bobby Back hasn't been this excited about the Jaguars in a while.
He's absolutely excited now, though – and that excitement is about more, even, than what's going on in the front office and on the field.
Back said those elements are positives, and equally as positive for Jaguars Season Ticket Members are events such as one on Thursday night. That's when he and other Season Ticket Members attended the Jacksonville premiere of the upcoming movie "Draft Day" starring Kevin Costner and Jennifer Garner.
"It's exciting – this is something that hasn't been here in a while," Back said Thursday at the event at the AMC Regency 24. "They're doing everything the right way."
Jaguars players such as wide receiver Cecil Shorts III, wide receiver Mike Brown, offensive tackle Cameron Bradfield and offensive guard Will Rackley attended, as did former Jaguars players such as tight end Damon Jones and safety Donovin Darius.
"We don't see the season-ticket holders much during the season," Bradfield said. "So to come out and see their faces and get a chance to talk to them is good."
The premiere was the kickoff of Jags365, a plan introduced this offseason by the Jaguars to provide a greater level of service and new experiences for Season Ticket Members.
"The movie's not out yet, and when do you get to sit down with a Jaguars player and watch a movie?" Jaguars Vice President Sales Chad Johnson said. "That doesn't happen very often. That's a pretty special experience."
Jags365 also will provide members with unprecedented access to EverBank Field, coaches and players, as well as exclusive events and packages tailored to personal preferences.
"We've got a full staff that's been waiting to get out and execute," Johnson said "We're excited to get out and do something fun with the fans. What we've talked about all year is, '365 days a year.' Here we are at the beginning of April doing an event. It's perfect."
Johnson said the Jaguars will be launching a series of Jags365 events over the next three months.
"We want to make sure people have time to schedule and plan," he said. "We'll be communicating what those are and it will be everything from football-type events to family events. There will be some business networking. We'll have some pretty cool stuff."
Season Ticket Members not only viewed the movie, they had the opportunity before the screening to speak with current and former players in a 45-minute "mingling" period.
"This is really awesome," longtime club-seat season-ticket holder Penny Hartman said. "I love draft day. You can't get me away from the television."
Hartman and her husband, Alan, have been season-ticket holders "not since forever," Alan said, but for a long time. They upgraded to club seats for this season.
"We're really excited about it," she said.
"We see what's coming," Back said. "It's exciting."