JACKSONVILLE – Jaguars experts – Rick Ballou, Frank Frangie, Brent Martineau, John Oehser, Brian Sexton, J.P. Shadrick and Ashlyn Sullivan – are breaking down the Jaguars as the 2022 NFL season approaches; today: the defensive player to watch for the Jaguars in '22…
Rick Ballou, Jaguars sideline reporter
Defensive Player to Watch in '22: Outside linebacker Josh Allen. The Jaguars have added much to their defense in both free agency and the draft. Defensive coordinator Mike Caldwell will move guys around and keep offenses guessing where the pressure is coming from. Jacksonville should also be better on offense and in most games, so Allen will have more opportunities to get sacks. I expect him to get at least 10 this season.
Frank Frangie, Radio Voice of the Jaguars
Defensive Player to Watch in '22: I'm staying with rookie linebacker Lloyd, with an eye on veteran inside linebacker Foyesade Oluokun. I think Oluokun will be steady, a three-down rock they need so badly. But I think Lloyd might be a star.
Brent Martineau, Action Sports Jax Sports Director
Defensive Player to Watch in '22: The defensive MVP is going to be Josh Allen. This year is setup perfectly for Josh. It's a new defensive scheme. There's a lot of added talent on that side of the ball. I don't think anyone else on defense benefits more from what the Jaguars did in free agency and the draft than Allen. Expect double-digit sacks and a big, fat contract for Allen by the end of the season.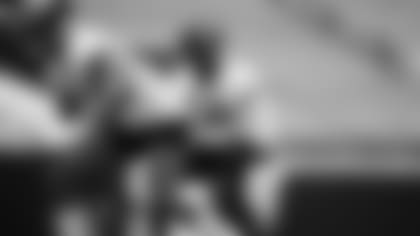 John Oehser, jaguars.com senior writer
Defensive Player to Watch in '22: Allen. There are multiple reasons for this selection. One is that Allen remains perhaps the Jaguars' most-talented defensive player – even with the addition of No. 1 overall selection Travon Walker. Another is that Allen will be motivated – not yet having negotiated a contract extension from the rookie contract he signed as the No. 7 overall selection in the 2019 NFL Draft. Finally, the addition of Walker and others along the defensive front should give him more pass-rush help than he has had the last two seasons. Those factors should mean a double-digit sack season for a player capable of being a franchise-defining player.
Brian Sexton, jaguars.com senior correspondent
Defensive Player to Watch in '22: Allen will be the Jaguars' defensive MVP. The defense has a chance to be good – maybe really, really good – this fall, and no one will outshine Allen in his fourth and pivotal contract season. He showed us special traits as a rookie when offensive coordinators had to account for Calais Campbell and Yannick Ngakoue, and I expect we'll see those traits again now that the front seven has been fortified. Allen is a good player and a better person, and his commitment to being his best for his team is admirable. I believe we'll see the Pro Bowl form he showed us a few years ago and his rise will coincide with that of the defense as a whole. He has a chance to be great and won't let it slip through his fingers.
J.P. Shadrick, jaguars.com reporter/editor
Defensive Player to Watch in '22: This is the breakout season that Allen has been looking for. His mind and motivation are right, and he was in excellent shape at the end of the offseason program. Bring it to camp and the regular season.
Ashlyn Sullivan, Digital reporter and host
Defensive Player to Watch in '22: Oluokun. Coming off a season where he led the league in tackles with the Atlanta Falcons, Oluokun is set up to have a big-time season with his new team. He will have the help of the combination of Lloyd and rookie Chad Muma next to him in the interior – and as the player with the green-dot helmet, calling plays on defense, a lot of emphasis will be placed on Oluokun to lead this defense to a much better season.