At times, he was better than that.
Perhaps the most significant thing to remember about the Jaguars' second-year running back is that while all that was true, he believes something else is, too.
"I feel like I haven't even scratched the surface of what I'm capable of out there on the football field," Etienne said recently, immediately after the Jaguars' 2022 AFC South-winning season. "I feel like this year was kind of like a warmup for me, just to kind get my feet wet.
"I feel like next year I'm going be my best version of myself."
Etienne, the No. 25 overall selection by the Jaguars in the 2021 NFL Draft, returned in 2022 from a Lisfranc injury that cost him his entire rookie season. In his first season playing in the NFL, he became one of the NFL's better young big-play running backs.
"I like Travis," Jaguars Head Coach Doug Pederson said. "Coming off the injury, and putting the year together … he ran tough. He's a physical guy. I really liked where he was. He catches the ball well and did some great things there.
"I think this will be a good offseason [for Etienne] because he won't have to rehab as much and he can kind of focus on just getting better as a football player."
Etienne, who took over as the Jaguars' starting running back in Week 6, quickly emerged as a reliable and potent part of the Jaguars' offense. He rushed for 1,125 yards and five touchdowns on 220 carries – a 5.2-yard-per-carry average – and also caught 35 passes for 316 yards.
"I really had a bigger year planned for myself," Etienne said. "That's just kind of the belief I have in myself, and in the system that Doug has around here. I feel like there are times I wasn't playing my best ball, but I feel like at the end of the season when the team need me most, I started playing my best ball and that's what matters.
"And I feel I'm going to take the momentum next year and move forward with it."
Turnovers were an issue at times for Etienne in 2022, and it was an area he worked to improve. While he fumbled five times in 2022, he did not have a fumble in the last three regular-season games or the postseason.
"I just had to tighten up, just had to just get my mindset right, just put two hands on the ball," he said. "They do a great job at punching at the ball at all times [in the NFL]. You see that like a lot. I feel as if early in the season I wasn't kind of putting two hands on the ball. I was kind of just being loose, always trying to fight for the extra yard. As the season got ongoing and I just kind of realized, 'Man, just put two hands on the ball, you're still going to fall four, three or four yards, but you're still going to have the ball and the ball's the most important thing.'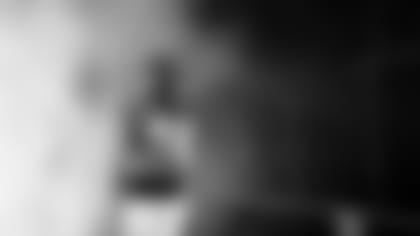 "That's what I learned throughout this season. That's why you see at the end of the season my ball security is much better."
Etienne echoed Pederson's thoughts that there are areas he can improve in what essentially will be his second NFL season in 2023.
"You can continue to get better as a football player," Etienne said. "I feel like I'm going to really critique my film and just kind of work on my all-around game. I was really just happy that I was healthy this whole season and I just want to put on a little muscle mass because those guys are really big.
"I just kind of focus on getting better as a player. And I feel like that's what we all have to do."
Pederson on the 2022 season after a year away from coaching: "This has been great for me, kind of reenergized. It's a great group. It's fun to coach younger players. It's a young group that's eager and energetic and just wants to win. That was the biggest thing with this group. They work hard and that's what I can appreciate. It was fun to come and work every day and be around the staff and be around the guys."
Jaguars General Manager Trent Baalke on Pederson and quarterback Trevor Lawrence: "They're both fearless. They're very authentic. When you have leaders at the quarterback position and head coach position that are like that, everybody else just kind of falls in line."