JACKSONVILLE – His star continues to shine as his game continues to grow.
And here's what's perhaps most intriguing about second-year running back Travis Etienne Jr. as he emerges as perhaps the Jaguars' most consistently productive offensive player:
Each week, he shows a new strength.
"We know that he's that guy that could take anything any-which-way and score and do all that exciting stuff," Jaguars wide receiver Marvin Jones Jr. said Monday. "It's good to be a part of."
Etienne, the No. 25 overall selection in the 2021 NFL Draft, indeed has shown he's an "any-which-way" back – rushing for 465 yards and four touchdowns in four games since taking over as the starting running back in Week 6.
He has been consistently productive and explosive during that span – also proving to be a player on whom the Jaguars (3-6) can rely even when trailing. Etienne's 109 yards and two touchdowns rushing keyed a 27-20 victory over the Las Vegas Raiders at TIAA Bank Field on Sunday, with 23 of his 28 carries and 102 rushing yards coming after the Jaguars trailed 17-0 early in the second quarter.
"If you're not giving that ball to one (Etienne) at least 25 times a game, what are you doing?" Jaguars tight end Evan Engram said. "That kid's special. Our offensive line is one of the best in the league, too, so we have to run the ball. That's our identity. We have to keep going with it."
Etienne through seven games this season has been the offense's most explosive player. He had 17 "explosive" plays of 11 more yards in the first eight games, and had a run of at least 48 yards in each of his first three starts. He averaged 7.41 yards a carry during his first three starts.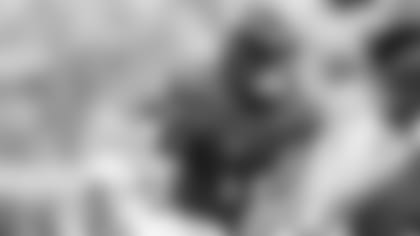 With the Raiders focused on containing Etienne on the outside Sunday, he was effective running inside and averaged 3.89 yards a carry to reach 100 yards rushing for a third consecutive game.
"A little, a little," Jaguars Head Coach Doug Pederson said when asked if Etienne's ability to get "hard" yards had surprised him. "The more you're around him, you understand that he's hard to bring down. He's kind of slithery through the hole when he finds it. He stays low, keeps his pads low.
"He gets two-to-three-to-four extra yards. He's a tough runner, a hard runner, and from that standpoint, you think that it's a little bit surprising that he can do that. He's a powerful kid, keeps his legs moving, and it's good to see."
The Jaguars' victory Sunday after trailing by 17 points marked the second-largest come-from-behind victory in franchise history behind a 25-24 December 2014 victory over the New York Giants in which they rallied from a 21-0 deficit. It also marked the largest come-from-behind victory of second-year quarterback Trevor Lawrence's NFL career. His lone previous come-from-behind victory of seven point or more: A 23-20 victory over the Miami Dolphins last season in a game the Jaguars trailed 13-3. Lawrence on Sunday completed 22 of 25 passes for 197 yards and a touchdown after the Jaguars trailed by 17-0. "We all know who Trevor is," Jones said. "He's super focused, doesn't let anything rattle him. It's not surprising, but at the same time, it's definitely needed for him to get things going and to have a two-minute drive in there and get the points and come up with some big plays, big runs that he did to get some points on the board. It was amazing to see and obviously great for him."
Pederson on Lawrence's 25-of-31 performance Sunday, his third game this season with a completion percentage above 80 percent: "He was very efficient. We stayed out of third-and-long situations which means we were really good on first and second down. He played within himself; he didn't put the ball in harm's way. He saw the field really well. He ran hard. It was good to see him scramble a couple of times. That's what you need, you need that from your quarterback and from your leader and it was a good step for him."
Jones on the importance of Sunday's road game against the Kansas City Chiefs (6-2) a week before the Jaguars' Week 11 bye: "It's big. You always want to go into the bye with a good taste in your mouth. It's an important game for us because one, it's the next game. You want to go into that bye feeling good."