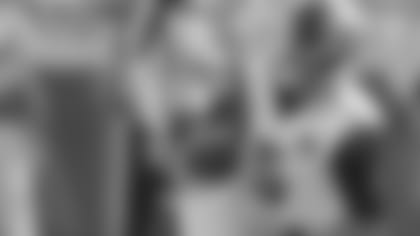 JACKSONVILLE – Sunday is the past, and Wednesday is now.
As far as the Jaguars are concerned, while were good things that happened Sunday, the now is far more important.
That's because while feelings following a season-opening loss Sunday ranged from heartbreak to hope, players on Wednesday said what matters now is how the team responds to those feelings when they visit the San Diego Chargers in Week 2 of the 2016 NFL season.
To quarterback Blake Bortles, that response matters quite a bit – and he likes what he has seen so far this week.
"I think it's big," Bortles said Wednesday as the Jaguars (0-1) began preparations to play the Chargers (0-1) at Qualcomm Stadium in San Diego Sunday at 4:25 p.m. "I think it's different.
"In years past, there was a mindset of, 'Here we go again' – whether it's during the game, whether it's after the game, whether it's going into the next game. This doesn't have that. I don't see that in anybody."
The emotion in the locker room Sunday after a 27-23 season-opening loss to Green Bay was vivid and clear. This was a team disappointed in the loss because it clearly expected something different.
Jaguars tight end Marcedes Lewis, the team's most-tenured veteran, said that was a positive sign for this team – and he said, too, that the reaction this week has been in the same vein.
"Years before it would have been like, 'Man, here we go again,''' Lewis said. "We went in there expecting to win, so when it didn't happen it was like, 'Are you kidding me right now?' That's the difference, you know what I mean? The feeling was different.
"Whenever you have that with a higher level of expectancy, of raising the bar – when you don't perform to the level of the bar that was set, you have issues with it. We have this whole week to pay great attention to detail and come back strong."
Left guard Luke Joeckel said the reaction among players following Sunday's loss was notably different than recent seasons.
"We expect to win," Joeckel ssaid. "I think every guy in this room thought we were going to win that game. In years past coming into the locker room it wasn't the same as it was Sunday. Guys were hurt. I was hurt. That was a tough loss.
"But I think the whole team has moved on from that. We expect to have a great week of practice this week and prepare for San Diego and play to the best of our ability."
Defensive tackle Malik Jackson said the Jaguars' response this week has been one of a team growing up.
"Guys are getting older and understanding that just because you lose it's not the end of the world," said Jackson, who signed this past offseason as an unrestricted free agent from the Denver Broncos. "It's a long season. We've got to go out there, keep working and pick it up on Wednesday. That's what everybody has been saying, 'Today's the day we have to pick it up, start working hard and getting ready for San Diego.' It's not time to panic, but we need to pick it up.''
QUOTABLE I
"I don't know what it is about the West Coast. I mean, it's a long flight or whatever, but we went to London last year and we were able to pull one out and take care of business out there. It [San Diego] is not as far as London. We have to go out and handle our business. The makeup that we have on this team now is totally different than we've had in the last six or seven years. We're looking forward to the opportunity. We understand what's at stake."
---Lewis on the team's recent struggles in West Coast games
QUOTABLE II
"He's a stud."
--- Jaguars defensive coordinator Todd Wash on CB Jalen Ramsey