JACKSONVILLE – Patience is paramount.
But while Doug Pederson believes that's true when it comes to running effectively, the Jaguars' head coach this week said there's urgency as well.
The Jaguars through two games rank 24th in the NFL in rushing yards and 25th in yards per attempt – and as they prepared to play the Houston Texans at EverBank Stadium Sunday, Pederson emphasized persistence and patience in an area he considers critical to offensive success.
"It's early," Pederson said Wednesday, "but we're running out of the early excuse a little bit. We have to get it addressed pretty quick."
Running back Travis Etienne Jr. leads the Jaguars with 117 yards rushing on 30 carries, a 3.9 yards-per-carry average after rushing for 5.1 yards per carry last season. The Jaguars have rushed for 89.5 yards per game and 3.4 yards per carry through two games after averaging 124.4 yards per game and 4.7 yards per carry in 2022.
"You can maybe point a finger at different facets of it: the tight ends, the running back not hitting the hole, things of that nature," Pederson said. "The offensive line obviously is a part of that as well. But it's everybody. It takes 11, no matter what the situation is during the game. And those are the things that we have to focus on and fix.
"We have to look at it from a coaching standpoint. We have to look at the scheme. Are we doing the right thing? Is what the defense giving us what we anticipated on tape? Are there some changes there? Sometimes that happens and then we have to adjust in games sometimes."
Pederson has talked throughout his tenure with the Jaguars of needing to be patient with the run – even when it's struggling – and he reiterated that point Wednesday.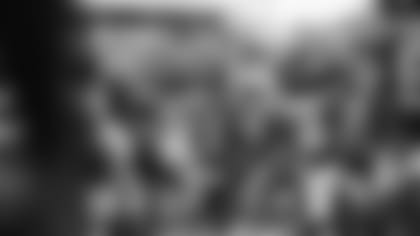 "It does take time," he said. "That's part of the equation. One-, two-, three-yard runs eventually turn into six-, eight-, 10-yard runs as the game or the season goes," he said. "Sometimes it gets frustrating because you want it to be better, but it's not.
"You also have to understand that you have to be patient with it and kind of let that part of it unfold."
The Jaguars in training camp/preseason/early regular season have played through injuries to all five offensive line starters: left tackle Walker Little (hip, late in preseason), left guard Ben Bartch (knee, Physically Unable to Perform list to start training Camp), center Luke Fortner (ankle, Week 1), right guard Brandon Scherff (ankle, Week 1) and rookie right tackle Anton Harrison (shoulder, camp).
Pederson also on Wednesday discussed a common leaguewide issue of cohesion on the line early in seasons.
"It's real," he said. "They don't get a ton of work during the preseason. But it's why I do play the starters, so that we try not to have too many setbacks as the season begins. But there is some continuity that has to be worked through with that offensive line. There's communication that has to be worked through.
"There are some pieces that still need to work together, but they're coached well and they practice hard and we'll work through them. We'll continue just to work with these guys. We have good practices every day and we'll keep building and heading in the right direction."
Outside linebacker Josh Allen: "I just think we're playing really well as a defense. We're playing sound football. We're playing gap integrity. I think everybody is where they need to be, but I also think there's a little bit more that we have. We could take it up a little bit, especially up front. Our front right now is playing good within the scheme of the defense and allowing us to stay in every game and be really effective. But I think there's another level to us. I'm excited to see where that belongs. We've been working to unleash that. Once we get the opportunity to, to really go, uh, I think you're gonna see a bigger and better defensive line."
Quarterback Trevor Lawrence on the offensive line: "Those guys are going to be just fine. I'm not worried about it. It's all of us. It's all of us playing together and communicating. I don't think any player on offense played anywhere close to our best game on Sunday, so it's not just those guys. We all have to be better, and we will be. We have the group that recognizes that. There's nobody that thinks they played great on Sunday and thinks they're above anyone else. We understand where we're at. I have got a lot of confidence in those guys and we'll put together a great plan and be prepared."