Jaguars cornerback Derek Cox, entering his fourth year in the NFL, has started each of his first three NFL seasons. Last season, he emerged as one of the more improved young players in the NFL at his position, and he has become a key member of a defense that ranked No. 6 in the NFL in 2011. Cox recently sat down with jaguars.com senior writer John Oehser to discuss his thoughts as the 2012 season nears:
As the 2012 season approaches, you are now widely seen in league circles as a player in ascension. Entering your fourth season, how important is this season to you?
"It's definitely important. I look at this season as a senior year for me. This will be my fourth year, so it's like when you come to college and you have four years to play on the field. That's how I see this year. In your senior year, you have the experience and you know way more than you did when you started. You're honing in on everything. It's always a worker's mentality, but I see this as a senior year. There's a heightened level of confidence. That's my mindset. There are guys who have played longer than me, but going into this year, I approach this like I've been around for three years and I'm ready to have that big season in my senior year of college ball.
There's not as much that you don't know anymore . . .
You're always learning, but now I'm not unfamiliar with the flow of things. I'm experienced and I'm familiar with it. Now, it's like, 'OK, how am I going to execute this summer?' I love training and when OTAs and minicamps are over, we've got five weeks and I have to execute it out: what am I going to do? What's my plan for getting better? Going into my senior year I felt equipped and ready mentally and physically based on my skills and the work I'd put in. I had a high confidence level and my approach was, 'Game on. Let's go.'
It seem people around the league – analysts and observers – have a higher opinion of what you can do this off-season than maybe they did last off-season. People were a little slow to catch up with you last year, but you played at a high level and now people are talking about you maybe being an upper-echelon guy.
When I have conversations like this, that's when I'm informed on what people are saying. A lot of times, I don't even get involved in that. Riding that rollercoaster, it can toy with your emotions. It can toy with you mentally. It's not a ride I want to take at all.
But do you? Do you feel like you're ready for the next step – to be, maybe, that lockdown cover corner?
I'm ready for anything. To me, in my rookie year, they had me shadowing receivers then. They were saying, 'If this receiver is playing, we want you playing on his side every down of the ball game.' For me, that's what I do and that's what I've been doing since I was in high school playing ball, so for me, it's part of the business. It's just what I do.
There's a lot of talk about the excitement around this team. You've been around long enough to know a good offseason feeling. You feel it? What do you like about what you're seeing?
Point blank, I like that we have an off-season. We didn't have that last year (because of the lockout). There are two types of players who are going to get hurt when you don't have an off-season. There are young players – players in their second or third seasons – and older players who are at the point where there body is taking on wear and tear and throwing it off course and not having an offseason where it's routine toys with them unless they're diligent. Having an offseason is great.
And as for the Jaguars, specifically?
Bottom on up, you can feel the energy outside of the organization. Us as players, we feed off of that. If there is energy outside, you can pretty much count on there being energy on the inside. The strength and conditioning coach, Coach Milo (Tom Myslinski), he has great energy and is putting us in a position to do well, and our position coaches, you can see the energy out of them. Out there on the field, defensively we set the tone. That's the tone Coach (defensive coordinator Mel) Tucker set. He's been in place, so a lot of other coaches see that and feed off his mentality. The other coaches are feeding off the mindset, the Jaguars way we have.
Outside of Rashean Mathis, you've been around this secondary longer than any other player. Does that put you in a veteran role?
I was down (with a knee injury) pretty soon after Rashean last year (with a knee injury), so that wasn't a role I got to fill in – the role of veteran of the group. But that's always been my approach, having the mentality of wanting to lead the right way, lead by example. I always want to set a good example, so with that mentality and displaying the character, those are characteristics that put you in a leadership role.
Players always talk about how fast the seasons go. Hard to believe you're in your fourth season?
It has gone by fast. I would say that. Your rookie year, you blink and it's over. It's crazy to think that some of the freshmen that were in college when you were a senior are graduating now. You just see a huge change and it's fast-moving. I can truly relate to what veterans are saying when they say, 'It goes by fast.' I'm coming on Year Four and you look forward and you're in Year Eight, Year 12 and it's over. It definitely puts things in perspective for you and you gain a sense of appreciation. Even if you have those dog days where it seems like it's never-ending you think about it and realize four years are done. You've got to find ways to get better and use your time wisely.
People tag you as a guy who has been injured, but the reality is until last year you only missed two games, each in 2010, because of injury. Unfair tag, the injury stuff?
This past year (when he missed 10 games), that was the only time I really had something serious and couldn't play. I had some soft-tissue injuries, but you control what you can control and get out there and play.
So, as we close, you really feel like this is going to be your year?
Like I said, it's like that senior year. Nothing will be hold me back in training camp. Remember your senior year of college? Or high school? You're the big dog and you are comfortable. I've got a lot to learn still, but I'm comfortable. I know how to get around. That's how I look at it this year.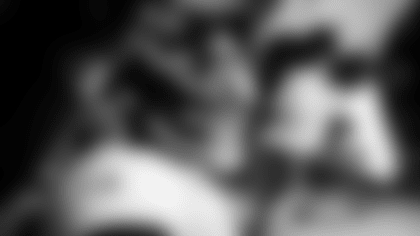 news
Jaguars London-Bound Focus: Embracing Accountability 
Offensive coordinator Press Taylor as the Jaguars (1-2) prepare to play the Atlanta Falcons (2-1) at Wembley Stadium in London Sunday at 9:30 a.m.: "It's just everybody doing their job a little bit better…"