JACKSONVILLE – The Texans hit the bye week on an eight-game losing streak, and attention has fully swung towards what's next.
The Texans are in last place in the AFC South and only the winless Detroit Lions are ahead of them in a projected order of the 2022 NFL Draft. Head Coach David Culley understood the challenge when he took over the franchise last spring, but he isn't willing to give up on this season in favor of next year.
Culley this week was asked about his decision to start veteran Tyrod Taylor in Miami Sunday.
"He's healthy and he's our starting quarterback," said Culley of Taylor, who missed six games with a hamstring injury. "We play to win and basically our future is now from that standpoint. This football team's looking to win the next game. That's all that matters."
Those aren't the only questions Culley is facing.
The long-time and well-liked NFL coach who had never even been a coordinator on Sundays before this season has been heavily scrutinized for everything from clock management to play calling – that despite his team being pieced together last spring after Deshaun Watson went from franchise quarterback to franchise distraction.
"I like the fact that this team will not quit," he said. "I like that this team will always play hard. I'm frustrated that this team doesn't play as consistent as we need them to play to have success and win football games. That's on us as coaches. We haven't done as good a job as we need to do to do that."
The Tennessee Titans didn't panic last week when they learned that running back Derrick Henry was likely done for the season with a broken bone in his foot.
You can't look at quarterback Ryan Tannehill's career resurgence after a failed tenure in Miami and not see Henry's impact – nor at the improvement on their defense thanks to how "Yulee Bulldozer" controls the game.
But Henry wasn't in Los Angeles last Sunday night against a talented Los Angeles Rams team and it didn't matter. The Titans split carries between Jeremy McNichols, Adrian Peterson and D'Onta Foreman.
"You don't play for stats," Tannehill said. "You play for wins. Sometimes they correlate together. In other situations, and other games, it's just a matter of finding a way to win. We did that."
Tennessee produced just 69 rushing yards, their lowest total in a win since 2012. Not coincidentally, the offense struggled with just 194 total yards and three third-down conversions.
"You knew what you kind of had in Derrick," center Ben Jones said. "You knew if it wasn't going it could clean up during the game because he'd get in a groove. But we've had Foreman. We know his style. AP, he's there every day and he's a great locker room guy who's giving it his all. We just have to clean some stuff up for him and give him some good looks and give him some reads."
Don't be surprised to see the Titans get creative and mix things up when they face the New Orleans Saints on Sunday, but don't expect them to make a dramatic turn.
"That's our foundation and we build from there," Tannehill said of the running attack. "And when we do get opportunities in the pass game, we have to execute. We have to be able to get open on the outside. Have to hit and the offensive line has to be able to hold up."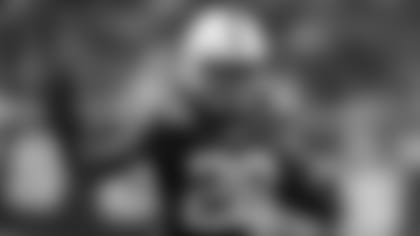 In Indianapolis, the Colts are finding their stride after an 0-3 start. Running back Jonathan Taylor is the NFL's second leading rusher. With Henry sidelined, Taylor looks like the best running back in the league.
Indianapolis has won three of four and is scoring an average of 35 points per game in the last month. Plus, the Colts have a talented defense capable of shutting down the opponent on any given Sunday. That gives them legitimate reason for hope in a chase for a Wild Card berth – and if the Titans stumble without Henry, the AFC South.
So, it really wasn't a big surprise when quarterback Carson Wentz told the media that he wouldn't miss Sunday's game against the Jaguars game despite the news that his wife might deliver their second child.
"I talked to [Head] Coach [Frank Reich] about it early this week, I could get a call at any point here," said Wentz, who has thrown for 17 touchdowns with three interceptions this season. "If it comes down to the game, I told my wife 'I'm playing, and then I'll come see you at the hospital afterwards.' She knew that. She's been great…I think God will time it up the way it's supposed to be timed."
His teammates no doubt appreciate Mrs. Wentz's attitude towards football and childbirth – but according to one defensive player, she isn't alone.
"My wife would probably be telling me to go play," defensive tackle DeForest Buckner said. "It just shows the type of mentality Carson has. It's all about the team. He's going to do whatever it takes to be out there on Sunday."