JACKSONVILLE – The goal is clear, as it has been for months.
Members of the Jaguars' 2022 defense want to be a run-stopping team. That will be the goal when the regular season opens Sunday. As defensive coordinator Mike Caldwell sees it, it doesn't stop there.
"That's the thing we hang our hat on – not just this Sunday, but every Sunday," Caldwell said Thursday as the Jaguars prepared to play the Washington Commanders in the 2022 regular-season opener at FedEx Field in Landover, Md., Sunday at 1 p.m.
The Jaguars finished 23rd in the NFL in run defense in 2021, improving from 30th in 2020. They allowed 125.1 yards rushing per game last season, six times allowing 149 yards or more.
Nose tackle DaVon Hamilton said stopping the run is "100 percent" a priority.
"That's what's going to help us win the game this week and ultimately be successful throughout the year," Hamilton said. "That's what we have to do. Our preparation this year has been really good and we've really been working hard throughout camp until now to be as successful as we want to be and focus on the goals we want this year. You've got to go do it."
The Jaguars enter the season with six players listed as defensive linemen on the depth chart: Hamilton; starting defensive ends Foley Fatukasi, Roy Robertson-Harris and Dawuane Smoot; and linemen Arden Key and Adam Gotsis.
Hamilton and Fatukasi are the true "nose-tackle" types in the group, with Caldwell reiterating Thursday what Head Coach Doug Pederson said recently – that the NFL's trend to three wide-receiver, pass-oriented schemes has influenced the decision to keep fewer bulky interior defensive lineman.
"There is more 11 (three-receiver personnel groupings) in the league now," Caldwell said. "You don't find many fullbacks anymore. There are a few teams that run two backs, but most of the time it's 11 – or 12 with the tight end.
"It's changed a little bit. You still need girth up front, and we have that, but you can sprinkle in pieces of strong and quickness and be able to get the job done."
Whatever the personnel, Caldwell said run defense remains a focus – the idea being to stop teams on early downs and force difficult passing situations on second and third downs. That should help the Jaguars force more momentum-changing defensive plays after finishing 29th in the NFL in sacks (26) and last in turnovers forced (nine) in 2021.
"We're going to go out and stop the run first, then let them play after that," Caldwell said. "That's their main focus, to go out there and handle the run. After that, we can pressure the quarterback."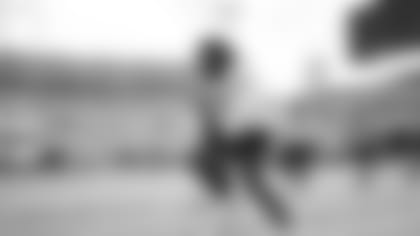 James Robinson is confident entering Sunday, and Pederson said this week he is confident in the Jaguars' leading rusher the past two seasons. That confidence extends to offensive coordinator Press Taylor, who said Thursday he has no concerns after the third-year running back missed all four preseason games while returning from a torn Achilles sustained last December 26. "He wasn't cleared for full-speed live periods until later in training camp but he was involved in every single walkthrough," Taylor said of Robinson. "He sat in every meeting. He was here every day in the spring. He has heard everything and has been able to walk through everything and we've been able to get him live reps to where we feel confident in every aspect of the game. I think he's ready to go."
Among the Commanders' top offensive players: Terry McLaurin, who has emerged in three seasons as one of the NFL's top young wide receivers. Caldwell was asked Thursday if there were plans to "shadow" McLaurin with a cornerback the entire game. "We really don't have to," Caldwell said. "Right now, we're thinking let's stay left and right." The Jaguars list three cornerbacks – Tyson Campbell, Shaq Griffin and Darious Williams as starters. "If we need to do something like that, we can do it," Caldwell said of having one corner cover McLaurin regardless of offensive formation. "But we have confidence in our three starting corners that we can go out there and do what we need to do."
Fatukasi for a second consecutive day was listed as limited with a calf injury and was the lone Jaguars player on the official injury report. "He's a guy you would love to have out there, and he's working day and night to get back out there," Caldwell said. "We'll let the trainers make that decision."