In two weeks, it all begins.
That's right, just two weeks until Jaguars 2012 Training Camp. Then, we spend the better part of two weeks basking – er, baking – in the early morning sun at the Florida Blue Health and Wellness Practice Fields before sneaking in a few indoor hours to do it all again in the afternoon.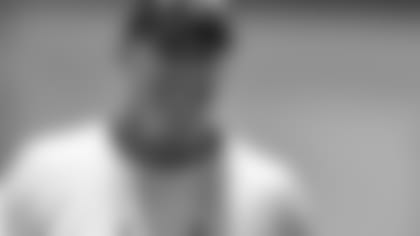 We'll be watching a young team with a first-year head coach and a new offensive coaching staff. We'll be watching for rookies to develop, for young players to continue to grow and for a team with more potential than many believe to begin coming together.
The beginning of camp July 27 will mark the end of a long offseason. We've seen an ownership change, a coaching change, a holdout running back, a franchised kicker and months and months of speculation about a quarterback position that holds the key to a whole lot about the franchise's future.
But while the offseason has indeed been event-filled, the overriding theme remains the same – that as the 2012 season approaches, the excitement level around EverBank Field is real.
It's a new era. And the beginning of training camp in two weeks is a big date.
For some, that two weeks seems an interminable wait, but here's betting it passes quickly. We've got some pretty interesting content planned during that period. Most notably, we'll roll out the jaguars.com Top 25 Jaguars of All-Time in the days just before camp.
For today, we'll mark this two-weeks-out date with something of a camp primer, offering 10 storylines/questions to watch as training camp approaches:
1) Basking – er, baking – in the sun.The most obvious change to training camp is the schedule. Whereas last season most of the full-padded practices were at night, first-year Head Coach Mike Mularkey is holding all but two of the two-and-half-hour "full practices" from 8:30-11 a.m. Two other full practices – the ones on the first two days of camp – will be at 2:15 p.m. Jaguars rookies spoke often in the offseason about the unreal heat and humidity. Just wait.
2) Up close and personal.For many fans, this camp will be the first time seeing Mularkey and the staff, not to mention newcomers such as Justin Blackmon and Laurent Robinson. The open dates and times are as follows: Friday, July 27 (2:15 p.m.); Saturday, July 28 (2:15 p.m.); Monday, July 30 (8:30 a.m.); Tuesday, July 31 (8:30 a.m.); Wednesday, August 1 (8:30 a.m.); Thursday, August 2 (8:30 a.m.); Friday, August 3 (scrimmage, 6:30 p.m.) and Sunday, August 5 (3 p.m.). After that, camp will continue, but practices will be closed to the public.
3) Noticeable difference.It's a question that people who watched practice in the offseason hear a lot: what looks different? If you're coming to camp, expect the defense to look about the same. With Mel Tucker entering a second season fully in charge of that unit, the defense will be the same high-tempo, organized group. Offensively, you'll see quicker, higher-tempo practice than last season, and you may be struck at times by the improvement at the receiver position and the efficiency of the passing game.
4) The MoJo watch.Nothing is certain here yet, but the guess here Maurice Jones-Drew will be in camp sometime in the first week of August. He has told the Jaguars he wants to renegotiate his contract. The Jaguars have made it clear they don't plan to do so. Jones-Drew likely won't be thrilled with his contract status, but know this about him: he's a pro and if he is in camp by early August, he'll be fully prepared by the regular season and I'd be shocked if you see his play drop. Until he arrives, the Jones-Drew Watch will dominate training camp.
5) Gabbert the guy going in.This gets asked a lot, so we'll answer. Blaine Gabbert will start training camp as the starting quarterback, and there has been nothing to indicate that won't be the case when the regular season begins. Gabbert looked much improved, much more confident and much more like a professional quarterback in the off-season. All thoughts around the Jaguars are he will be vastly improved.
6) Marked improvement.You can joke all you want that the passing game would have to be better – and considering it ranked 32nd, that's indeed true – but the Jaguars made significant upgrades with Blackmon and Robinson. As we mentioned, Gabbert looks improved as well. There will be preseason hiccups. This is, after all, a new offense for nearly every player involved. But pretty soon we should be seeing a passing offense that can complement the NFL's leading rusher.
7) The kicker issue.After Jones-Drew, the major question concerns kicker Josh Scobee. He received the franchise tag in February, and has yet to sign the tender offer. The team has until July 16 to negotiate a long-term deal. Each side wants this to happen, but they have yet to agree to terms. I'd expect this to happen before the 16th, and for Scobee to be in camp. If that doesn't happen, Scobee could miss part or even all of training camp, but I'd still expect him to play for the Jaguars under the tag next season.
8) Rookies to watch.The draft picks are obvious, and second-rounder Andre Branch impressed coaches in camp. But the Jaguars are big on free-agent rookies, and believe you must hit there to have a complete roster. Wide receiver Kevin Elliott. Defensive end Ryan Davis. Wide receiver Mike Brown. Center Mike Brewster. If you're looking for "unknowns" who could be surprises, those are four to watch.
9) Battle at cornerback.Most of the starting positions are relatively set. A possible exception is cornerback opposite fourth-year veteran Derek Cox. Veteran Rashean Mathis and free agent Aaron Ross are expected to compete, though that could be delayed by two circumstances. One is that Ross will spend part of training camp attending the 2012 Olympics in London, where his wife, Sanya Richards-Ross, is a favorite to win the gold medal in the 400 meters. The other is Mathis is recovering from a torn ACL. Eventually, Mathis likely will start with Ross working at the nickel, but how that shakes out will be a story throughout camp.
10) High expectations.Most people nationally expect little from the Jaguars this season. Talk to players around EverBank, and there's a different feeling. There's an energy and excitement that hasn't been felt for a while. Some of it's a new coach. Some it's confidence in what they have seen from Gabbert. Some of it's a belief that a young roster is a year older and a year better. A lot of it's a belief that the team is a lot better than it showed last year, and that with a new direction, that belief will be proven out. Is that belief right?
We start finding out in two weeks.