Mostly, the Jaguars' rookie running back is thankful for the season that just ended – and yes, that's true despite its difficulty and what he endured.
"I feel like I'm very grateful," Etienne said. "I feel like this experience really has helped me and I feel like I'm grateful that it happened."
Etienne, the No. 25 overall selection by the Jaguars in the 2021 NFL Draft, was among multiple Jaguars players speaking to the media shortly after the '21 season. It marked Etienne's first extensive comments publicly since he sustained a season-ending foot injury this past August.
Etienne's health, therefore, was a major topic when he spoke – and he said the news was good regarding his future after he sustained a Lisfranc injury during the preseason.
"I definitely feel like as of now I'll be ready for training camp," Etienne said. "I'm ready to go."
Etienne, who was projected to be a key part of the offense this season before the injury, said he could have returned this season. But he said doctors kept him out to ensure he could return at full strength next season.
"I look forward to being at training camp and just being back to myself," he said.
Etienne said he has been running in the pool, and that he has yet to return to weightlifting such as squats because the injury was to the bottom of his foot. He called squats the next step in his recovery, with those exercises getting "my legs back right."
Etienne said he was in team meetings throughout the season and learning the playbook, which helped him feel part of the team – adding that not playing was the toughest part of his season.
"I feel like I was a part of everything," he said. "I was like a little kid going to the birthday, but I just couldn't have any birthday cake. That's the best way I can put it. That's how this year's been for me. So next year, I'm just looking forward to just indulging in all the cake that I can."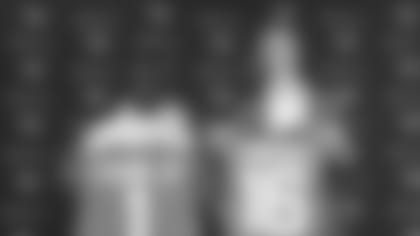 Etienne rushed for 4,952 yards and 70 touchdowns with 1,155 receiving yards and 11 receiving touchdowns in four seasons at Clemson. And despite not having an opportunity as a rookie, he said he remains optimistic about the future.
"I could have gotten back this season, but the doctors wanted me to take the whole season off," Etienne said. "That way, when I do get back, I'll be 100 percent – I'll be back to myself and it will be like I never even got injured. That's why we went about it this way, about taking the whole season off. That way, I can be 100 percent whenever I get back."
"As soon as I step on the field, when I get the jitters out, I'm back to me. I really can't wait for that moment. I'm excited for that moment. I still don't even know what it feels like, really. Whenever it's time to get back and go, I'll be 100 percent."
Etienne on Jaguars rookie quarterback Trevor Lawrence, his college teammate at Clemson: "Trevor matured throughout the whole season. He dealt with a lot throughout the season. I'm pretty sure if you had asked him at the beginning of the year how the season was going to go, he wouldn't have told you it would have gone like that. Trev handled it as well as anybody could have. He's going to be a hell of a player. You see the flashes. You see how great he can be."
Running back Dare Ogunbowale: "As the season went on, we got closer. Obstacles came, we kind of overcame them together which brought us closer as a team. I would just say it was the whole team as a unit, guys just rallying around each other, picking each other up, and helping each other know that it's about us. It doesn't really matter who's the coach or who's kind of leading us, it's about the players and we made sure we took care of business."