JACKSONVILLE – Josh Allen liked what he saw Sunday.
As importantly to Allen and the Jaguars' future, the third-year defensive end/linebacker likes what he believes Sunday showed about the franchise. And its potential.
"I feel like this team can improve; I feel like we are going to improve," Allen said Monday, a day after the Jaguars' 26-11 victory over the Indianapolis Colts in the 2021 regular-season finale at TIAA Bank Field.
Allen added of the Jaguars' 1-15 and 3-14 records the last two seasons, "This isn't going to happen anymore."
The Jaguars on December 16 dismissed former Head Coach Urban Meyer. Darrell Bevell served as Interim Head Coach the final four games, and said Monday he has been informed by the team he will interview for the permanent position.
The Jaguars also reportedly have interviewed candidates such as former Colts/Detroit Lions Head Coach Jim Caldwell, former Philadelphia Eagles Head Coach Doug Pederson, Tampa Bay Buccaneers defensive coordinator and former New York Jets Head Coach Todd Bowles, Dallas Cowboys offensive coordinator Kellen Moore and Buccaneers offensive coordinator Byron Leftwich.
"I'm ready; we're ready," Allen said. "We obviously know what's about to happen. Whoever we bring in, we're going to listen. We want this to stick. We want this to be long-term. … We're really committed to changing this – not only for the organization, the fan base, for ourselves."
Not only did the Jaguars' defense – a unit that flashed at times this season, particularly Sunday and in a 9-6 November victory over Buffalo – finish on a high note, so did rookie quarterback Trevor Lawrence. The Jaguars sacked Colts quarterback Carson Wentz six times and forced two turnovers Sunday, with Lawrence completing 14 of his first 15 passes and throwing two touchdowns without an interception.
"Everybody just stepped up and just finished strong," Allen said. "It's what we needed to do going into next year."
Allen when speaking to the media via videoconference Monday called this year's Jaguars team perhaps the most talented in his three seasons.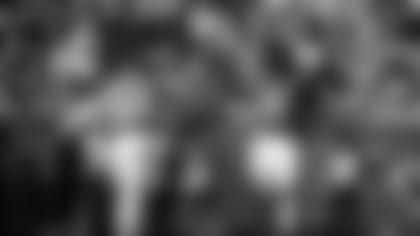 "We just couldn't figure it out this year," he said. "But the moments we had were great moments and are moments that we can look back on and be like, 'We can do this every game.' Just the way we finished, that's going to let a lot of people feel better going into the offseason so we can carry this on to next year."
Added Allen, "I feel like the sky's the limit for all of us. The talent level … I feel like we're good and I feel like we're going to get better. I'm excited to see what unfolds."
Allen, asked what traits he wants in a new head coach, first said "competitor" and then discussed the ability to lead the team.
"Somebody who's trustworthy," Allen added. "Someone who protects the players and also demands a lot from the players – and someone who's ready to win right now. I feel like we've got a great team behind them. I'm excited for this next chapter in life."
"I feel like this can be it. I feel like this can be consistent. I feel like whoever we get – if it's the right decision – we're going to make it stick and make it work. It's up to us to make that work and we know we're ready for that challenge."
Allen on Monday reiterated what linebacker Myles Jack said last Thursday – that he wants defensive coordinator Joe Cullen to return in 2022. The Jaguars ranked 32nd in the NFL in points allowed but 26th in total defense and 16th in the NFL in rushing yards allowed per attempt. "I would love to Coach Cullen here," Allen said of Cullen, who was in his first season as the Jaguars' defensive coordinator this season. "It's the consistency. The majority of the defense is under contract to come back another year. If we have the same group, the same plays, the same philosophy … now we have that year to work under him. If we can improve just how we can play the game, and install what Joe Cullen has already taught us in this system, I feel like we can take the next step in becoming a way better defense. We can become the defense you saw yesterday every week." Inside linebacker Damien Wilson also supported Cullen during Monday's media availabilities. "I feel like he's done a great job," Wilson said. "If you put the defenses side by side from last year, you can see the growth. That's only Year One (under Cullen). Defenses in Year Two they're statistically better. If we want to have some consistency and more growth, then I wouldn't fuss over keeping Joe Cullen."