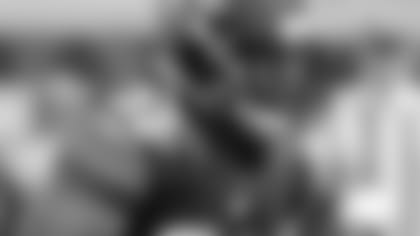 ](http://bit.ly/RBsPhotos13)
JACKSONVILLE – Maurice Jones-Drew gave the Jaguars what they needed.
Doing so wasn't always easy. Playing in a new offense behind an evolving offensive line, the three-time Pro Bowl running back worked for much of what he gained in 2013.
His yards were tough. They were hard-earned.
And Jones-Drew's statistics in 2013 didn't match some of his best years.
But when Jaguars offensive coordinator Jedd Fisch considers the 2013 season, he prefers to consider what Jones-Drew did for the offense. Fisch said what Jones-Drew did was as difficult as it was important.
And it was a huge reason the offense improved in the second half of the season.
"He gave us every tough yard you could ever ask for," Fisch said recently in an interview with jaguars.com for this series on the Jaguars' position groups, a series that continues with this story focusing on running backs.
Jones-Drew, an eight-year veteran, indeed did that in 2013 and was the key player for the Jaguars at a position where veteran Jordan Todman and rookie Denard Robinson also played roles.
Jones-Drew, who sustained a season-ending foot injury six games into 2012, returned from that injury to rush for 803 yards and five touchdowns on 203 carries this past season.
As has been the case throughout his career, Jones-Drew was about more than running. He caught 43 passes for 314 yards – "He was a very good pass receiver for us," Fisch said – and also was one of the NFL's best blocking running backs with a 7.0 blocking grade from Pro Football Focus.
Jones-Drew also was the team's highest-graded offensive player by PFF, but his importance wasn't measured solely by grades or statistics.
The Jaguars throughout the first half of the season struggled to run. The line and backs were adjusting to a combination gap-zone blocking scheme, the interior line struggled at times and the line also underwent significant change on the exterior.
Left tackle Eugene Monroe was traded to the Ravens four games into the season, and after moving from the right to left side the following Sunday, rookie tackle Luke Joeckel sustained a season-ending ankle injury. Cameron Bradfield and Austin Pasztor moved into the starting left and right tackle position, respectively.
Through 10 games, the Jaguars did not rush for 100 yards as a team and were 1-9. They rushed for more than 100 yards in each of their next four games, winning the first three. Fisch said Jones-Drew's approach defined the stretch.
"As the season progressed, the run game progressed with him," Fisch said. "He took the run game along and made it more of his own."
Fisch said the line's improvement and more favorable game situations helped, too.
"One thing that changed is the scores were closer," Fisch said. "We were playing normal offense in the second half of the season. We weren't in two-minute offense as much as we were in the first half of the season. Now, we were in a situation where we were able to stay balanced in the second half of the season. We were running the ball up until five minutes left against every team in the second half of the season until the last week. You can keep the run part of the offense longer in that situation."
While Jones-Drew was key, also important was the presence and development of Todman.
A first-year veteran, Todman spent the season backing up Jones-Drew and also returned 26 kickoffs for 712 yards – a 27.4-yard average. His role as a running back expanded in the second half of the season, with him getting more carries as the team tried to rest Jones-Drew.
Todman finished the season with 256 yards and two touchdowns on 76 carries. In his first start – the only NFL start of his career to date – he rushed for 109 yards on 25 carries and caught four passes for 44 yards in loss to Buffalo at EverBank Field.
"He's going to be an interesting player for us in the years to come," Fisch said of Todman. "He has great speed, but he needs to get bigger, stronger. We have to see the tough yards. There's no one who gets tougher yards than MoJo. He's unbelievable. Todman's going to be the type of back where his production comes on the perimeter, in the passing game. Hopefully, it will develop into more than that."
Robinson, a rookie from the University of Michigan, rushed 20 times for 66 yards, and while he struggled with ball security, Jaguars Head Coach Gus Bradley said immediately following the season, "I think this year has been really good for him."
"He asked me during the season, 'How do I need to get better? What do I need to do? How can I take the next step?'" Bradley said. "Part of it is just he needs experience. He went out there and got some experience and it really came to light. He sees it and needs to be more consistent in how he handles the ball, more consistent in his protections. My hope is that this has been a good process for him and he makes big strides."
The Jaguars' future at running back entering the 2014 offseason is uncertain. Jones-Drew is scheduled to become an unrestricted free agent March 11, and Jaguars General Manager David Caldwell said he doesn't expect Jones-Drew to re-sign before then. He said Jones-Drew could re-sign after testing the market, saying he's not pessimistic about that possibility.
Jones-Drew said after the season he would like to return, but added that it will be a "monetary issue."
Whatever the future, Fisch said when it came to 2013, Jones-Drew and the running game were critical to an offense that can't yet rely solely on the pass – and that the improvement in that area was key to the unit overall.
"That's not how we're built," Fisch said. "We're not built for that right now. We have to be balanced. When we became balanced and we were able to run the ball more successfully, we were able to throw more successfully and we were able to score more points. But we need to make sure our running game is squared away. Maurice helped us do that. He got the tough yards when we needed them."