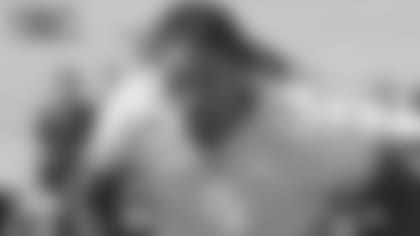 ](http://bit.ly/JCPics040214)

COLUMBIA, S.C. – This was Jadeveon Clowney's time, and circumstance, to shine. And shine he did.
And did that surprise you? Did it surprise anyone?
Not anyone who's been paying a whit of attention to most things college football and all things NFL Draft for the last two years. This, after all, was a Pro Day they held at Williams-Brice Stadium Wednesday, and Pro Days are about athleticism, physical skills and looking the part.
And who in recent memory has been as good at all of those as Clowney?
Few, that's who. Maybe no one.
Clowney, the defensive end from the University of South Carolina whose name has been on the tip of draftnik's tongues and the top of draftnik's detailed charts for as long as any prospect in recent memory, indeed held his much-anticipated Pro Day in Columbia, S.C., on Wednesday.
Actually, it wasn't just his Pro Day. A bunch of good football players worked out on a sun-splashed day that began pleasantly cool and turned progressively warmer. So, no, it wasn't just Clowney's day.
Clowney, a 6-feet-5, 266-pound specimen who is perhaps more impressive in person than he is on television, was why cameras from ESPN and NFL Network were there Wednesday. He was why Mike Mayock of NFL Network and Todd McShay of ESPN and Donovan McNabb of NBC Sports – much the same cast of NFL analysts who gathered at the Pro Days of Johnny Manziel and Teddy Bridgewater and Blake Bortles in recent weeks – gathered in Columbia Wednesday.
"It was impressive," McShay said moments after the workout. "He can do things athletically that 266-pound men shouldn't be able to do."
It has been easy to forget in the rush to analyze and criticize quarterbacks in recent weeks that this draft is very much about Clowney, and has been for a while.
Manziel? Bridgewater? Bortles? Those guys all might go in the Top 5. Those guys all might be big-time prospects.
But Clowney, beginning in his sophomore season and perhaps before, has been THE big-time prospect in this draft, and that remained true even during a junior season that understandably and almost inevitably didn't live up to the expectations.
So, yeah, Clowney shined Wednesday. Of course he did.
There was no rap music as was the case at Manziel's Pro Day a week ago. And Clowney didn't opt for a helmet and shoulder pads. But it was the same in a few respects. The media scrutiny was real. The Twitter reaction was quick. The focus was intense. And the pressure …
Of course, that was there, too.
"It was what I expected," Clowney said. "I said there were going to be a lot of cameras out here. I told the other guys, 'Just go out and have fun. Have fun with it. It's football. We've been doing these drills for years.'"
That's true in one sense. Football players indeed have done these drills for years.
They just maybe haven't done them quite like this, with this much ease and this much excellence.
Clowney, who had 24 sacks in three seasons at South Carolina, played defensive end in college, and it is thought that he'll fit naturally as a pass-rushing defensive end in the NFL. Jaguars Head Coach Gus Bradley said Wednesday he can fit easily into the team's Leo pass-rushing position while providing inside pass rush at times. But with the Houston Texans' holding the No. 1 overall selection and running a 3-4 scheme, Clowney could play outside linebacker if drafted there.
That could mean dropping into coverage, something Clowney didn't do a lot in college, but did Wednesday. That was an area McShay said Clowney needed to show and was impressed with. Tedy Bruschi, who played 3-4 inside linebacker for the New England Patriots and who was attending Clowney's workout as an ESPN Analyst, was more than impressed.
Bruschi said he asked Clowney if he had prepared in recent months for the drills. Had he put in extra work knowing the importance?
"He said he didn't prepare for some of those drills," Bruschi said.
Bruschi paused as he spoke and looked sincerely amazed.
"He looked like a complete natural," Bruschi said "I said, 'What do you mean you didn't prepare? I asked him on set, 'Did you prepare for that to show (you could do it)?' He said, 'Not really.' To have him go out there, drop and turn the hips … he could play outside linebacker."
Minutes before joining ESPN on set, Clowney shined in a drill designed to measure explosiveness and athletic ability. In the drill, a player leaps from a standing jump over four blocking bags placed side by side. The player then takes a few steps and picks up a tennis ball. Clowney did the drill easily, first jumping four bags, then five, then six. Those observing hadn't seen a player able to leap seven.
You want the wow stuff? You want the legend stuff that will be talked about for years? That stuff – the seven-bag stuff – that's it.
You knew you'd see that, or assumed you would.
What you knew you wouldn't see about Clowney was the behind-closed-doors stuff. Work ethic and love of the game. That stuff has followed Clowney since the beginning of his junior season and will follow him until the draft. Bradley said he liked what he heard from Clowney in that area this week, and so did Houston Texans Head Coach Bill O'Brien, but pre-draft buzz being what it is, those questions will continue.
Clowney said Wednesday he was tired of hearing about it, though he understood it. If he thought he was tired of answering it before, he'll surely get tired of hearing about it between now and the draft.
But that stuff is for another day. Wednesday wasn't about that. It was about athleticism, and seeing something special, something memorable, and that's just what happened.
And while it may not have surprised anyone, that sure didn't mean it wasn't impressive.