JACKSONVILLE – Home at last.
After two-and-half weeks debating, projecting and mocking, we come at last to the final day of the 2015 jaguars.com reader mock draft, finishing at what seems a logical, fitting place to end a draft on a Jaguars-oriented web site.
We end therefore with the Jaguars' second-round selection, a selection we have been working toward for several weeks now, having pushed quickly through the final two-thirds of Round One.
We end with a surge of momentum.
And yeah, we end with what seems a pretty good choice, too.
But first, a fond farewell to this year's reader mock. It began with Florida State quarterback Jameis Winston going to the Tampa Bay Buccaneers No. 1 overall, and while it perhaps waned in momentum, it never lost enthusiasm. By the time we finished, we were moving fast, but not too fast, to roll out a pretty reasonable Top 36 players of the 2015 NFL Draft.
We move now to the Jaguars' second-round selection – the No. 36 selection overall. Usually, the senior writer offers a possible selection, but he opted against being involved on this one, yielding the floor to the reader mockers.
As might be expected, opinions were varied and heartfelt.
As also might be expected, there was a decided running-back feel – though not before reader/mocker Iron John expressed his opinion in favor of upgrading the defensive side of the ball, particularly the linebacker position.
"For my money, take Benardrick McKinney (6-4, 246)," Iron John wrote of the Mississippi State inside linebacker. "A step slower at 4.66, he is a run-stuffing thumper with a good football IQ and the ability to run with tight end down the seam. No matter who we choose, there's a lot of talent and good pieces to build on."
Reader/writer Asarum Magnificum liked the idea of the Jaguars drafting offense, but thought the idea of receiver far more likely than running back.
"There's no way (Dorial) Green-Beckham would have fallen this far in real life, but since he is here in this scenario...slam dunk," Magnificum wrote.
While most analysts will tell you there actually is a pretty good chance the Oklahoma/Missouri receiver will be available early in the second round, most reader mockers didn't see that availability being a particularly big factor for the Jaguars.
Still, wide receiver was a popular thought here.
"Nelson Agholor," reader/mocker Kamal wrote. "We need a slot receiver with good return skills and Agholor is considered the best route runner in the draft, save maybe Amari."
Reader/mocker JoshNJag countered that he wasn't buying into the famous "Agholor hype."
"If Jags go slot I'd feel more comfortable with (Phillip) Dorsett," JoshNJag wrote of the Miami receiver/returner.
On it went. McKinney drew more support on defense as well as Arizona State safety Damarious Randall. When the conversation turned to running back, Tevin Coleman of Indiana was a popular choice, as was Ameer Abdullah of Nebraska.
But on the final day of this year's reader/mock, no player at any position was as popular as Boise State running back Jay Ajayi, who even was more popular than trading down.
"We dont need more pics we need play makers," warrklownn1 wrote. "Ajayi is a good fit."
Reader/mocker Scott Ennis agreed wholeheartedly.
"Coleman is a speed runner, a position that we already have with D-Rob in the backfield," Ennis wrote of the Indiana running back and current Jaguars running back Denard Robinson. "What we need is the power and agility that comes with Ajayi."
And with that, the reader/mockers had spoken. So, with that, the No. 36 selection of the 2015 reader mock draft indeed was Jay Ajayi to the Jaguars.
That also meant that the 2015 jaguars.com reader mock in the end looked like:
1.Tampa Bay | Jameis Winston, QB, Florida State
2.Tennessee | Leonard Williams, DE, Southern California
3.Jacksonville | Dante Fowler Jr., DE/LB, Florida
4.Oakland | Amari Cooper, WR, Alabama
5.Washington | Vic Beasley, OLB, Clemson
6.New York Jets | Marcus Mariota, QB, Oregon
7.Chicago | Kevin White, WR, West Virginia
8.Atlanta | Randy Gregory, OLB, Nebraska
9.New York Giants | Brandon Scherff, OT, Iowa
10.St. Louis | Andrus Peat, OT, Stanford
11.Minnesota | Trae Waynes, CB, Michigan State
12.Cleveland | Danny Shelton, DT, Washington
13.New Orleans | Shane Ray, DE, Missouri
14.Miami | DeVante Parker, WR, Louisville
15.San Francisco | Arik Armstead, DT, Oregon
16.Houston |Breshad Perriman, WR, Central Florida
17.San Diego | Melvin Gordon, RB, Wisconsin
Kansas City | Jalen Collins, CB, Louisiana State
19.Cleveland | La'el Collins, OT, Louisiana State
Philadelphia | Landon Collins, SS, Alabama
21.Cincinnati | D.J. Humphries, OT, Florida
22.Pittsburgh | Marcus Peters, CB, Washington
23.Detroit | Malcom Brown, DT, Texas
24.Arizona | Todd Gurley, RB, Georgia
25.Carolina | Ereck Flowers, OT, Miami
26.Baltimore | Jordan Phillips, NT, Oklahoma
27.Dallas | Eddie Goldman, DT, Florida State
28.Denver | Cameron Erving, C, Florida State
29.Indianapolis | Bud Dupree, DE/LB, Kentucky
30.Green Bay | Kevin Johnson, CB, Wake Forest
31.New Orleans | Brett Hundley, QB, UCLA
32.New England | Byron Jones, CB, Connecticut
33.Tennessee | T.J. Clemmings, OT, Pittsburgh
34.Tampa Bay | Cedric Ogbuehi, OT, Texas A&M
35.Oakland | Eric Rowe, CB, Utah
36.Jacksonville | Jay Ajayi, RB, Boise State
And with that, we call the 2015 jaguars.com reader mock draft a wrap. We had lulls and surges and fits and starts, and while some days were better than others, isn't that always the case? We got it done, and got it done not too badly. And through it all, at least some of us had a little fun.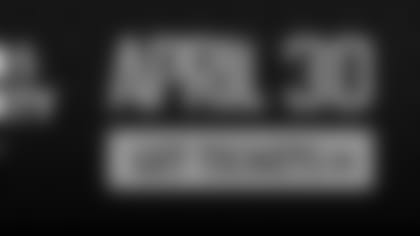 ](http://bit.ly/1fPJ9eJ?src=DPcontftban "Draft Party")