The NFL has finalised the schedule for the 2014 International Series games in London next season, including for the first time a nationally televised game kicking off at a new time.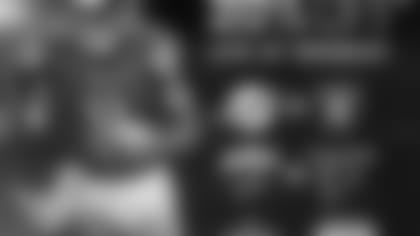 The Atlanta Falcons will host the Detroit Lions in Week 8 on Sunday, October 26 at 1:30 p.m. UK (9:30 a.m. ET), with live national coverage in the United States on FOX. The new start time will give fans a fourth game window on an NFL Sunday for the first time, while allowing a global audience to tune in at a new, earlier time.
"We are excited about playing three great games in the UK and are thrilled to debut a new game time that we think will be a hit with fans on both sides of the Atlantic,"said MARK WALLER, NFL chief marketing officer.
In Week 4 on Sunday, September 28, the Oakland Raiders will host the Miami Dolphins at 1:00 p.m. ET, 6:00 p.m. UK on CBS.
The 2014 International Series will conclude in Week 10 on Sunday, November 9, when the Jacksonville Jaguars host the Dallas Cowboys at 1:00 p.m. ET, 6:00 p.m. UK on FOX.
All International Series games will be played at Wembley Stadium and are broadcast live in the UK on Channel 4 and Sky Sports. Details of pregame activities at all the games will be announced at a later date.
"The new early kickoff is another landmark for the International Series," said Alistair Kirkwood, Managing Director of NFLUK. "It will complement the fantastic atmosphere we have at our night-time games and will offer the fans a different experience. It is also a great chance for London and the International Series to be showcased and for the whole of the US to witness the knowledge and passion of the UK fans. We are excited that our game will mark the start of an unprecedented four-game NFL Sunday."
The 2014 International Series schedule:
| | | | |
| --- | --- | --- | --- |
| Date | Away Team | Home Team | Kickoff (UK Time) |
| September 28, 2014 | Miami Dolphins | Oakland Raiders | 6:00pm |
| October 26, 2014 | Detroit Lions | Atlanta Falcons | 1:30pm |
| November 9, 2014 | Dallas Cowboys | Jacksonville Jaguars | 6:00pm |