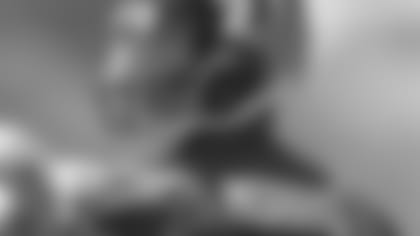 ](http://bit.ly/pics051714)

JACKSONVILLE – The connections were key. Absolutely.
Stephen Morris' and Allen Hurns' connections were different than those of Craig Loston and DeAndre Coleman. And Coleman and Hurns were maybe more "miffed" after the 2014 NFL Draft, than, say, Rashaad Reynolds, but make no mistake:
Those Jaguars collegiate free agents?
Those players fighting to overcome odds and win a roster spot?
They chose to be with the Jaguars for a reason, and for each that reason was clear – a connection that prompted them to sign with the Jaguars and not one of 31 other NFL teams.
The connection felt by Morris was more obvious than most. A quarterback from the University of Miami, Morris started two seasons for the Hurricanes. His best season came in 2012.
The offensive coordinator that season was Jaguars offensive coordinator Jedd Fisch.
"Obviously, I have great ties with him," Morris said. "His coaching style, the way he coaches, I love and appreciate that."
While a significant part of his role will be to help No. 3 overall selection Blake Bortles learn the offense, Morris said that's a role he can play. He was comfortable enough with it to turn down an offer from his hometown Miami Dolphins.
"I understand this offense, and I knew what my role was going to be," he said. "I was excited about that. It was just a good change. I've been in Miami my whole life."
Morris kept up with his coordinator last season, getting notifications on his phone after Jaguars games and speaking to Fisch often. And yes, Morris said, familiarity on some level eases the college-to-NFL transition.
"You feel a lot more confident, and you're able to help other guys learn," he said. "That's important, because you're teaching yourself at the same time."
Not that Fisch is the sole reason Morris signed with Jacksonville.
"I just think it's a great fit," he said. "I love what Jacksonville's been doing the last couple of years. Coach Gus Bradley obviously is a wonderful coach, passionate about the game. I definitely want to play for a coach like that and he's done a wonderful job with the team."
Hurns' connections were much the same. A wide receiver, he played at Miami, too. And he said knowing Fisch and the Jaguars' offense can't hurt.
"I feel like I come in a step ahead, knowing Jedd Fisch's offense," he said. "Once you know the offense, it puts you ahead. You're out there playing faster and eliminating the thinking."
Hurns, like many collegiate free agents, was surprised to be in free agency following the draft.
"I was pretty much ticked, but at the end of the day, you accept what it is," Hurns said. "Once you don't get drafted, I feel like it's a lot of motivation.  You feel like you have to do more every time you step on the field."
Reynolds' connection to the Jaguars' coaching staff, though not as strong as that of Morris and Hurns, was strong enough. A cornerback from Oregon State, Reynolds was recruited by Jaguars defensive backs coach Dwayne Walker when the latter was head coach at New Mexico State University.
He was also recruited to NMSU by Jaguars assistant defensive backs coach Mike Rutenberg, then the defensive backs coach at NMSU. Walker's son, Kevan, played with Reynolds at Oregon State in 2009.
"I have that connection with them," he said, adding, "They only drafted one corner, so I felt like it was a great spot. This is an up-and-coming team, so I felt like I could be one of the pieces."
Not that Reynolds thinks anything will be easy.
"Every team has great players, but I felt like this was the best spot for me," he said. "Everybody wants to be drafted, but at the end of the day, you have to keep pushing."
Whereas Reynolds met Walker years ago, Coleman – like many of the Jaguars' rookies – met Bradley and the Jaguars' coaching staff at the Senior Bowl in Mobile, Alabama, in January. A week was enough time for something positive to happen.
"I felt I had a good connection with the coaches," Coleman said. "I like the scheme. I liked how they played me at the Senior Bowl, and I felt comfortable with it. I felt like I could come here and succeed."
Like several of the Jaguars' collegiate free agents, Coleman – a defensive tackle from California – was projected as a possible mid-round selection. That he wasn't such irritated him more than a little.
"At the same time, it was like a blessing," he said. "There were teams calling me toward the end of the draft letting me know they wanted me. I felt like I had a good list of teams to choose from, but this was the team I liked and ultimately wanted to come to.
"I felt like I had a chance to make it here, to try to come in and compete for a spot."
Loston, too, met the Jaguars' coaching staff at the Senior Bowl. Like most players there, he got a good vibe quickly.
"That week was so great," Loston said. "Just having a week with them was so much fun. That was something I wanted to be a part of, so that's why I'm here."
That was verified days into his time with Jacksonville. Loston, a safety many expected to be a middle-round selection, was scheduled to graduate with his class at Louisiana State. The problem was his class was scheduled to graduate last Friday, the first day of Jaguars 2014 minicamp.
The Jaguars allowed him to return to campus for the Friday ceremony. He missed that day's practice, flying at 5 a.m. the following morning to return for the next day's practice.
"He's a great guy," Loston said. "He's a genuine and loving person and he had no problem letting me go back and receive that degree. It was OK with him for me to do that and make sure I got back here to finish this off."
And Loston said if he didn't know before that the connection he felt was real, he did after last weekend.
"They're like my family already," he said.