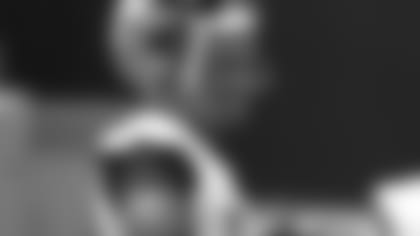 ](http://bit.ly/Day4pics060214)

JACKSONVILLE – Chris Clemons practiced with the Jaguars Monday.
And while that was news because it was the first time it had happened, Clemons said that newness – the "first" stuff – was really all that made Monday unique.
A new team, a new town, and a new circumstance?
Maybe, but Clemons – the former Seattle Seahawks defensive end who signed with the Jaguars as a free agent in March – said there was a whole lot familiar, too.
"I feel pretty much up to speed with where everybody else is," Clemons said Monday afternoon. "It's a long offseason. We all train at different rates and different speeds. Back home, I was actually training and taking care of some family issues, but once I got here and got going today, it was the same old things. Football."
Clemons spoke following the fourth of 10 scheduled Jaguars 2014 organized team activities at the Florida Blue Health and Wellness Practice Fields, with his presence being notable because he had been the Jaguars' lone absentee last week for the voluntary offseason activities.
The Jaguars had 90 of 90 players attending Monday for Day Four.
"It was good to get him back here," Jaguars Head Coach Gus Bradley said of Clemons. "I know he's dealing with some personal issues, and hopefully he got a lot of those solved so he can be with us."
Chris Clemons is a good looking athlete. Brings explosiveness to the LEO spot should create a lot of options for Gus and Bob Babich — Brian Sexton (@JagsVoice) June 2, 2014
Clemons and Bradley spoke multiple times last week, with Bradley expressing confidence late last week that Clemons would be in shape and also expressing confidence Clemons would practice Monday.
"It was great," Clemons said. "Gus has always been great. He understood that I had family issues. We all have issues that we go through that we can't control. In me being one of the leaders of my family, I had to step in and take control of that issue, so Gus understood that.
"We've always had that open communication with each other. It was an easy understanding."
Bradley said Clemons participated in no-huddle and third-down work Monday, and said it appeared Clemons indeed arrived in shape.
"It looked like it," he said. "I'll see more on tape. He seemed to be doing pretty good."
Clemons played for Seattle from 2010 through last season, playing for Bradley – the Seahawks' defensive coordinator from 2009-2012 – his first three seasons there.
"It was pretty much what I expected," Clemons said of Monday's practice. "It was great getting out here with the guys and allowing my teammates to get to understand me, and understand them – me watching them work and them watching me work. It was a kind of hand-in-glove fit – nothing really different."
Bradley said the conversations he and Clemons have had during the offseason gave the veteran a clear idea of the Jaguars' approach and philosophy.
"Now it's just a matter of getting reps for him," Bradley said.
*Bradley stopped drills early in practice because he was unhappy with the tempo. "We got a lot of situational work in, and we learned from the situation that came up out there," Bradley said, calling the day a great learning day. "We talk in terms of, 'Get better,' and what it should look like," he said. "I just felt watching all phases of it and how we were executing, that's not what, 'Get better,' looks like. I wanted to point it out to the guys so they feel it."…
*Rookie wide receiver Allen Robinson missed practice with a hamstring injury that could keep him out several weeks, though he said the injury isn't thought to be serious. "Being out there getting the reps and getting work is always good, but right now, I'm trying to get as many mental reps as possible," Robinson said. The second-round selection in the 2014 NFL Draft from Penn State said the hamstring began bothering him Wednesday, with Bradley saying he tweaked the injury on a long pass that day. "Just a little fatigue," Robinson said. "We're going to take some extra precautions."
*Bradley said he spoke with Robinson about focusing mentally while unable to practice. "I said, 'You're going to miss some reps in team and individual, but watch – watch the older guys,'" he said. …
*Bradley said of rookie quarterback Blake Bortles, who practice for the first time since last Wednesday after missing Thursday's work to attend the NFL Players Association's Rookie Premiere, "He did okay. I think the time off, five days, from not throwing and being out there is going to take some time for him to get back into the rhythm."…
*Rookie wide receiver Marqise Lee (ankle) also missed practice, as did linebacker Dekoda Watson (groin), safety Josh Evans (foot), wide receiver Lamaar Thomas (knee) and cornerback Aaron Colvin (knee). Wide receiver Ace Sanders (thigh) also was limited….