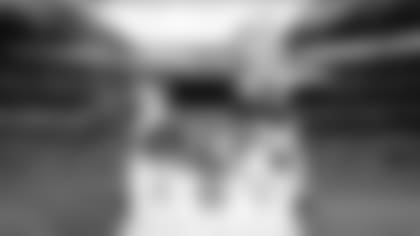 It was all systems go for the Jacksonville Jaguars in London at the weekend as they hosted 100 children in Wembley Stadium for a sleepover party to extend the partnership with Ashley Furniture HomeStore and their 'A Hope To Dream' programme.
The Jaguars had already held a sleepover at EverBank Field earlier in August but continued the commitment to their - home away from home - in London as they replicated the event at England's national stadium.
Joined by Jaxson de Ville along with Jenn, Caitlin and Paige from the ROAR of the Jaguars who had crossed the pond to throw their support around the programme, the Jags also provided 100 beds to London based children in-need.
The kids were given the ultimate sleepover party at Wembley which included a tour of the stadium, pizza, dancing with the ROAR, popcorn with a movie and a bedtime story, Jimmy Coates - Killer, read by author Joe Craig, all before lights out.
The next morning all the beds were delivered to children in-need across London and some to Kids Company, who provide practical, emotional and educational support for vulnerable children, so children in London would continue to benefit from the beds. Those who received their beds including Michael Townend, nine, from Neasden – who had his delivered personally by Jaxson and the ROAR.
He said: "It was amazing to be in Wembley and get to go next to the pitch. The sleepover was really fun and the bed was really comfy.
"I was amazed the cheerleaders and Jaxson came to my house the next day. It was so exciting. I can't wait to get in my bed to go to sleep to dream some big dreams – it is going to be great."
The NFL Partners EA Sports, Britvic and Pepsi were fantastic in giving us free product and Colgate Palmolive provided toiletries for all the children.