JACKSONVILLE – He's relaxed and prepared, which is what he wants.
But when it comes to over-the-top excitement – and when it comes to anxiety – Calvin Ridley said that's what he doesn't want. So far this week, he hasn't felt any.
"I'm going to be ready," he said. "I'm ready now, but I'm going to be calm."
Ridley, the Jaguars' veteran wide receiver, has reason to be excited and even anxious as the Jaguars prepare to play the Indianapolis Colts in the 2023 regular-season opener at Lucas Oil Stadium in Indianapolis Sunday at 1 p.m.
But while the game will be his first in nearly two years, he said any overexcitement stopped being a storyline after the Jaguars' preseason opener.
"I got that out already," he said following Thursday's practice at the Miller Electric Center.
Ridley, acquired by the Jaguars in a trade from the Atlanta Falcons early last November, missed the 2022 season serving a gambling-related NFL suspension. He missed the last 11 games in 2021 for personal reasons, but said he doesn't expect the circumstances of his absence – or return – to be prominent on his mind Sunday. Or Saturday night.
"I think I'm past that now," he said. "I'm at the point where I believe I'm here. I got past the worst part. , getting reinstated, [training] camp, just being around my teammates, being in the locker room … everything is about being normal for me.
"I'm comfortable. I'm also excited. I am. But I've done it so many times. I don't want to make it just like so big. It's just football. I'm back. I got past that part. I'm very happy to be back, but now it's time to win and help this offense and move the ball and celebrate with my guys.
"I just want to win the game. I want to go far, play in meaningful games. It doesn't matter if I ball or not, as long as we win."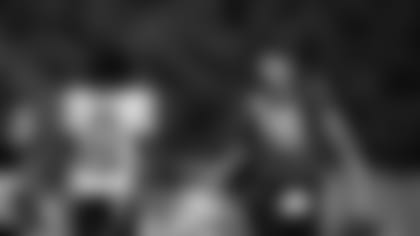 Ridley, the No. 26 overall selection by the Falcons in the 2018 NFL Draft, has 248 receptions in four NFL seasons for 3,342 yards and 28 touchdowns. His career-best season came in 2020, his last full season when he caught 90 passes for 1,374 yards and nine touchdowns.
"I guess [I'm] just wiser, just more relaxed," he said. "I know I can make the plays more than just thinking I can make the plays. I'm still working to get myself better in certain situations, but I think my thinking is just more confident than anything."
Rookie safety Antonio Johnson missed a second consecutive day of practice Thursday with a hamstring issue; head coach Doug Pederson said Wednesday Johnson is expected to be out another week or two. Rookie defensive lineman Tyler Lacy practiced limited for a second consecutive day with a hip injury. They are the only two Jaguars players on this week's injury report.
The Jaguars' fourth-place finish in the NFL in takeaways was among their key statistics in 2022, with two of their biggest victories – an overtime victory at home over Dallas and an AFC South-clinching victory over the Tennessee Titans in the regular-season finale – coming off defensive touchdowns. Inside linebacker Foye Oluokun this week said the area remains a major focus entering 2023. "You just think about it and understand the importance to it," he said. "During OTAs (offseason organized team activities), during preseason, we're still always talking about it. Every time you get a turnover practice, we show it in on the board. We show it in the film room before we even start off our defensive meeting. It's putting that importance on the ball. When you take the ball back, you give a possession to the offense. They're electric. Give our offense more possessions, we can win the game."
Jaguars defensive coordinator Mike Caldwell on Colts quarterback Anthony Richardson, the No. 4 overall selection in the 2023 NFL Draft: "He's a great athlete and he's developing into a quarterback; you see him make great throws at times. The wild card is that you never know where he's going to be. He can scramble at any time, they can use him in many different ways. The unknown is there. We've gone back and tried to study it as much as we can as far as what they like to do with young quarterbacks and how [the University of] Florida used him. At the end of the day, we're going to go out there and do what we've been programmed to do, go out there and play hardnose defense."