Senior writer John Oehser examines Jaguars Head Coach Urban Meyer's press conference following a 23-20 victory over the Miami Dolphins in a 2021 Week 6 game at Tottenham Hotspur Stadium in London, England, Sunday …
1. Big day. When kicker Matthew Wright converted his second 50-plus-yard field goal in less than four minutes Sunday, it not only ended the Jaguars' franchise-record 20-game losing streak, it gave Meyer – one of the most successful college coaches of all-time – his first victory as an NFL head coach. The moment's important was evident when Meyer spoke to the media after the Jaguars twice rallied for their first victory in 399 days. "It was a great team win," Meyer said, adding: "We need a win. Someone asked me last week if we're desperate for a win … we are desperate for a win. We came close a few times. … It was a great win." Meyer smilingly called the game "a three-hour root canal," adding: "I enjoyed that locker room after the game. I think I enjoyed that more than the actual game." Meyer added, "I'll never forget this the rest of my life."
2. Meyer continues to like Lawrence's development … Jaguars rookie quarterback Trevor Lawrence completed 25 of 41 passes for 319 yards and a touchdown with no interceptions Sunday – leading back-to-back touchdown drives late in the second and early in the third quarters. "Our young quarterback was poised," Meyer said afterward. Lawrence also went a third consecutive game without a meaningful interception and made a big fourth-down completion on the game's second-to-last play – a nine-yarder to wide receiver Laviska Shenault Jr. on 4th-and-8 from the Dolphins 44 to set up Wright's 53-yard game-winner on the game's final play. "You saw a young quarterback make a big-time play at the biggest time of the game," Meyer said.
3. … and he enjoyed Lawrence's company in the deciding moments. Meyer said he called Lawrence next to him as Wright lined up for the game-winning kick: "He came over and I said, 'Come here, quarterback. Let's watch this young kicker try to drill a 53-yarder,''' Lawrence said. "He said, 'Coach, we're going to win this regardless.' I get to coach a guy like that. That's kind of cool."
4. Meyer likes the UK. The Jaguars' victory Sunday was their fourth in eight appearances in London, coming two seasons after their previous most-recent appearance in the International Series – and in Meyer' first game in London as the team's head coach. "Our players advised me starting back in February how to organize this trip," he said. "The hospitality, the environment, the setting … our players love to do this. They made it clear to me they love coming over here – and then obviously to get a win like this, I want to make sure on behalf of the Jaguars, our football team and coaching staff: Thank you for the hospitality."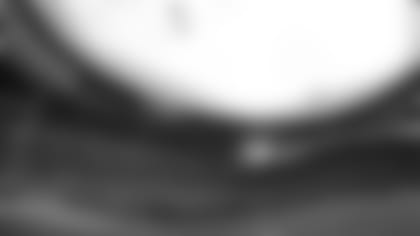 5. No surprise. Meyer said he wasn't surprised the Dolphins opted to go for a first down on 4th-and-1 from their 46 just after the two-minute warning. Jaguars defensive end/linebacker Josh Allen and linebacker Chapelle Russell stopped Dolphins running back Malcolm Brown for no gain on the play, giving the Jaguars possession. Wright's game-winner came five plays later. "It was close," Meyer said. "I've gone for it on fourth down three times [this season]. In the NFL, man it's tough to get first downs. Our defense penetrated and made a big stop there."
6. The right call. Meyer after the game discussed in detail the play that preceded Wright's game-winning field goal. The Jaguars initially planned to throw a Hail Mary on 4th-and-8 from the Dolphins 44 with :05 remaining. After both teams used a timeout, Meyer changed the call to what the Jaguars call "slider timeout" or "slider kill." It's a play Meyer said offensive coordinator Darrell Bevell brought to the team and one the Jaguars practice weekly. Meyer and Lawrence both said "slider kill" usually takes at least six seconds to run, because Lawrence needs to complete a slant pass and the team must get a timeout called to stop the clock. Lawrence passed quickly to Shenault on Sunday, who got the first down – and got down – in time to call timeout with :01 remaining, setting up Wright's game-winning kick. "I kept staring at the clock," Meyer said. "We practice this every week. I had the official right there and I said, 'As soon as he catches and goes down, timeout.' He caught it, timeout and I looked and there was still that one second left. We practice that quite a bit."
7. Fourth-down … stopped. Meyer also discussed a failed run by running back James Robinson early in the fourth quarter, a play that gained no yards on 4th-and-1 from the Dolphins 9. That kept the Jaguars' lead at 17-13 with 14:21 remaining. The Jaguars also this season have been stopped on 4th-and-goal from the 1 in losses to Cincinnati and Tennessee. "It's not like we don't discuss it our line coach (George Warhop) and our [offensive] coordinator (Darrell Bevell)," Meyer said. "We felt like that was the right call. Obviously, we're not real productive on those fourth-and-shorts. We've had two in the red zone as well. We're going to keep working at it. This is the National Football League, and every inch is hard to get."