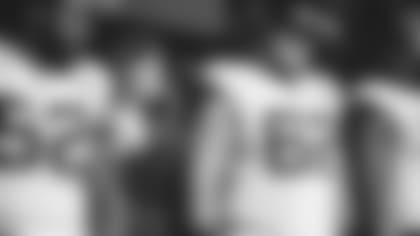 4. … and for Lawrence. Jaguars rookie quarterback Trevor Lawrence had perhaps his best game since Week 6, completing 26 of 39 passes for 280 yards. He also ran six times for 37 yards, including a 26-yard run to the Jets 5 on the Jaguars' final drive. "Trevor was really the key factor in that," Bevell said of the Jaguars' offensive success Sunday. "The plays that were there he hit them, and he took the shots when he had to, and he took the checkdowns when he had to." Bevell added, "I was really proud of him today. I thought he did a really good job of managing the game, he took the checkdowns that were there, he took the shots that were there. That's probably the thing that impressed me the most, the shot opportunities that he had that, that he took those."
5. Run over. The Jaguars allowed 273 yards rushing on 36 carries Sunday. That's the most rushing yards they have allowed this season, with the previous high 184 to the Tennessee Titans and running back Derrick Henry in a Week 5 loss in Jacksonville. Jets running back Michael Carter rushed for 118 yards on 16 carries and quarterback Zach Wilson scrambled four times for 91 yards – including a 52-yard touchdown run in the first quarter. "We didn't do a good job, I don't think, of really staying in our gaps and filling the gaps where we needed to," Bevell said. "When teams are running the ball it's a function of everybody and you have to do a great job of playing gap-integrity defense."
6. No excuses. The Jaguars on Sunday allowed a kickoff return for a touchdown for a second time in as many weeks, with Jets wide receiver Braxton Berrios returning a second-quarter kickoff untouched for a 103-yard touchdown that gave the Jets a 13-9 lead. The Jaguars had multiple players out on the COVID-19 list Sunday, which meant changes on return teams as former backups moved into the starting lineup. "Anytime guys go down it's a next-man up mentality and there are no excuses," Bevell said. "We have to do a better job in coverage. We gave up one last week, we gave up one this week and it ends up being a difference in a game. Whoever we put out there, it's those guys' responsibility to be able to go out and make plays. We'll continue to look at it, but the guy didn't even break stride as he ran through our kickoff team, so we have to do a better job of filling our lanes. Backside has to do a better job of closing, we'll go back, we'll look at it, we'll evaluate it and continue to work on it."