JACKSONVILLE – He's everything you want at his position.
As Ty Howle sees it, Brenton Strange has traits you covet at all positions. So, it made sense that the Jaguars selected the Penn State University tight end in Round 2 of the 2023 NFL Draft.
He has talent and passion, and the second part stood out above all else.
"He loves the game of football," Howle, Penn State's tight ends coach and co-offensive coordinator, said recently. "He's a great person off the field, but he plays hard and jumps off the tape and screams at you. He practiced hard and does all the extra little things.
"He's an awesome human being and a great kid."
"It's extremely high," Pederson said.
Howle said that upside stems not only from talent but from desire, calling Strange "a football junkie."
"He's in the meeting rooms extra," Howle said. "Obviously, he wanted to learn what we were doing at Penn State, but he wants to learn coverages and wants to learn different schemes that maybe the NFL was running. He's wanting to learn football."
"He helped our room transform – just with his mentality, toughness and who he is," Howle said.
Howle, like Pederson, praised Strange's versatility and said "he can do a lot of jobs."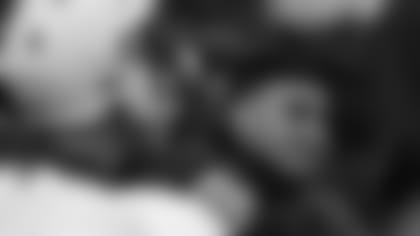 "He can line up in the slot," he said. "He can line up at number one, he can be lined up at fullback. He can put his hand on the ground and play wide. He's able to handle all those things mentally – and he can play special teams. He's just one of those guys that really can fit a number of roles, and that's what makes him so valuable in my mind – and it was why he went so early. He's not locked in or pigeonholed into a certain spot.
"He can flourish and he's willing to do any job that's necessary. He wants to win."
Howle also called Strange "a fantastic pass-catcher" with "elite change of direction" who can also block effectively in the run game.
"He has really good hands," Howle said. "He can be a mismatch guy, but he also can go lead on a linebacker. When we were in 12 personnel (two tight ends, one running back, two wide receivers), he was that second move tight end. But if we call counter, something where the point of attack was going to be where the Y [tight end] was, he'd put himself at 'Y.' That was him."
Jaguars General Manager Trent Baalke immediately following the draft called Howle a "culture fit," with Howle calling him a "a mentality guy."
"He's not going to be the loudest guy in the locker room," Howle said. "He wasn't for us, but when he spoke, people listened. People paid attention to the way he approached every day. People saw that he didn't want the spotlight or the glory or anything like that.
"He just put his head down and worked. He had really good relationships with teammates. He had really good relationships with coaches. He had a great way about him. He's ultracompetitive."
Howle, too, said Strange's statistics may have been hurt by the presence of two other NFL-caliber tight ends: juniors Theo Johnson and Tyler Warren.
"Those guys probably ate into some of his touches statistic-wise," Howle said. "The thing about him is he's no-ego guy. We'd ask him to stay in on the play-action protection and other tight end would get out just because that's the way we've been running the run.
"He's a guy that loves the game. He wants to win. That's the bottom line."