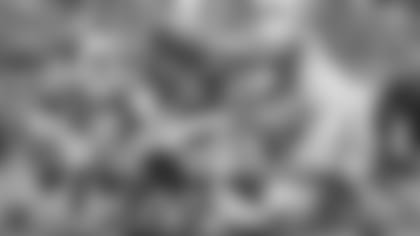 JACKSONVILLE – Senior writer John Oehser examines the Wednesday that was as the Jaguars began preparing to play the Indianapolis Colts at Wembley Stadium in London, England, Sunday at 9:30 a.m.
The Jaguars' offensive line is getting closer to healthy.
Center Brandon Linder and left tackle Kelvin Beachum, both of whom missed a Week 3 loss to Baltimore this past Sunday, returned to practice Wednesday as the Jaguars began preparing for their annual game at Wembley Stadium in London.
Linder, who missed Sunday with a knee sprain sustained last week in practice, practiced on a limited basis Wednesday. Beachum, who missed Sunday with a concussion sustained in Week 2 at San Diego, practiced full after being cleared from the NFL's concussion protocol Tuesday.
"When you saw the injury take place and he was on the field, you always get a little concerned about it," Bradley said of Beachum as the Jaguars began preparing to play the Indianapolis Colts at Wembley Sunday at 9:30 a.m. "We could tell by the end of last week how he was responding and going through the protocol we thought he had a good chance to play [against Indianapolis]."
Bradley said Linder is day-to-day.
"Well progress and be smart with him," Bradley said.
Bradley also said the Jaguars cut practice short Wednesday by three repetitions of the final team period because of lightning around the practice facility. The Jaguars worked in shorts, shoulder pads and helmets rather than full pads after practicing the same way last year the Wednesday before playing in London.
Rookie linebacker Myles Jack got work at the team's strong-side "Otto" linebacker position on Wednesday, Bradley said. Jack has been backing up the weak- and middle-linebacker roles and his only defensive playing time this season came at middle linebacker in the fourth quarter against San Diego. "He's getting better and we're putting a lot on his plate," Bradley said. "I'd say the last two weeks he really has grown as far as being in shape and handling all the duties we're asking of him."
Don't look for rookie cornerback Jalen Ramsey to stay quiet anytime soon. Don't look for teammates or coaches to want that, either. The No. 5 overall selection in the 2016 NFL Draft, Ramsey not only has played at a high level, he has drawn attention for talking confidently. Most notably, he talked following this past Sunday's loss to Baltimore about shutting down wide receiver Steve Smith Sr., adding that he had no respect for Smith as a man after the veteran confronted him during and after the game. Teammates on Wednesday said they had no problem with Ramsey speaking his mind. "When Jalen talks he backs it up," veteran defensive tackle Malik Jackson said. "We don't mind him doing his thing." Ramsey said of his teammates, "They love it. People know how I am. I'm a confident dude. I'm a dude who's going to bring passion. That's how I play the game. I play with all my heart. I ain't backing off of nobody, no matter who you are. That's just how I am. People are going to have their opinions on me. You might like it. You might not like it. That's not going to affect me. I'm going to act the same way I act. … I wouldn't say it makes me raise my play, but I know if you talk the talk you've got to walk the walk. But I know I can walk the walk by the work and preparation I put in all week. I feel like my teammates see that as well."
In addition to Linder and Beachum, cornerback Prince Amukamara also returned to practice on a limited basis for the Jaguars Wednesday. The sixth-year veteran who signed as an unrestricted free agent from the New York Giants in the offseason missed the last two games with a hamstring injury sustained in Week 1.
Dante Fowler Jr. was among six players missing practice Wednesday.
The second-year Leo missed practice with a shoulder injury sustained against Baltimore Sunday. Bradley said Fowler is day-to-day.
Other Jaguars players missing practice Wednesday: defensive end Jared Odrick (triceps), tight end Julius Thomas (elbow), linebacker Dan Skuta (hip), tight end Ben Koyack (meniscus tear) and linebacker Hayes Pullard III (ankle). Odrick and Koyack missed this past Sunday's game against Baltimore.
Ivory (ankle/knee) and Jackson (quadriceps) practiced limited.
"No. Unless [Head Coach] Gus [Bradley] tells me to never do that again."
--QB Blake Bortles on whether he regrets leaving the field seconds before game's end Sunday
"Winning is good for seeding in the playoffs, but it's also good for just everyday morale. You put so much work in that you want to have that result. Everybody's out there trying to be their best and you spend all OTAS, all training camp, so you want to have the result. Sometimes that's all it takes is that one win to get things rolling."