JACKSONVILLE – Middle linebacker Foye Oluokun feels good about the defense these days.
So does outside linebacker Josh Allen.
They're two of the most-experienced leaders of the Jaguars' defense. On Monday, the most physical day of 2023 Training Camp to date, both discussed what they like early in the process about a unit entering its second season under coordinator Mike Caldwell.
There's greater comfort now than at this point last season, which was expected – and which is coming to fruition.
Whereas last season the Jaguars' defense entered camp having added multiple players such as Oluokun, rookie linebackers Devin Lloyd, Chad Muma and Travon Walker, veteran cornerback Darious Williams and veteran defensive tackle Foley Fatukasi, much of a unit that finished fourth in the NFL last season in takeaways returns intact.
Allen on Monday reiterated a point he has made multiple times this offseason – that the defense should be helped by Caldwell and players having greater familiarity with one another.
"It's the second year," Allen said. "We know Mike. Mike knows us. I'm excited about Year Two. You want to be comfortable, being comfortable in the things we call and knowing why we're calling them in situations. You want to know what you're calling and you want to know you can do these things.
"It's going to change a lot up front and it's going to put us in a better position. We're ready to get after some people this year."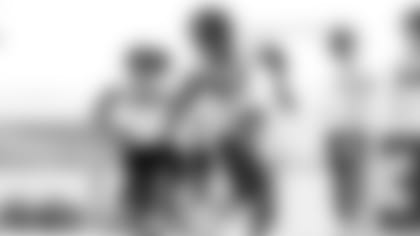 Oluokun, the NFL's leading tackler the past two seasons and the Jaguars' defensive playcaller, on Monday discussed the defense's development since last season.
"We've got to be able to grow," Oluokun said. "If you're not growing, you're dying. I learned that in college. Whatever [Caldwell] feels like is a better look for us to be staying successful out there, we put all of our trust in him. Being able to be multiple, but being able to master what we put out onto the field I think is what's most important.
"If he has new looks for us, being able to master everything that's new. Make it feel like it's old, make it feel like we're comfortable with it and putting everybody in the right positions to make the play."
And as the season approaches, the focus will be further improving the communication that Oluokun said has already improved early in camp.
"We still have a whole bunch of plays out there," he said, "but for us, it's about matching what we got so we can start expecting what they got – being able to just switch a blitz pattern or switch in coverage. Empty checks, weird-look checks … being able to be on the same page. That's what's really important at this point of the season so we can play faster when the real season starts."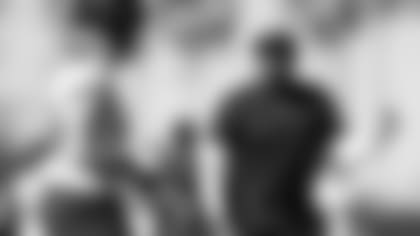 Caldwell on Travon Walker: "You love to see the continual improvement in the run game, which was strong last year. We just need him to step that up. Then in the pass game, you see the rushes. At times, he's winning on the edge. He's powering and he's countering now. His toolbox is expanding and you see the progress going on."
Tackling has been a topic early in '23 camp, with Caldwell recently saying it was perhaps the biggest area needing improvement this season defensively. Oluokun said it was an area of focus with the team hitting live in camp for the first time Monday, adding that the area improved throughout practice. "On third downs, tackling is very paramount," he said. "I was trying to get back used to it at this first part of the live period. As the day went on, we got back. Understanding where our help is, understanding where our leverage is at – that's really important, just being able to get out on the field, you've got to be able to tackle better. Then, it gives the ball back to our offense quicker, so tackling is important."