JACKSONVILLE – The Jaguars were busy on Day 3 – and defensive.
After selecting three offensive players on Thursday and Friday, the Jaguars were expectedly defense- and special teams-heavy on Saturday's Day 3 of the 2023 NFL Draft. They selected defensive players with seven of 10 Saturday selections. The Saturday selections were:
Ventrell Miller, linebacker, Florida (No. 121, Round 4); Tyler Lacy, defensive end, Oklahoma State (No. 130, Round 4); Yasir Abdullah, linebacker, Louisville (No. 136, Round 5); Antonio Johnson, safety, Texas A&M (No. 160, Round 5); Parker Washington, wide receiver, Penn State (No. 185, Round 6); Christian Braswell, cornerback Rutgers (No. 202, Round 6); Erick Hallett II, safety, Pittsburgh (No. 208, Round 6); Cooper Hodges, offensive tackle, Appalachian State (No. 226, Round 7); Raymond Vohasek, defensive tackle, North Carolina (No. 227, Round 7); and Derek Parish, fullback, Houston (No. 240, Round 7).
Earlier selections: Oklahoma offensive tackle Anton Harrison (Round 1, No. 27); Penn State tight end Brenton Strange (Round 2, No. 61) and Auburn running back Tank Bigsby (Round 3, No. 88).
Members of Jaguars Media – senior writer John Oehser, senior reporter/editor J.P. Shadrick, senior correspondent Brian Sexton and team reporter Kainani Stevens – shared an observation following each day of the draft. Day 3 observations:
John Oehser, Senior Writer:
The Jaguars' 2023 draft wasn't about sizzle as much as addressing need with value selections. That was storyline on Days 1 and 2, with Day 3 much the same as the team focused largely on defensive depth and special teams. The team was able to trade back in Rounds 1 and 2 to select the players they wanted in Harrison and Strange but couldn't use the equity gained with those trades to trade back up in the middle rounds. The result was the 10 Day 3 selections that featured a slew of mid-round front-seven players who should provide needed numbers in that area of the defense and special teams. The thought here is the draft's main storyline is how the first two days shape the offense. Adding Strange and Bigsby should give Jaguars Head Coach Doug Pederson the depth and versatility at tight end and running back his offense lacked last season, and adding Harrison solidifies an offensive line that must remain a priority as quarterback Trevor Lawrence enters Year 3. If those players push an already potent offense higher, the weekend was a success.
J.P. Shadrick, Senior Reporter/Editor:
The Jaguars entered Saturday with 10 picks and came away with 10 players that could help the team in different ways. The fourth- and fifth-round selections were all defense, and all pieces that can compete for different roles both on that side of the ball and on special teams. Most of the sixth- and seventh-round picks will all have a chance to come in to see how a certain trait shows on the practice field, and possibly develop in the coming years. Overall, the Jaguars picked players to fill certain needs without making extreme moves to have to do it. That's the "draft" part of the "draft-and-develop" philosophy. It's up to the coaching staff to help the players develop and help the team on the field. With picks late in each round, this is what a winning organization's draft will feel like moving ahead. Get used to it.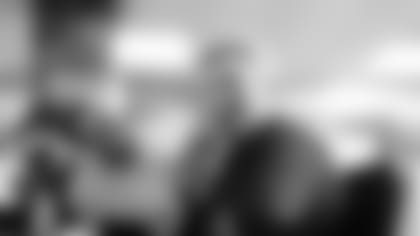 Kainani Stevens, Team Reporter:
The Day 3 marathon involved ten draft picks between Rounds 4-7, for a grand total of thirteen. This amounts to General Manager Trent Baalke's largest ever draft class and the rookies will face some stiff competition as they fight to make the final roster. Hopefully, some untapped talent or role players surface during training camp.
Brian Sexton, Senior Correspondent :
I was walking out of the NFL Draft media center in Kansas City on Thursday evening and a longtime writer stopped me to say he thought the Jaguars' first-round pick was solid and in retrospect that word describes the entire 13-player haul. Let's face it: The sexy draft was 2021 when they selected Lawrence and running back Travis Etienne Jr. in the first round. Since then, it has been about the roster the Jaguars build around Lawrence. Harrison is a really good football player and replaces a really good football player in Jawaan Taylor at a really important position. Strange and Bigsby are chess pieces for Pederson and Co. to use in their effort to make Lawrence even better than he was last year and both should play significant roles in their rookie seasons. The Jaguars have added talented depth which creates greater competition, and which should make them better this fall. That's the purpose of the NFL Draft – and before they even arrive in Jacksonville, the class of 2023 appears to have done that.