JACKSONVILLE – Jaguars "experts" – Frank Frangie, Kainani Stevens, Brent Martineau, Jeff Lageman, John Oehser, Brian Sexton and J.P. Shadrick – analyze the Jaguars and the 2023 NFL Draft:
Frank Frangie, Radio Voice of the Jaguars
Overall impression: I like the draft very much. The key to any draft is to have three or four players who can impact your team immediately. If a few others can create some competition in camp, that is a win. I think the key is Strange; if he can provide blocking similar to that provided by departed Chris Manhertz, plus become a legitimate threat in the passing game, that is an important upgrade. I also think Bigsby, linebacker Ventrell Miller and defensive end Tyler Lacy will make the two-deep out of the gate – and edge Yasir Abdullah and safety Antonio Johnson were great value picks.
Breaking down the first round: The most significant departure from last year's team is right tackle Jawaan Taylor, gone in free agency. The Jaguars essentially re-drafting him in Harrison: Same size, drafted in similar spots (Harrison 27th overall, Taylor was 35th), hard workers, good character. My guess is he is the right tackle for years to come. Good pick.
What else I liked: I like that there are a lot of Power 5 guys in this class who played for big programs in big stadiums. I think that matters. Also, guys who played a lot of football. And it is a very athletic group, which always helps special teams. Keep an eye on Miller and Abdullah. Miller will push Devin Lloyd and Chad Muma; Abdullah can really affect the pass rush positively.
Kainani Stevens, Team Reporter
Overall impression: The franchise's largest draft class ever features some key offensive additions at niche positions. Feels like Pederson is putting the cherry on top of his dream offense.
Breaking down the first round: The Jags filled the hole on offensive line with a player they think can start immediately. Harrison's versatility will prove valuable next season when several Jags hit free agency.
What else I liked: Amassing a ton of picks allowed the Jags to take a couple of flyers in the later rounds. It saves the team money as opposed to signing the same players as collegiate free agents and perhaps you find a needle in a haystack.
Brent Martineau, Action Sports Jax Sports Director
Overall impression: Does a little bit of boring make you better? We are used to splash selections for the Jaguars and this draft didn't have many of those. Instead, the Jaguars really looked like they held true to their board instead of reaching for need. That's how good teams sustain a winner. The Jaguars got immediate help with the Harrison pick, long-term depth in the early rounds and potential future financial flexibility with some of the moves.
Breaking down the first round: I didn't love the Harrison selection initially, but it grew on me. Maybe I just wanted my pick of Clemson edge Myles Murphy to be correct and he was still on the board! The Jaguars collected a couple of picks and got Harrison, so that's good draft maneuvering from Baalke. It's never bad to protect quarterback Trevor Lawrence. The move takes the sting out of Robinson's looming suspension, too. It also won't put the Jaguars in a must-get-a tackle-situation in 2024 if they choose to clear some dollars on the offensive line. This was a good short- and long-term move by the Jags.
What else I liked: I get why GMs like having draft picks. The more-darts-to-hit-a-bullseye theory makes a lot of sense. I don't think the Jaguars needed 13 selections, but they have put themselves in a position to find one or more diamonds in the draft. I think the first three selections will be good players and contributors. If a star - or maybe two - was born on Day Three, we are going to really look back on the 2023 NFL Draft and like it a lot.
Jeff Lageman, former Jaguars defensive end and Jaguars analyst
Overall impression:Love what the Jaguars did by trading down (multiple times) picking up extra picks and still getting an outstanding tackle prospect in Anton Harrison. The draft is a percentage game and the more picks you have the better chance of getting players that can help. Second-round tight end Brenton Strange will be an immediate contributor on offense with his well-rounded skills and will complement Evan Engram well.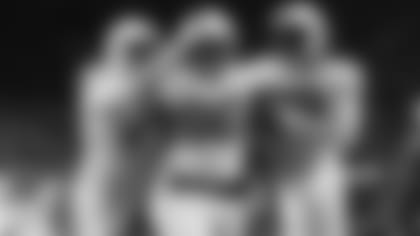 John Oehser, jaguars.com senior writer
Overall impression: This class wasn't flashy, but it's hard to flash when you go offensive line late in Round 1. The 13-member draft class is the largest in franchise history, and has the chance to restore the depth was missing before Pederson and General Manager Trent Baalke took over as the team's football decision-makers in 2022. That's particularly true in the middle rounds, where the Jaguars moved heavy to address the defensive front seven and special teams.
Breaking down the first round: The Jaguars entered the draft with the No. 24 overall selection, then moved back twice – three spots overall – before selecting Harrison. But make no mistake: Harrison would have been the selection at No. 24 and No. 25. Harrison should start Week 1 at right tackle with left tackle Cam Robinson likely suspended to start the season. But this selection was about addressing the line for the long-term.
What else I liked: Day 2. Strange gives the Jaguars versatility at tight end opposite Evan Engram and Bigsby gives the backfield depth behind Etienne. The Jaguars didn't have enough of either element last season.
Brian Sexton, jaguars.com senior correspondent
Overall impression: This is a solid, foundational kind of draft class. Look: The sexiest draft class in team history was 2021 and now everything is to be built around that. This won't compare to that, but they added a few guys who can start, a few guys who can provide depth, a few developmental guys and a player or two that could be termed long-shots but might also be like catching lightning in a bottle. They added what appear to be quality football players, which should increase the competition level and depth across the roster. That is how good teams get better.
Breaking down the first round: Offensive tackle Anton Harrison is the kind of player that sneaks up on you. The big names were offensive tackles from Ohio State, Northwestern and Georgia – and those guys sucked up all the oxygen in mock drafts. But Harrison quietly was favored by more than a few teams as a talented and versatile player with immediate starting ability and long-term Pro Bowl potential. Any offensive tackle from a school that folks in Jacksonville don't see much – and who wasn't mentioned in the mocks – will be questioned by the fan base. But from what I hear, this is one of the safest picks in the first round.
What else I liked: I am interested in how Jaguars Head Coach Doug Pederson can deploy the second and third round picks. Tight end was a position of need and the Jaguars passed on bigger names for Brenton Strange of Penn State in the second round. He's an all-purpose kind of guy similar to Michael Mayer, who went earlier in the second to Las Vegas. He's a gifted receiver, good after the catch and will block you into the stands according to one observer. Running back Tank Bigsby was a highly-decorated recruit whose career at Auburn wasn't as dazzling as it might have been had he gone somewhere else. I'm told he had to do too much on his own. He's a contrast in style to Jaguars running back Travis Etienne Jr., which can only help when it comes to Pederson, offensive coordinator Press Taylor and quarterbacks coach Mike McCoy scheming on a week-to-week basis. Strange and Bigsby are chess pieces on the board and I get the sense they'll be in play early in their professional careers.
J.P. Shadrick, jaguars.com senior reporter
Overall impression: This is how a winning organization's draft is supposed to feel. Jags fans have been used picking in the Top 10 for many of the last 15 years or so. Picking at the bottom quarter of each round is hopefully the norm moving forward. The Jaguars already have a talented team, so this draft class fills a few key spots, provides depth and competition in others, while adding a few projects at the end. That means picking players that might not have the flashy, pre-draft buzz. Just because you have not seen a player's name in an online mock draft does not mean that the player will not be a contributor. There will be hits and there will be misses – just like every other draft class in the history of the league.
Breaking down the first round: The Jaguars traded back twice and still got a piece that can help solidify the front line for the foreseeable future. It's never a bad policy to have extra offensive linemen – as Tyler Shatley and Walker Little both had extended stretches as starters last season. Harrison's versatility is a big deal; Pederson said he would play right tackle to begin, but he could later move around if needed when Robinson returns. If Harrison is one of the best five linemen, he will be on the field one way or another.
What else I liked: Strange. Speaking of versatility and flexibility, Strange was all that at Penn State – a jack of all trades. They lined him up as a blocker at in-line tight end, pulled him in motion to block, lined him up as a fullback, in the T-formation, anywhere you can imagine. Plus, he held his own as a receiving option. If you want a full view of what he can do, go to YouTube and watch the highlights from the Penn State-Auburn game in 2022, and look for No. 86 in white for the Nittany Lions. He's everywhere. This player should give Taylor plenty of options and makes the Jaguars offense even tougher to defend.