JACKSONVILLE – The Jaguars made a move – a couple of moves, actually – on Day One of the 2023 NFL Draft to get in position to select a player they needed and badly wanted. Anton Harrison should be a player they give time to acclimate and work his way into the starting lineup, but right tackle Jawaan Taylor's departure in unrestricted free agency and left tackle Cam Robinson's four-game suspension to start the season won't allow it. The Jaguars need a right tackle and Harrison is their guy. He has all the physical attributes. After a conversation with him off the practice field on Day 2 of Jaguars 2023 Training Camp, Senior Correspondent Brian Sexton reports Harrison has the right mental makeup for the challenge in front of him.
Question: How has your transition from college to pro been since April? Now, you're paid to play football. You can focus on that and not worry about going to class or anything related to school -- though you certainly have plenty to learn.
Answer: I'd say it's been good, just because you are only focusing on football and doing your job and getting better. That part of it is good. Then, just being here every day, learning on the field and in the classroom, has given me a chance to get better. Plus, being with these guys all day every day is really just helping me lock into this and this only. I'd say it's been good for me, but there's so much to do.
Q: How steep is the learning curve for an NFL rookie, especially when you're playing offensive tackle and you're assigned to protect Trevor Lawrence? There's some pressure there, right?
A: It is definitely big, especially coming in at this level. You have to learn a lot, and fast. It's right around the corner, and then you're behind everybody else. Coming in, you know what you have to do. You have to learn a playbook fast and be able to show the coaches that you know what you're doing, and that you can go out there and play. That has been the biggest learning curve. Then the speed of the game is just fast at the next level. So being able to show you can play against this talent is definitely a big learning curve.
Q: Veterans are going to make you buy chicken or donuts. That's what they do. Or carry their helmets. How have they responded to you? How have they treated you? They obviously know you are talented and they know they need you to come in and play well. What has that dynamic been like?
A: It has been great. They've all just been positive and encouraged me since Day One. Once I got drafted, they all texted my phone, called me, welcomed me with open arms. That has been big. Anything I need, they're there for me to help me learn. If I need extra time on the field or in the meeting rooms, they're there to help me. Not one of these guys has been too busy for me or hasn't taken the time to stop and answer a question and share a technique or point out something that's different at the level than it was in college. It definitely has been big and the leader's just always there for me no matter what.
Q: Can you tell a difference in the speed of the game even though you only have been on the practice field so far? You played at Oklahoma where there's a lot of talent, but it's different at this level, right?
A: I can, just starting off with the IQ of the players. Everybody's just smarter and understands the game at a different level at this level. You better know your stuff. That has me in my playbook and watching video every chance I get. Every player is a good player and everybody has different moves and more moves than in college. Just getting that down and then just adjusting to the speed. Everybody plays so much faster. It's all the little things you don't think about that I find myself thinking about, like the need to really know how to get off the ball. The little movements, the little technique, really matters. Honing your technique and perfecting your craft has to happen every day if you're going to compete at this level.
Q: You're joining a team that played really well last year. People are excited about a brand new facility, and there's a lot of enthusiasm and excitement. Can you sense that?
A: I definitely sense it. Everything here is getting better and growing, so I'm glad to be a part of it. I'm glad to know they wanted me to be able to help out and grow and get this team better. That's why I come here and do what I try to do every day.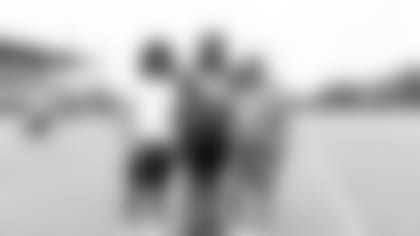 Q: How has the NFL experience been for your family? They're suddenly a part of the NFL now. How have they enjoyed it so far?
A: They're really enjoying it. They're interested in everything that's going on every day. The thing that stands out the most to me is how they've been behind me all these years, and this is for them as much as it is for me. They're all behind me a hundred percent. They're home in [Washington] D.C., so they call me every day, text me every day, check up on me and make sure I'm good. I'm grateful just knowing that they're with me even if they're not actually with me.
Q: What's your routine like on a day-to-day basis in terms of rest and eating and drinking and that kind of stuff?
A: That's one thing you really need to focus on every day. It's such a grind on you physically and mentally – but physically, for sure. I'm just really trying to make sure I get my rest, then some recovery time in the treatment room – and not just when I'm hurt, but to prevent injuries: Cold tub, hot tub, things like that. Just always try to stay on top of it. Never just chilling, always trying to get better. Get my body right.
Q: What has it been like for you to come in and play next to a guard like Brandon Scherff, who is so accomplished and so good? How does that help you?
A: It has been incredible to learn from a guy like that. I grew up watching him, especially when he played for Washington. My whole family is Washington fans. So just growing up, watching Brandon dominate the league as long as he has … now I'm in the meeting rooms and in the huddle with him, always learning from him, taking that, watching everything he does, drills, the notes he takes in the meeting room, things like that, and trying to put it into my game and just do what he does so that I can become what he is. He's making me better and I want to dominate with him on the field.
Q: I imagine it's a feeling of gratitude, to be all the way through from a youth player to high school, to college, to get here where so few people go. Do you have a perspective on the men and women that helped you get here?
A: I can't even explain it. I'm so, so grateful. Everything my family sacrificed for me is big. My parents, family, friends, coaches, pushed me to get here. I'm grateful for them to help me get there. And it's not over yet. We still have a long way to go. I'm still trying to push it and get better.