JACKSONVILLE – The 2006 Jaguars were up and down by the time they arrived at Lincoln Financial Field on the final Sunday of October.
They had won big, lost big, won a close game and lost a nail-biter – and in their first game in Philadelphia, winds up to 57 mph and temperatures in the mid-40s favored the Jaguars with running backs Fred Taylor and Maurice Jones-Drew and scrambling quarterback David Garrard.
The Eagles were a passing team despite the presence of running back Bryan Westbrook. They focused on quarterback Donovan McNabb finding receivers and tight ends in a West Coast offense. The wind wouldn't be their friend.
The Jaguars took the ball near midfield after the wind limited a Philadelphia punt to 30 yards, then took an early lead minutes later when Taylor took an inside handoff and gashed the interior of the Eagles' defense for a 15-yard touchdown.
From that point, they might as well have been wearing leather helmets and filming in black and white. Neither team had success passing. Garrard and McNabb took turns dumping the ball off to running backs and tight ends, but it was as much a punting duel as it was anything.
The Jaguars appeared to take control when Taylor went around left end for a 54-yard touchdown run but right tackle Maurice Williams was called for holding. They had missed a great opportunity to give themselves a wide margin.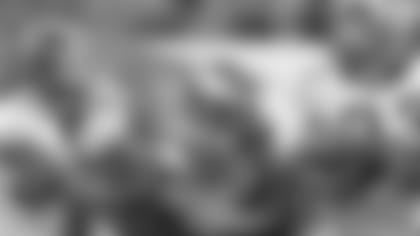 But the Eagles didn't rely on running. As a result, couldn't when they needed to.
The Jaguars' 7-0 lead held into the third quarter as they tried to run the clock. Another looping punt caught in the wind gave them the ball near midfield and Head Coach Jack Del Rio told offensive coordinator Carl Smith to stick to the ground.
On first down, Taylor took it 16 yards to the Eagles 30. Then it was Jones-Drew behind Williams and right guard Chris Naeole for seven straight plays. He pounded out five yards, then three, then four and suddenly the Jags found themselves facing third-and-3 at the Eagles 11-yard line.
Smith couldn't help himself, calling for a pass for the first time on that drive. The Eagles knew it was coming and Trent Cole put Garrard on his back at the 22-yard line and the Jaguars settled for a field goal and a 10-0 lead.
That would be enough. The Eagles managed a couple of field goals, but on what was – and probably still is – the windiest day in Jaguars history, the Jaguars held on for a 13-6 victory.
Jacksonville ran for 209 yards on 46 carries, with Taylor and Jones-Drew combining for 180 of those yards and Garrard scrambling for 36. The passing game produced only 76 yards and averaged fewer yards per play than the running game.
It was old-school ugly, as Del Rio said after the game. But it was a thing of beauty for a Jaguars team that went home with a 4-3 record squarely in the wild card chase in the AFC.